Opening Post and World Map
Nobody Expects

For some time I've been following (and, of course, enjoying) some of the great graphic timelines of this forum: Kanan's Our Fair Country, LeinadB93's Hail, Britannia, KaiserEmu's Of Droughts and Flooding Rains and Planita13's A Shining Valley; and I have felt the impulse to try and make my own TL in a similar style (albeit it will be difficult to reach their qualities, to be fair). So, the last couple of months, more or less, I've been developing in my mind the basics of this TL of mine, which would be centered around the idea of a more successful Spanish XIXth century that leads to a less disfunctional Spain, and its place in an altered (and I hope interesting) world setting. I'll try to follow the POD(s) logically, although I don't want to be constrained and I'll embrace the "rule of cool" and paralelisms to OTL in order to spice things up when I feel convenient.

The primary POD of Nobody Expects is the survival of one of the older sons of Charles IV of Spain, Carlos Domingo Eusebio (born in 1780, dead in OTL in 1783). It won't have consequences (at a macro level, at least) until 1808, when French troops enter Spain theoretically to invade Portugal in the context of the Peninsular War. The existence of this Prince Charles, older than OTL Prince (here Infante) Ferdinand, leads to a different Aranjuez Mutiny, a conflict between the two Bourbon scions that leads to civil war across the Spanish Empire and a different Peninsular War that spares Spain of OTL devastation. There's also a minor previous POD, in 1613, that's really just to justify a fetish of mine
(Hispanic Murcian Texas)
and to add some uniqueness.

Every comment, appreciation, question, suggestion etc. is very welcome, and although the main "big events" and the general flow of the world are already mostly planned, there's plenty of room to include new content to flesh out this TL, so if you want to propose anything go ahead. And to begin with, I hereby present the world map as of the 1st of January, 2019.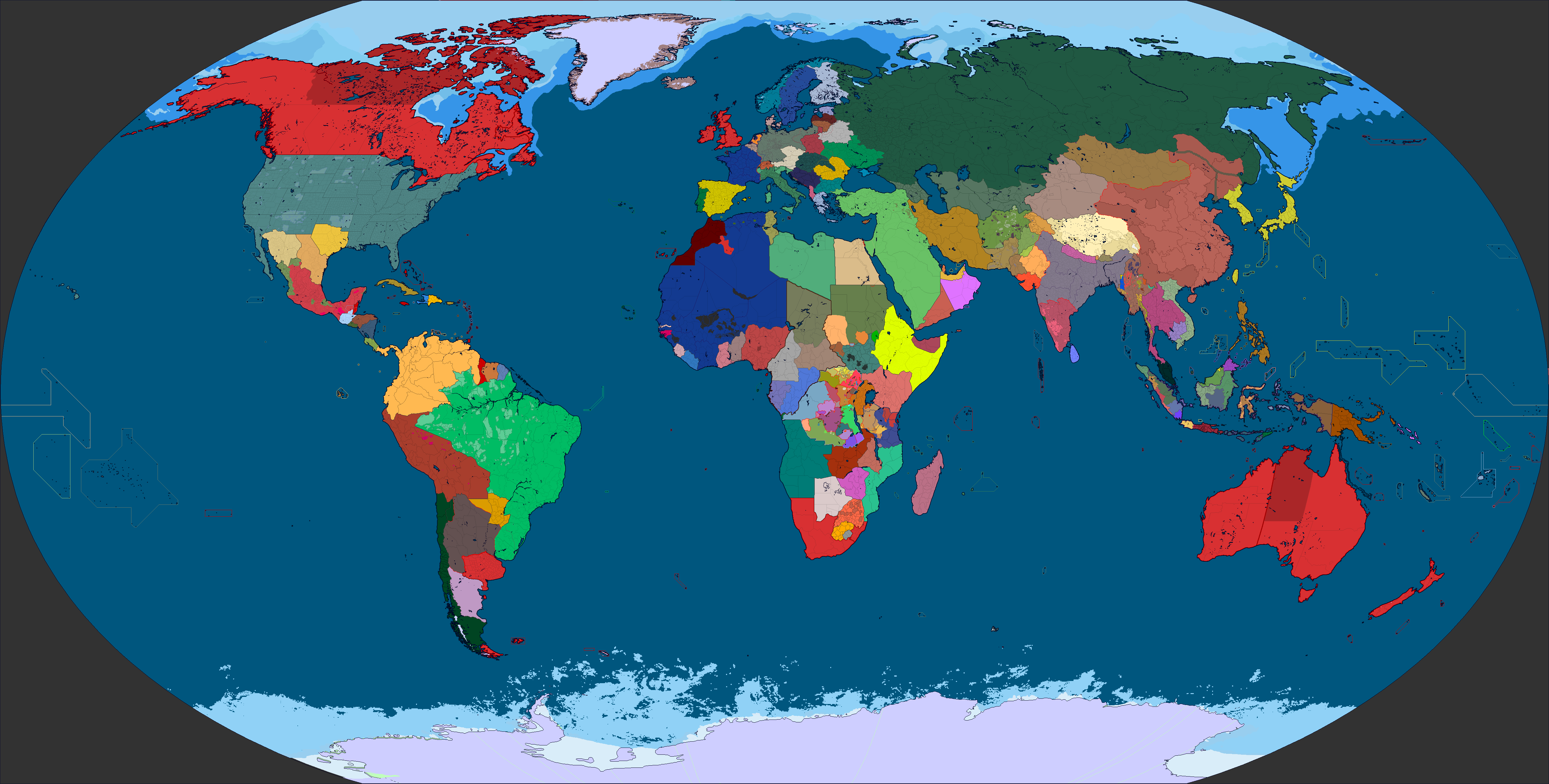 ​
I would also appreciate requests on which parts of the world you would like to know more about, so I can focus on them in the updates. Hope you like it and thanks for reading!
Last edited: