All we Ask for Here is your Heart
A Movie with Heart: City of the Sun (1999)
From Animation Magazine, January 2000
Ted Elliott and Terry Rossio are writers with many a hit under their collective belts, including this Holiday Season's hit Disney animated film
City of the Sun
, which released in movie theaters in November. And for any readers who haven't yet seen it, be warned, as we will be discussing some critical plot points. Ahead thar be Spoilers. Ye have been warned.
+
=
City of the Sun
(If you can believe it!)
AM
: Ted Elliott and Terry Rossio, welcome to Animation Magazine. You got your start in Disney Animation back in the early 1990s where you worked with the late Howard Ashman to draft a screenplay and storyboards for his hit
Aladdin
in 1991. And that feature served as the genesis of what would, after a twisting story of its own, morph into
City of the Sun
.
TE
: Yes, it's hard to believe that it's been a decade since we first started writing with Howard. He will be missed.
TR
: Definitely. We, as in Disney, and we, as in Ted and Terry, still have a Howard shaped hole in our lives. But he did encourage us to pursue an idea that we had for
Sinbad the Sailor
, kind of hoping to follow in the footsteps of
Aladdin
and
The Thief and the Cobbler
. A sort of Arabian Trilogy in all but name.
AM
: But you hit a brick wall.
TR
: Well, I wouldn't say "brick wall", more like a velvet rope that sent us in a different direction. You see, Disney at the time was expanding globally, not just in terms of parks but in terms of representation and expanding its international audience. And they had plans in place for China, India, Africa, Native America, and, well, Latin America! Roy urged us to work with Tom Schumacher, who was working with Glen Keane on "the Latin film" as they were calling it. They jokingly called us "the three Ts" or "Ted, Tom, and Terry". Tom gave us a selection of "Aztec, Mayan, or Incan" and Glen liked the Mayans as the most "peaceful and life-affirming" of the cultures, in his opinion.
AM
: We imagine the notoriety of the Aztecs would be hard to fit into the Disney canon in a non-awkward way.
TE
: (laughs) Ya' think? And honestly, the Inca and Mayans weren't pure as fallen snow. Nobody is, but anyway, we met with Glen and he liked our ideas for Sinbad, which we were reframing through the ancient Greek story of
Damon and Pythias
, and he said "Great! Mayan legend is full of stories of hero-brothers!"
TR
: And the more that we dug into Mayan history and legend, the more we realized that the Aztecs and Mayans didn't live in a vacuum. While not nearly as bloodthirsty as the Aztecs, the Mayans had some bloody legends and a history of human sacrifice themselves, though plenty of noble attributes to focus on. It seemed like the whole life-death, light-darkness, sun-moon duality of Mayan legend would work well, and we soon took the Damon and Pythias legend and reframed it onto a Mayan myth of The Legend of Chechen and Chacah.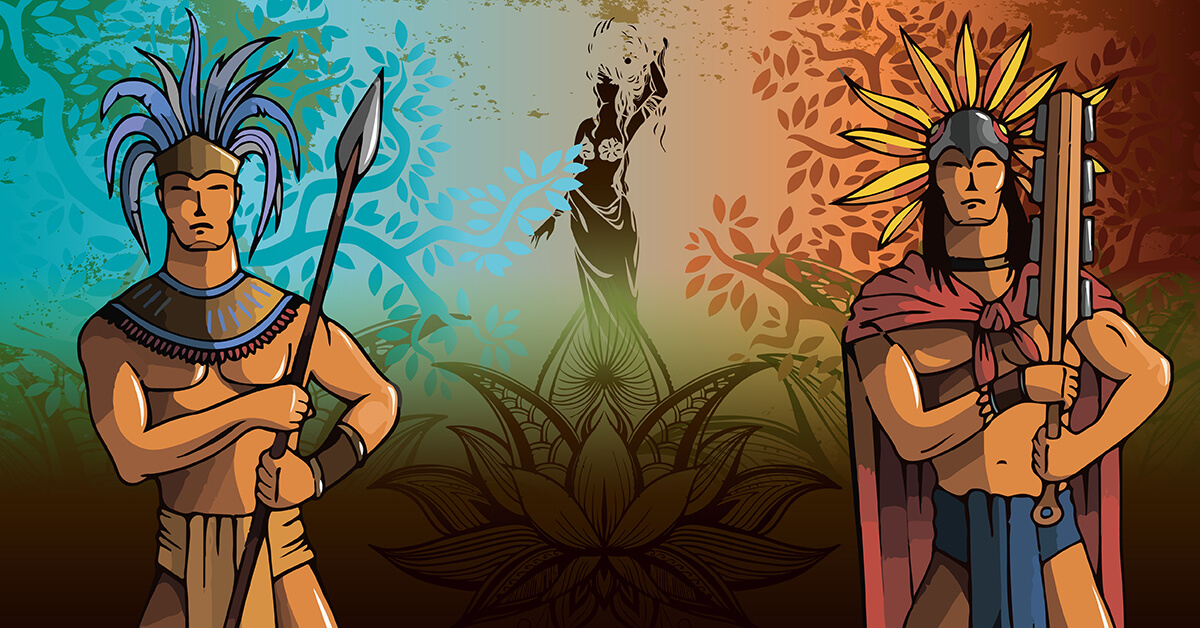 Artistic representation of Chechen and Chacah (Image source Chichenitza.com)
AM
: And what is that legend?
TR
: Well, it's a time-honored near-universal story of two brothers, named Tizic and Kinich in this case, with opposite personalities, who both fall in love with the same woman, Nicté Há in this case, leading to tragedy. In the end, they fight for her love and kill each other, but beg the gods for the chance to still look upon Nicté Há even after death, so they are transformed by the gods into the poisonous Chechen tree whose sap burns the skin in savage Tizic's case, and into the healing Chacah tree that can heal the injuries from the Chechen sap, in noble Kinich's case.
TE
: It's a legend to explain why these two very real trees, one toxic and one helpful, are always found together. And while the legend-as-is would make a good short – and indeed Pete Docter made a CG short for us that told the true legend – for the feature we, of course, reframed it around
Damon and Pythias
. In some ways it was perfect. You had the hot-headed, plotting Tizic as the Pythias in the relationship, the noble Kinich as the Damon, and Nicté Há as the third point of a love triangle to add an additional twist.
AM
: But then production got all mixed up and the "three Ts" were suddenly no more.
TR
: Yea. (laughs) Glen got promoted by Jim and Roy into the Presidency of Feature Animation job that Tom, who'd been maneuvering his way up through the ranks since he came to animation from theater, had been coveting! Tom instead became the President of the Disney Theatrical Division. Another animation exec out for that job, David Stainton, rage-quit and got an executive job at DiC working for Katzenberg, just in time to produce the strangely-familiar-looking
The City of Gold
, we might add.
AM
: And by extension Glen was now out of direction and active production and into executive production.
TE
: Needless to say! We had to find a new director and producer. Mark Dindal had been doing animation effects work since the days of
The Fox and the Hound
and had recently been directing a lot of TV episodes and was looking for the chance to direct a feature. We asked Terrell Little, who did
Kindred Spirits
, but he was already in pre-production on
Aida
, so he suggested Kathy Zielinski over at the Skeleton Crew, and she was happy to co-direct and Tim, once he saw the storyboards for the villainess Xtabay and her Death God allies, signed on to co-produce, making it yet another Skeleton Crew collaboration and helping to justify the death imagery in the public mind.
TR
: Kathy was the more experienced director at this point and look lead and Mark partnered with her as co-director. The animation would experiment stylistically, with hints of Mayan art.
Xtabay Concept Art (Image source "animatedviews.com")
TE
: Kathy went crazy for Xtabay, the villainous High Priestess, who pretends to be a servant of noble Kukulkan, the feathered serpent, who rejects human sacrifice, but she
really
serves Cizin, the skull-faced death god. Originally, Xtabay had been this vain and bitter character who blamed the sun for her lost youth and thus wanted to wipe out the sun, assuming it would somehow return her youth, though Kathy and Mark gave the character to the great Carole Holliday, and she in turn reframed her a bit as a victim of prejudice, judged by her beauty and driven to extremism, adding nuance to the character that we hadn't really envisioned, but it did make her a little more than just a scenery chewing villain of the Cruella mold.
TR
: Though chew the scenery she most gloriously did!
Cizin, lord of the Underworld (seems like a nice fellow…)
AM
: Xtabay was voiced by the great Gloria Estefan, of course.
TE
: Of course! Hell, she
inhabited
the character! She borrowed heavily from Gloria Swanson in
Sunset Boulevard
, leading us to slip in a joke about her being "ready for [her] close-up". She also made Xtabay surprisingly sexy, particularly in her idealized Astral form, and Kathy and Mark had to actually tone her down in some takes! Gloria later complemented me on Xtabay, saying how much she could relate to her, and I (laughs) I had to steer her to Carole!
AM
: The name Xtabay also appears, indirectly, in 1990's
Musicana
, where the South America sequence has Yma Sumac's "Voice of the Xtabay" as the central music.
TE
: Yea, random coincidence. No real connection to the legend in that animation. No deliberate links [between the two features] intended. We took the name from the Mayan legend of "
La Xtabay
", who is this beautiful supernatural spirit who lures men into the forest and to their deaths. Kind of the ultimate femme fatale vamp kind of gal.
AM
: And for Cizin and the other Death Gods, you had Patrick Warburton, who'd also just starred in
Bug Life
, as Cizin along with his minions Hun-Came or "One-Death", voiced by Harvey Firestein, and Vucub-Came or "Seven-Death", voiced by Helena Bonham Carter as his assistants. They're all very much Living Skeleton types, though with the scary softened by having them tend to have their bones fall apart in comedic ways or get stolen by dogs and the like.
TR
: Yea, Kathy and Tim have a scary reputation, but they know how much scary their young audiences can take and don't push things too far into traumatic.
TE
: I'd originally wanted Tony Jay or Christopher Lee or someone with a deep, scary bass voice, but I have to admit, Patrick Warburton really can push the menace right to the edge of "oh [bleep]" but then almost immediately, and hilariously undermine the menace through some sort of "dumb jock" action. Sort of old-school-Skeletor in that regard.
TR
: Helena too. Scary cackling witch one minute, funny cockney street girl the next.
AM
: But the villains are just the start, the background menace trying to muck up the plans for all as part of the big plot to eat the sun and bring eternal darkness. No big deal. The central story is, of course, the tale of the brothers and the King's daughter.
TR
: Yea, so, as stated, we take the
Damon and Pythias
story and adapt it. Tizic, voiced by Antonio Banderas, and Kinich, voiced by Andy Garcia, are warrior-brothers from the city of Tikal. Tizic is this cocky, short-tempered, hot-blooded man who is a bit of a rogue and a scoundrel, while his brother Kinich is this centered, focused, honorable warrior-hero. Upon visiting the rival city of Chichen Itza and defeating the hoard of Ahuizotl monsters for its King Canek (Ricardo Montalban, of course), Tizic sees and falls in love with the King's daughter Nicté Há, voiced by Salma Hayek. This, of course, offends her father, who though he thanks the brothers for besting the monsters, he does not trust the shady and argumentative Tizic. Instead, he sees the noble and honorable Kinich as the perfect husband for his daughter, and works to arrange that.
AM
: The animation here was of particular interest to us. The Ahuizotl, who are these demon dog things with hands on their tails, look very much hand-drawn, but they really move like CG, particularly in the way that they behave as a group. I know that neither of you is an animator, but do you have any insight into the process?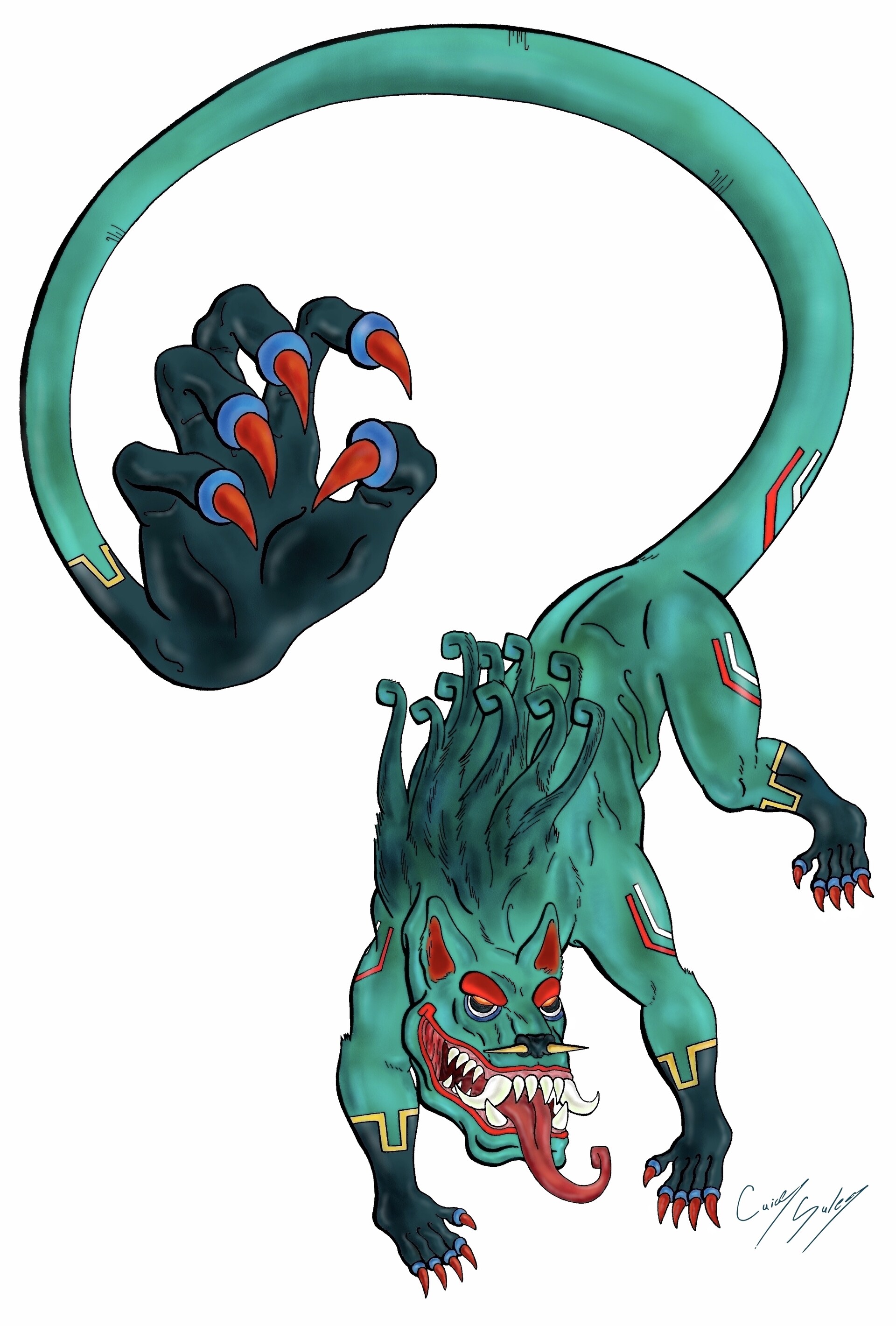 Concept Art of the fearsome Ahuizotl (Image actually by Caio Sales on "artstation.net")
TR
: Well, yes, not animators, but I did peek in on the project and while the art is quote "hand drawn" unquote it's really all built in the AVE virtual engines that they used. So they have ways of taking digital wireframes and, as Mike put it, "projecting" 2-D from the 3-D behind it, so that they can blend the 2- and 3-D together. When done right, it's awesome, but Mike did show me how it could slip into bizarre and distorted very easily, so it required a bit of editing in post. In the end, much of it was just hand-sketched into the computer 2-D through light pens and stencil pads. Carole actually places paper onto the stencil and draws right over it, so you get a hard and soft copy of the sketch.
AM
: Collectors will be happy to hear about that. And now also seems a good time to mention the music.
TE
: Yes, the great Selena and her brother A. B. Quintanilla. They spent a lot of time studying traditional Mayan music and then reframing it through a Tejano lens, so we had this sort of "Mayan Tejano Opera" aspect using traditional instruments in modern ways. They recorded both English and Spanish language versions and even some Yucatec Maya versions of some songs.
AM
: And great songs they are! "City of the Sun" as the overture and introduction to the setting. "Brothers of the Heart" for when the odd couple of Tizic and Kinich defeat and chase off the Ahuizotl monsters, which gives us a good idea of the two brothers' close but somewhat dysfunctional relationship. "One Look/Una Mirada" for the scene where Tizic falls for Nicté and Nicté falls for Kinich, marking a bit of a three-way "I Want"—four-way if you include Canek's ironic response when he sees Tizic checking out his daughter. And of course, the crowd-pleasing "Gotta Make a Sacrifice" when Xtabay begins her plot.
TR
: Yes, that last song is of course from where Xtabay bends the King's ear and suggests that Tizic plans are not just to take his daughter, but to take his crown! King Canek is honorable, but his dislike for Tizic blinds him to the machinations of his High Priestess, who is of course conspiring with Cizin the Death God to eat the sun and restore her youth and seize Earthly power "under the eternal moon". Cizin has used his dark magic to bring a drought to the lands, and Xtabay now convinces King Canek that only though a blood sacrifice to Kukulkan can the rains return, and that the dangerous usurper Tizic would be "exactly the right sacrifice".
AM
: And needless to say, since the noble Kukulkan does
not
accept human sacrifice. the sacrifice will in reality be to Cizin, giving him the strength to escape the underworld and eat the sun.
TE
: Yes, but Cizin warns her, in verse, that Tizic, being of "dark and selfish heart", is not sufficient. He needs a sacrifice that is "pure of heart" to reach his full power. So even as Canek has Tizic arrested and prepared for sacrifice, Xtabay sings lines directly to Tizic, relating the "pain and blood" of the sacrifice and starts to egg at his internal fears, which she can sense. And that's where the fast-talking Tizic asks King Canek for a chance to return to his home city of Tikal to set his affairs in order, per Pythias, with his own lyrics for "Gotta Make a Sacrifice". The honorable King Canek. of course. doesn't trust Tizic, but then Kinich offers to stay behind as a hostage, which impresses Nichté, who appears to be falling for Kinich, as her father had hoped. Xtabay, realizing that the pure and noble Kinich would be
exactly
the right sacrifice, makes clear that if Tizic does not return by the next Full Moon, that Kinich is to be executed in his stead! She and Cizin are thus set to win if Kinich is sacrificed over Tizic, and thus she calls upon Cizin to ensure that Tizic never returns.
TR
: And Cizin's minions Hun-Came and Vucub-Came, are sent, communicating with Xtabay and Cizin through the astral plane, to disrupt Tizic's journey. Xtabay's astral form even serves as a looming menace in the background even as she can't physically affect things.
TE
: And tellingly, while Xtabay in the real world is an old woman, in the astral plane she's a young, beautiful seductress, giving you an idea of how she sees herself vs. how others see her.
Xtabay in Life (L) vs. the Astral Plane (R) (Image sources "adnreasdeja.blogspot.com" and Noah Stevens on Pinterest)
AM
: But Nichté shocks everyone by sneaking into Tizic's entourage in disguise in order to ensure that he fulfils his pledge to return and accepts his sacrifice, as she now hopes to marry the brave and honorable Kinich!
TE
: And we're set up for the fun and games to begin!
TR
: So the journey to Tikal ends up being constantly bombarded by One- and Seven-Death, who cause rockslides and bridge collapses and encourage attacks by bandits and the like, all with the intent of delaying or killing Tizic outright so that Kinich, the preferred sacrifice, is the one whose heart is cut out for Cizin. But the
story
is ultimately about Tizic and Nichté as they have an acrimonious relationship and belligerent romantic tension, expressed by the song "Stuck Together". Nichté here serves as an expression of Tizic's repressed conscience, there to remind him of his oath, while the invisible, disembodied astral form of Xtabay represents his selfishness and repressed fears. The waning moon, which was full when they left, serves as a visual countdown and a symbolic slip into darkness. And as the challenges unfold, physical, mental, and emotional, sometimes Tizic's bravery saves the day, but as often as not his foolish bravery and refusal to take advice gets them into greater trouble that Nichté's intelligence and resourcefulness gets them out of. Naturally, when they reach Tikal, Tizic is given his Big Test where he is presented with the golden opportunity to stay in Tikal, as the King there will shelter him, and thus break his oath to his brother.
AM
: And the pivotal song "Heart of Honor".
TE
: Yes, this is our Midpoint, where Tizic is faced with the choice of the easy way out that gets him what he wants, or the hard way back in, that earns him what he needs, which is to rediscover his honor and decency. We even have the moon now a waning half-moon, symbolic of his place in the journey and of the counting clock before his brother is killed in his place.
TR
: And naturally, being the great warrior and man of honor that he is…he takes up the King's offer and loafs in a fancy hut surrounded by beautiful women, leaving his brother to die, and coming up with excuses, mostly to himself as the moon continues to wane, finally to a completely black New Moon, as Xtabay and the Deaths celebrate. And thus, Nichté has to physically drag him out, setting up a more argumentative and accusatory reprise of "Heart of Honor", outright calling him a coward. He consults with the priestess Jaaja of Kukulkan, voiced by Rita Moreno, who admonishes his cowardice and also his foolishness, for Kukulkan does not demand human sacrifice, though she does note that he is now honor-bound to fulfil his promise to King Canek, even if it means his death. He has his solo moment in a second reprise of "Heart Honor" until he's basically forced to confront his repressed internal fears and make the right choice, much to Xtabay's chagrin, and begins the return journey to Chichen Itza and to face his fate.
AM
: And this seems a good time to call out the animation of the Cities of Tikal and Chichen Itza, all clearly built up in 3-D then converted into working backgrounds with gorgeous parallax. We hear that they used models of the actual ruins to build these.
TR
: So we hear, and with some anachronism as some of the temples we show weren't built yet in the rough timeframe where we set the story. Anyway, the visual are great, and all of the bright colors and the movement…Ted and I spent a lot of detail in the screenplay describing the dynamic lives of the cities with their floods of people in contrast to the mostly empty ruins of today, and the animators really did a great job in making the cities feel busy, bustling, and alive.
AM
: We couldn't have said it better ourselves. But back to the return journey. What did you hope to say about how different the two voyages are?
TE
: This return journey is a voyage of honor, not a voyage of deceitful cowardice. Whereas the journey from Tikal was full of darkness and sad-faced cargo bearers, this one is lively, supported by an entourage of Chichen Itza's citizens, warriors, and musicians. The moon is now waxing, the light symbolically growing while continuing to serve as a countdown. And this united, honor-driven caravan is thus able to overcome anything that One and Seven Death throw at them, with their life-affirming powers overcoming the death-powers of the minions. So instead, Xtabay and Cizin are forced to use more direct measures and arrange an Army of the Dead to block the road back to Tikal. Looking upon the deathly army together, and finding that they're starting to fall in love, as witnessed by a more romantic reprieve of "Stuck Together", they hatch a plan to avoid the army, protect the lives of their retinue, and thus manage to outwit the skeletal warriors and slip back into the city of Tikal on the night of the Full Moon just as Kinich is lain across the sacrificial altar and Xtabay is about to plunge the obsidian dagger home. Tizic yells for her to stop and tells his brother that he's "in his seat" and assumes the position, ready to make his sacrifice for his brother. Xtabay, suddenly noting that Tizic's return means that he has gained a noble heart, realizes that she gets what she ultimately wants
anyway
, and raises the dagger ecstatically, but now King Canek stops her. He is so impressed with the honor displayed by Tizic, that he commutes the sacrifice.
AM
: And this in turn causes Xtabay to scream in rage, allowing Cizin to temporarily manifest through her in an attempt to take over the city, the army of the dead now attacking Tikal, forcing the final climactic showdown between good and evil.
TR
: Of course! The warriors in the entourage of Chichen Itza join the warriors of Tikal to fight the undead minions. Jaaja appears in Astral Form and notably looks
exactly the same
as she does in life, since she is at peace with herself, and inhabits Nichté, who manifests as Kukulkan the Feathered Serpent. Nichté-as-Kukulkan defeats Xtabay-as-Cizin's earthly form in a fun Kaiju-inspired fight, since that was all the rage at the time, and then, returning to human form, eyes still glowing, she confronts and fights the depowered Xtabay while the Hero Brothers Tizic and Kinich join King Canek in defeating One- and Seven-Death and their various undead warriors.
Concept Art (Image source "disney.fandom.com")
AM
: And naturally the heroes emerge victorious. The "Kaiju fight" notably relies heavily on CG models, but still uses a lot of ancient Mayan art influence.
TE
: Yes, Kathy and Mark wanted to take full advantage there of the latest technologies, and did a great job of mixing the computer and hand-drawn stuff, even though almost all of the "hand-drawn" work is done in computers now with stencils and the like. Beyond my area of expertise, you'd need to ask them.
AM
: But the story isn't over, even as Nichté slaps Xtabay to the ground and the angry hands of the dead pull Xtabay to hell with them.
TR
: Oh no, it isn't over until the Love Triangle is resolved! Kinich and Tizic now both love Nichté, who thought that she loved Kinich, but has grown instead to love Tizic. But she feels honor-bound to marry Kinich anyway, though he, being a man of honor, integrity, and insight, sees that her heart belongs to his brother, and thus releases her from her oath so that she may marry Tizic in an act of brotherly love and sacrifice.
AM
: And that's where the story went a bit off the rails for you, Terry.
TR
: (sighs) Yea, a bit. I wanted to have Kinich give up Nichté, who loved them both equally, as the ultimate brotherly sacrifice, but Kathy felt that was "robbing Nichté of her agency" and making her into a "prize". She instead had it where Nichté loves Tizic alone, and Kinich realizes this and thus tells her that he wants her to follow her heart. I still think it robs the narrative of the central brotherly love story, but Kathy, of course, vehemently disagrees[1]. (laughs)
Traditional Mayan Wedding (Image source "alessandrobanchelli.wordpress.com")
AM
: Either way, Tizic and Nichté are married in a ceremony reportedly copied from known Yucatec wedding ceremonies and the chorus sings the reprieve of "City of the Sun" and happily ever after.
TR
: The animators actually travelled to the Yucatan to witness real Mayan ceremonies, weddings included.
AM
: And we hear there are some regional differences in the productions.
TE
: Well, mostly in the various Mayan language dubs, where they change the names of the three protagonists. I guess consultants suggested that the Mayans themselves would react negatively to seeing the story of Chechen and Chacah changed, so they selected three common names in whatever Mayan language they were dubbing. China objected to some horror elements, though since it was classified as a "Mythic Romance" there was more leeway than in a film with a modern setting.
AM
: Either way, critics are mostly positive and box office numbers are looking good, with the film already on the way to making back its $85 million budget. There's already some awards-buzz, with Selena already being called out as a favorite for the Best Song Oscar. Perhaps a writing award?[2]
TR
: (laughs) Don't jinx us!
AM
: Thank again to Ted Elliott and Terry Rossio, the writers for
City of the Sun
, which is in theaters everywhere now.
---
[1] Rossio has expressed similar issues about a similar change made in
Sinbad: Legend of the Seven Seas
. Others have pointed out what they see as unconscious bias or objectification of Marina as a "reward" for heroes rather than a character with depth and agency in the original draft.
[2] Will earn $368 million worldwide, with a solid turnout in Latin American countries but with notable competition from both Universal/DiC's dualling
The City of Gold
and Columbia/Hanna-Barbera/Bluth's
The Velveteen Rabbit
; a solid success but not a massive blockbuster by 1999 standards. Will be nominated for but lose the Best Animated Feature Oscar to
The Velveteen Rabbit
. Selena and A. B. will win a Best Original Song Oscar for "Heart of Honor". Ted and Terry will get a nomination for Best Adapted Screenplay, but lose to
Into the Woods
.