A Very British Sort of Madness: The Ideology of Britannianism
A Very British Sort of Madness: The Ideology of Britannianism

An illustration about the Indian caste system

​
Britannianism is perhaps one of the most unintentionally ironic ideologies in human history. For while it touts the genius of the Anglo-Saxon race, it has been heavily influenced by the needs and society of India, and one of its great philosophers is a "
Italian with Saxonic Blood and Spirit.
" It also engages in such mind bending contradictions as being simultaneously pro-industry and deeply agrarian. Despite this, it is inarguably British, especially English, in conception and content for the most part. To quote Ramsay MacDonald before his execution "
It's a very British sort of madness.
"
There are three philosophers who have shaped the construction of Britannianism. The first is of course Oswald Mosley, war hero and Baronet. The Captain, as he was called, formulated a basic schema for the ideology, a combination of Merrie England nostalgia, imperialism, and High Toryism. There was once a time in England, long ago, where life was.... better. The countryside was green and verdant, full of bountiful crops and fruitful orchards. Villages and towns dotted the landscape. They were full of neat, well-maintained, charming thatched cottages, and centered around a church or cathedral. People prayed, worked hard, and went to church. After church, they'd gather in pubs for hearty Sunday roasts and good English ales. This paradise, this quintessentially English community, had been lost to industrialization done for the benefit of wealthy businessmen. It was impractical to give up industrialization, for "
He who has the foundries wins the war,
" but it, and the strain of capitalism it produced, ought to be tempered by a nation moving back to its tranquil rural roots as much as possible while remaining "
pragmatic in the English fashion.
" The (grudging) respect given to industry was tied to the Empire. The British Empire is "
The noblest project to civilize the Earth that has ever been conceived, and the greatest fruit of our genius.
" Especially noteworthy were the White Dominions, "
The greatest colonization scheme ever completed, and assurance of our racial survival.
" Mosley actually theorized that the "
hardy stocks
" of Canada, Australia, New Zealand, and South Africa could help reinvigorate the bloodlines and culture of Britain proper. Finally, Mosley had become an ardent proponent of the High Tory belief system. The primacy of the aristocracy in society was paramount, and they were responsible for the care of all of society. They were suited for this role because their ancient roles as landowners and local officials made them uniquely suited to rule, or so the thought went. High Toryism was also ambivalent to capitalism, preferring a more aristocratic and communitarian system of economy, almost neo-feudal. However, business was again viewed at least as a practical necessity, and Communism wholly despised.
Mosley's initial vision was more moderate in comparison to what Britannianism would become. He basically envisioned a movement of aristocrats and their supporters maintaining and expanding the empire, while simultaneously tempering the more explosive aspects of capitalism in favor of noblesse oblige and rural idealism. Hardly liberal, but not terribly extreme. Arguably, Mosley's biggest sin was in being open to, and accepting, more extreme ideas. The first proponent of these more extreme ideas (and one very rational one) was Eric Arthur Blair.
Blair was also born of privilege, the grandson and later son (after grandpa died) of country gentlemen. He had served in Africa as a commander of African troops, and grew to despise his unit for their insubordination. After the war, he went to India on a quest to find ancient secrets, having been obsessed with the occult as a child. Blair grew to have an immense respect for Hindu culture, and became enamored with the caste system. He noticed the physical distinctions between the castes, and was convinced that the Indians had found a nigh foolproof method of racial control. Given his experience in Africa, he became convinced that Britain needed a true caste system of its own. He sailed back to London in 1921, and feverishly wrote the whole way there. When the ship arrived, he had completed the manuscript for
The Feasibility and Necessity of a British Caste System
under the
nom de plume
George Orwell
.
In it, Blair constructed an elaborate racial historiography and theory. In terms of historiography, he argued that Britain and India shared a common Aryan ancestry, an idea which had circulated in other circles. Thus, Britain and India were bound together by ties of race. Blair argued that with a concerted effort, the Indians could be elevated to the same level of strength and civilization as the British. However, the British ought to leave the caste system fully intact, and Hinduism at least partially. This synthesis was actually very popular in both India and in Britain, and wacky racialism aside, wasn't bad policy by any means. It encouraged a much greater degree of Hindu buy-in and participation, and would make the Raj far more loyal than it had been.
However, the rest of
The Feasibility and Necessity
was.... less balanced. In it, Blair created an elaborate racial caste system for Britain. At the top were, of course, the Royal Family. They were the purest of purebloods, the ultimate expression of Britain. Beneath them, the aristocracy and country gentry, the "
great ruling stock of our sceptered isle.
" Beneath them, you had the Anglo-Saxon stock of the British Isles (sorry Ireland). They were the greatest colonizers and conquerors of all time! Beneath them, the Indians, who themselves ought to be arranged according to their own castes, although Muslims should automatically go to the bottom. With enough time, it was thought that the Indians could be elevated fully into the ranks of "
Anglo-Saxon-Aryandom.
" Beneath the Indians (well, the non-Muslim ones) were the other Asian races, who were viewed as inferior but not
too
bad. Finally, at the bottom, one saw the Africans, Muslims, and Celts. The Africans were inferior because "
Millennia of living off tropical abundance and warfare has degraded their instincts for civility and self control, and sapped their vigor
." The Muslims because "
The deserts and Mohammedanism have destroyed any mental or physical capacity for them to have civilization.
" Finally, the Celts were "
A naturally drunken, savage, cruel, fecund, and despotic race.
" These "
British Untouchables
" must be tightly controlled. Later, after the start of the Second World War, mass murder of untouchables would be pushed by the government, as a method of maintaining control.
The final philosophical addition to this ideology were the writings and thoughts of one Julius Evola, Italian nobleman turned ardent British patriot (after the Britannianist takeover). Evola had also been fascinated with Roman paganism, Eastern mysticism, caste systems, and race science. His ideas weren't terribly popular in his native Italy, where the far-right was far more enamored with Croixism than anything else. Especially jarring was his anti-Christianity (which Evola would later tamp down while in Britain). Evola was perhaps closer to Nietzscheanism than anything, but his obsession with castes even among a ruling race didn't work with their more ruthlessly Darwinian world-view. However, when the Britannian movement took over Britain in 1929, Evola found a people he could work with. He moved to London and quickly ingratiated himself into the more occult circles of the Britannian elite, and began writing his penultimate treatise. In 1931,
Restoring Olympus
was published, and became an officially approved part of Britannian ideology. In the beginning, there were two races: the Olympic and the Tellurian. The Olympic Race was a patriarchal, militaristic, deeply spiritual caste society ruled by Warrior-Priest-Kings and dominated by a warrior aristocracy. They eschewed mere comfort, in favor of deep spirituality, heroic strife, and warfare. They also had the ability to create great and manly cultures. The Olympic Race was believed to have found its expressions in Ancient Greece, Ancient (pre-Christian) Rome, Ancient Hindu India, and Ancient Persia. Their rival was the Telluric Race. The Telluric Race was matriarchal, effeminate, savage, decadent, and obsessed with luxury. The Telluric Races were held to be the Ancient Phoenicians, Ancient Arabs, Ancient Celts, and the Ancient Slavic peoples. The Telluric Races were inherently weaker and lesser than than the Olympic ones, but their decadence and hedonism could corrupt the Olympic races spiritually and genetically.
In modern times, there were no pure Olympic races remaining, thanks to millennia of miscegenation. Instead, it was maintained that there were now four Olympic descended races, as well as three Telluric racial offshoots. The Olympic Race had become the Jovian, Neptunian, Dinoysian, and Aresian races. Each of these races was possessed of Olympic spirit, and could help rebuild the Olympic Race, but must first overcome the Telluric values and germplasm in their genes. The Jovians were the Germans, Northern Italians, Dutch, and Scandinavians. They still possessed the warrior spirit of Olympus, but Telluric neuroticism had made them obsessed with an orderly society, even if that order came at the expense of true greatness. The Neptunians were the Anglo-Saxons only, and were held to have a uniquely strong Olympic racial aspect, that had become diluted with avaricious commercialism thanks to Telluric corruption. The Dinoysian races, consisting of the Spanish, Southern Italians, and the Hindus, were the most degraded of the Olympic races. While possessed of noble Olympic spirit still, the constant induction of Telluric blood had made them decadent and obsessed with luxury and pleasure. Finally, the Aresian races, mainly your French, Russians, and Belgians, were held to be powerful empire builders (Evola included Belgium because he respected their Congolese conquests) but were closer to Dinoysian decadence and disorganization than the other sub-races (while still being in better shape).
The Telluric races were the Aphrodisians, Venusians, and Junovians, each of which corresponded to "
racial enemies of Olympus
." The Aphrodisians, consisting of the "
Turko-Arab-Berber-Perisan Race
" was derided as innately sensual and despotic, concerned only with power, wealth, and harems. Although it might seem contradictory to include the Persians when their ancient forefathers were held to be Olympian, this was because "
thousands upon thousands of years of wealth and Mohammadeanism had corrupted their spirit and germplasm beyond repair.
" The Venusians, who the Africans were classified as, were held to be the closest to original Telluric stock; promiscuous, dominated by women, doomed to savagery, obsessed with personal comfort, and obsessed with primitve cults centering on fertility goddesses and the "
Mother Luna
." Finally, and most dangerously, were the Junovians. The term Junovians was interchangeable with the alleged Yankee Races. The Yankee Races, while less primitive and more capable of governance, were more dangerous because they were more competent. They were also said to be driven by a "
racial spirit of negation
" where they would destroy all greatness, cast down all ancient systems of caste and rule, and preside over a miscegenated
Kali Yuga
of despair and depravity. Either the Olympic Race would be recreated, or the Yankee Junovians would eventually annihilate any form of high culture.
So, what was the ultimate synthesis of these three disparate strands of thought? Economically, Britannianism borrowed concepts from Croixist Yellow Socialism and blended them with de facto aristocratic control over much of the countryside. Religiously, the Anglican Church, especially the High Church tradition was exalted, but other Protestant denominations as well as Hinduism (for India) and occult spiritualism/Roman paganism (mainly aristocratic) were all tolerated. In terms of social organization, Britannianism created a supercharged version of previous systems of class and racial rule. The Royal Family and the aristocracy ruled by the divine right of God, and the inexorable rules of racial history. The Anglo-Saxon-Aryan race was held to be direct descendants of the ancient ruling races, and naturally above all others in the Empire. In India, this meant a strange combination of imperial patriotism and Hindu supremacism. In the rest of the Empire, previous methods of racial control were amplified. Mixing of any kinds between castes, even within the Anglo-Saxon-Aryan race, was completely unacceptable, for down that path lie Telluric degeneration. Britain was held to be on a tipping point in world history. Either the Yankees and their racial cousins in Africa and elsewhere are destroyed and the Olympic hierarchy rightfully restored in a new Merrie England, or the world would become a degenerate, worthless, Star-Spangled hellscape. The choice lay in Britain's hands: do or die.
Julius Evola, Italian aristocrat, British Patriot, and race scientist



Eric Arthur Blair, war hero, Hinduphile, "Bard of the Party."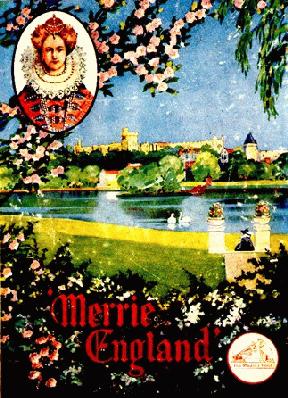 A propaganda postcard celebrating the ideal of Merrie England.
​