¡
∞
¡
•
¡
Union of American Realms
¡
•
¡
∞
¡
A Graphic World-Building Exercise
Welcome! This is the main thread for the UAR-verse. What is the UAR-verse? It is a
concept that I have toyed with in my heads for years. It's undoubtedly influenced by dozens of other scenarios I have seen here on this website over the years, as well - and yet, its a thing all its own. It has no purpose, no great reasoning. It is, in essence, a world-building exercise built around an ASB concept with a more than flimsy approach to realism and the butterfly-net.
And what
is
this concept? At it's infancy, at it's very core, it is this: what if the English colonies settled on a system of government after the American Revolution more in line with the modern EU with one major component: each realm (equivalent to a state in the OTL US) is led by an executive who held office
for life
.
Since I began world-building around that concept, it has changed considerably as the years have passed. Even since opening this thread less than a year ago, the canon has changed considerably. But the world has become more organized, more concrete, and more rationale, even if the tilt towards narrative and fun is still in effect. Hope you enjoy!
The confederal government is comprised of three components: (a) the Confederal Assembly, a unicameral legislature tasked with accepting international treaties and trade agreements passed by the Executive Council, along with settling intra-realm disputes and passing federal legislation - this body is led by the Minister-President of the Assembly; (b) the Executive Council, with every realm executive holding a seat, able to admit new realms and executing the limited federal executive functions - this body is led by the Governor-President of the Council, and; (c) the office of Monarch-President of the Union, a ceremonial office held by House Columbia, residing in Mount Vernon, R.D. - the Monarch-President holds nearly zero actual power outside of immense cultural currency.
The confederal government of the UAR is weak and rather decentralized, though the modern age has lent itself to centralization. Since the late 19th Century, the Confederal Assembly has gained influence and power, particularly as the rise of international commerce took hold in the 20th Century. Confederal Assembly members are elected every six years on an alternating basis, with the assembly members divided into two classes. The Executive Council similarly elects the Governor-President every six years. Each executive can also appoint one member to their realm's delegation to the Confederal Assembly.
The UAR is divided into various realms, with the Union Constitution mandating that every realm have an executive that reigns for life. Each realm is quasi-autonomous, occasionally getting into disputes amongst themselves and fostering different cultures over the decades. Some realms have strong executives-for-life, others have made the office a ceremonial one similar to that of the monarch.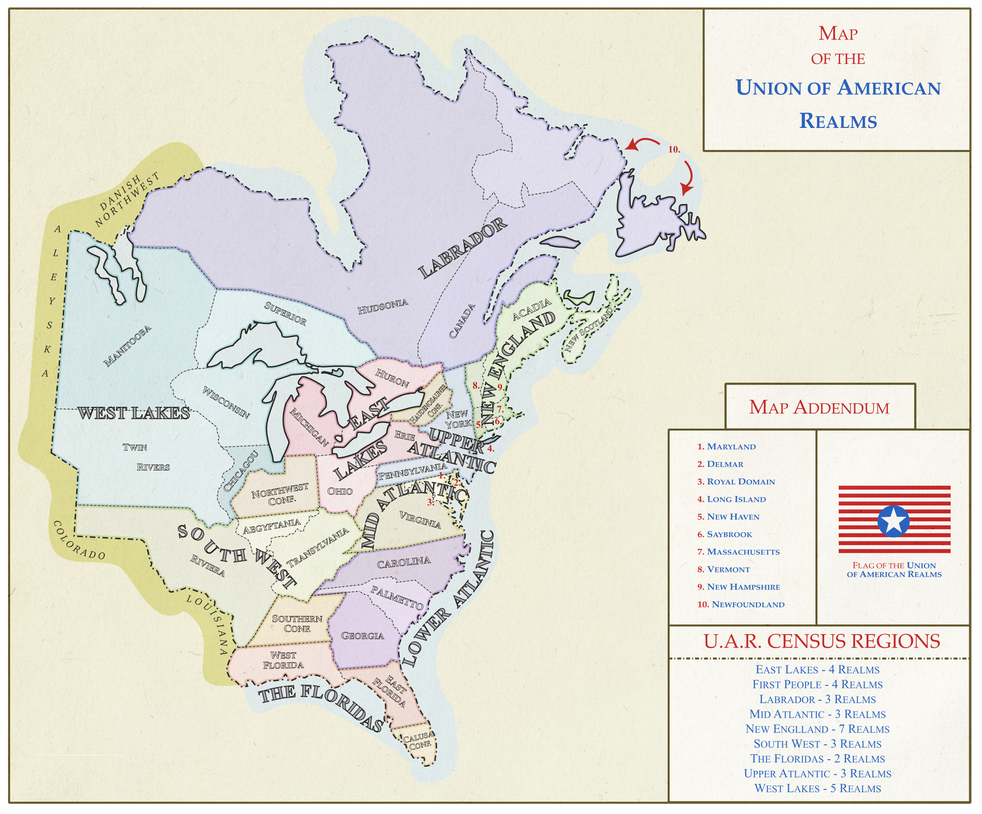 ​
​
Lordship Information​
Misc.​
​

​

​

​
​
Last edited: