Chapter 1 - The 1944 DNC and End of World War II
Note: For any new readers, please use the bookmarks because my chapters aren't actually posted in chronological order.
Considered, but rejected titles include:
The Place Promised In Our Early Days
. So without ado, here's the POD intro post.
---
The 1944 DNC and End of World War II​
Wide swaths of Democratic party leaders wanted to chase Henry Wallace off the ticket, feeling that he was too close to organized labor, while Southern Democrats wanted him off, viewing him as too hostile to "Southern interests" as vaguely defined. Roosevelt generally did not favor Henry Wallace either, but did not actively move against him. During the critical spring before the 1944 Democratic National Convention, Roosevelt sent Wallace to China and the Soviet Union, where while fulfilling normal Vice Presidential duties, he also famously brought large amounts of honeydew seeds to China, causing honeydew to be forever known as "Wallace melons" in China.
The President's favored choice to replace Wallace was Missouri Senator Harry S. Truman, but on June 19, under pressure by his family (they did not want to move to the White House and Truman did not want them to suffer in the presidential spotlight), Truman, after lightly saying no to Roosevelt and Democratic party leaders, forcibly told them no, stating that he would help support Roosevelt's original pick, South Carolina Governor James F. Byrnes. The convention vote was remarkably close between Wallace and Byrnes. Although most Southerners supported Byrnes, it was not unanimous, because many Southerners raised questions about Byrnes's Catholic faith. Byrnes in fact had spent much of his career (as a Catholic) ferociously opposed to the Ku Klux Klan and although those delegates had no intention of voting for Wallace, they weren't lining up behind Byrnes either. In addition, organized labor lined up almost uniformly against Byrnes, not out of hostility to Byrnes, but just due to friendliness towards Wallace.
Roosevelt clearly favored Byrnes and told a few delegates this, but he couldn't exactly openly campaign against his own sitting Vice President. For one, Roosevelt actually liked Wallace a lot and actually would have liked to see him as VP if it weren't just for overwhelming opposition in his own party. In the first ballot, Wallace triumphed with 529/1176 delegates (short of the 588 needed to clinch the race), with Byrnes trailing far behind at 220 delegates (nevertheless in a strong second). On the second ballot, whereupon most of the other candidates lost their support (most endorsing Byrnes), Wallace only increased to 555/1176, while Byrnes had surged to 473. At that point, most of the other candidates dropped out, leaving Wallace at 578 and Byrnes at 521. Although Wallace was 10 delegates short of a majority, Byrnes judged victory to be unlikely and hoping to keep the myth of a "united Democratic Party", dropped out and endorsed Wallace, whereupon many of his allies reacted in fury. Regardless, with only minor candidates left on the ballot, Wallace took 788 delegates (most of the rest refused to vote), a clear supermajority.
FDR, having mixed feelings about the outcomes, realized he could live with this. The 1944 elections, much like 1940, were a landslide victory for FDR and Wallace against Dewey and Bricker. For his part, FDR made sure to prep Wallace for the Presidency, realizing that his own health might be failing. Ultimately on April 12, 1945, President Roosevelt suffered a fatal stroke. With the Japanese and Nazi Empires on the brink of collapse, Henry Wallace was sworn in as the 33rd President of the United States. Henry Stimson only informed President Wallace of the atomic bomb on April 25th, two weeks before the surrender of Nazi Germany on May 8th. Berlin was ruled out as a target simply because it was currently under siege by the Soviet Union. Wallace was loathe to authorize continuation of the Manhattan Project, until he was reassured by the non-generals, aka his cabinet members, including Secretary of State Stettinius) that it would ultimately save lives.
Realizing that he was unpopular among many elements of the Democratic Party, Wallace believed his strength relied on continuing to stick with old Roosevelt loyalists, many who had worked with him for years and liked him, such as Henry Stimson, Frances Perkin, Harold Ickes, and Henry Morgenthau (who had originally recruited Wallace). Unfortunately for the Americans, this meant increasing reliance on Harry Dexter White, Morgenthau's chief aide who had Henry Wallace's close confidence. Unbeknownst to Wallace - White was a spy for the Soviet Union and eagerly leaked all of Wallace's internal discussions to the Soviet Union. There was absolutely no shuffle in the cabinet, but many of these friendships would be soon tested.
The Potsdam Conference began on mid-July, between the Big Three, Joseph Stalin of the Soviet Union, Winston Churchill of the United Kingdom (replaced in the middle by Clement Attlee), and Henry Wallace of the United States. France was notably excluded, a decision made before Wallace's ascension (FDR and De Gaulle did not like each other). The biggest issue of Potsdam were a proposed Soviet entry against Japan, the division of Germany, and the economic future of Germany. Much to the dismay of Churchill, Wallace agreed with most of the Soviet proposals, often siding with the Soviets against the United Kingdom. The only difference between the two was that the Soviets only pretended to be super-interested in pushing the Polish border to the Western Neisse rivers (it was already decided that the Oder would be used). In reality, they ceded most of Silesia (using the Eastern Neisse as the border) in "exchange" for Stalin's true goal, the dismemberment of Germany. Roosevelt at Yalta had floated that possibility but largely did not approve. As another "concession", Stalin gave up on his goal of extracting mass industrial reparations from Germany.
After all, having dismembered Germany, Stalin could just take his desired wealth from his proposed occupation zone. East Germany, including Berlin, was detached and to be a "Prussosaxon Democratic Republic" under Soviet influence. The Northwest was detached into the Republic of Hanover, under British influence, while the Southeast was divided into a French-dominated Swabian-Rhenish Republic and an American-dominated Free State of Bavaria. The supposed dismemberment of Germany didn't actually last very long, but Stalin still viewed it as a triumph, heavily aided by his spies in the U.S. government. In theory, heavy reparations were due from each nation to their respective power, though they all did something different with it. The United Kingdom and United States reinvested their share of reparations in the economy, while the French split their share 50/50 between France and the locals (the Soviets did not share). This quickly caused a horrible, very personal split between former friends Henry Morgenthau and Henry Wallace.
Wallace, a strong believer in Christian humanitarianism, demanded that the reparations from Germany be immediately reinvested in American Bavaria. Morgenthau demanded that Bavaria be deindustrialized. Eleanor Roosevelt, also an advocate of a harsher peace against Germany, similarly viewed Wallace as a weak leader. Morgenthau's resignation caused a walkout of most of Morgenthau's closest cronies, leaving the American President increasingly isolated. When Wallace sought to replace Morgenthau, he found the task relatively difficult, as Republicans, conservative Democrats, and Morgenthau-types all refused to deal with him. However, most FDR-loyalists stuck with Wallace, as FDR himself had rejected the Morgenthau Plan (after initially approving) once he realized its contents. Although it proved not to be a blessing, at least a few Morgenthau types stuck with Wallace, namely Harry Dexter White (albeit only to spy on him for Stalin). Wallace appointed William Davis, a man trusted by both labor and management, largely because he was the only person Wallace could get through an increasingly hostile Senate.
In addition on Potsdam, in exchange for a quicker Soviet declaration of war on Japan, Wallace agreed to partition (though not dismember) Japan into various occupation zones, as follows. Amusingly to many in China, especially Mao Zedong, Chiang Kai-Shek was given an occupation zone he neither asked for nor wanted.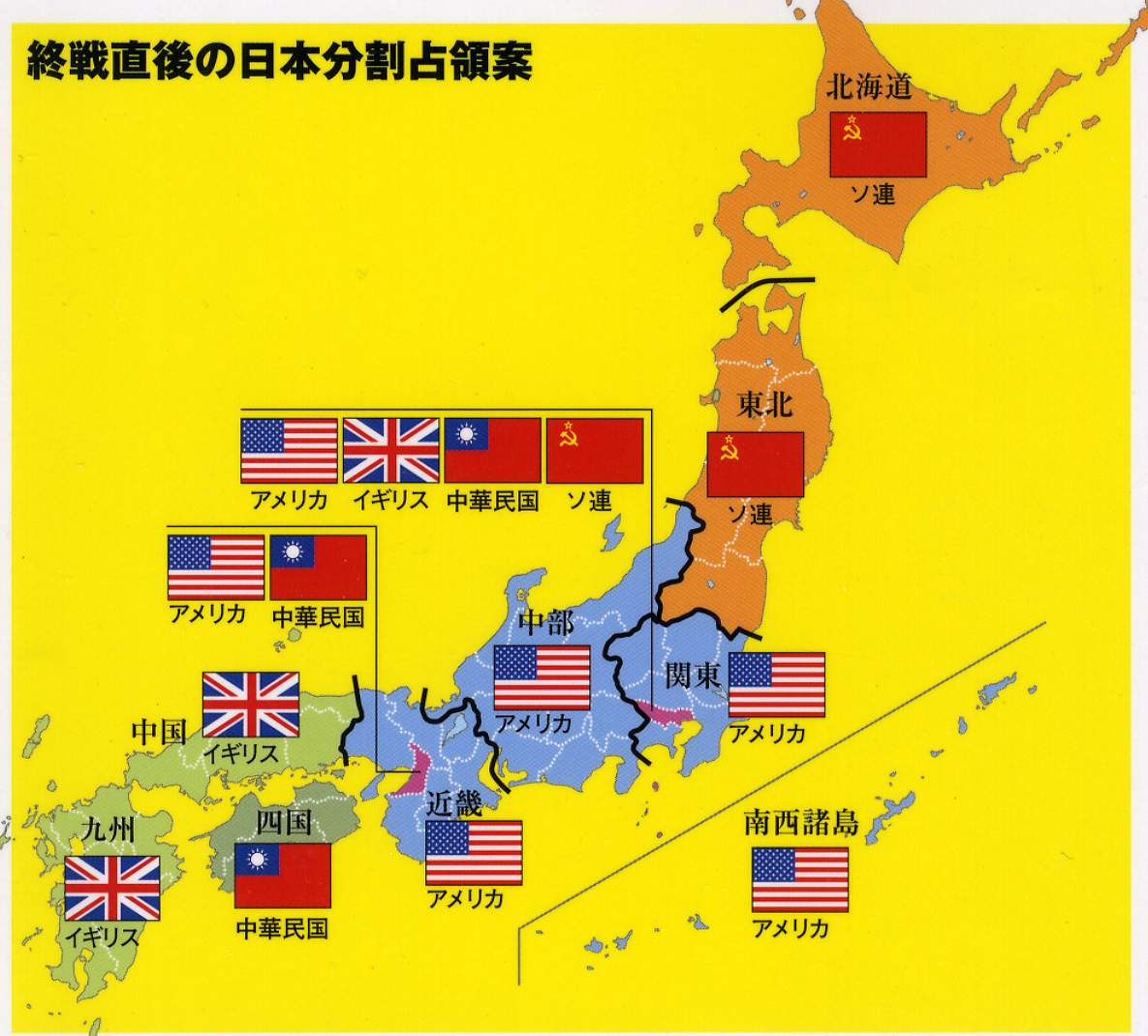 On August 6th, 1945, the United States dropped an atomic bomb on the shipping industrial city of Hiroshima. The Soviets had advanced warning, as Wallace had informed Stalin of the development of the bomb and the two powers had worked out a secret agreement to cooperate towards "peaceful atomic development." The atomic bombing killed an estimated 90,000 to 150,000 Japanese, mostly civilians, shocking the nation. When the US military planned on dropping a second atomic bomb, President Wallace vetoed the decision, horrified by the death toll of the first atomic bombing. After a very nasty fight with his generals, Wallace refused to listen to their counsel, claiming that the planned Soviet intervention would force a Japanese surrender. On August 9th, the Soviet Union declared war on the Empire of Japan, crushing the Japanese puppet state of Manchukuo. On August 15th, the Showa Emperor officially surrendered in a radio address in the famous Jewel Voice Broadcast. World War II was over. President Wallace declared that a "global people's revolution against want, hate, fear, and fascism" had ensured global peace and that the new powers, including the Soviet Union of Joseph Stalin, on behalf of the new United Nations, would provide for perpetual peace and freedom in the world. He was wrong.
Last edited: