Chapter Sixteen: The Post-War Presidency of Jefferson Davis
Chapter Sixteen: The Post-War Presidency of Jefferson Davis

President Jefferson Davis
​
With the war over, and the CSA now fully independent and recognized by the great nations of the world, many expected that Davis would have a more relaxed presidency. This was not be, however. He remained ever vigilant, still focusing most of his attention on the military, as he had done during the Civil War. He feared that the United States was going to declare war on his country at any minute, despite Pendleton being in office. Because of this, in 1866, he would order the raising of more troops, 21 brigades to be precise, with 20 being infantry and one being cavalry. This had the support of the Confederate Army, but the public outcry against this was fierce. It also caused James Seddon to resign from his post as Secretary of War, which he claimed was because he feared he lacked the strength and skill to fulfill it, but likely was because he wanted to avoid being associated with the negative public outcry, and desired the position of Senator from Virginia, which he would get, replacing Allen T. Caperton in the next senatorial elections. Davis would look for a man to fill the now vacated position, and found it in John C. Breckinridge, a general from Kentucky who was currently serving as a representative from Virginia, his new adopted home state. He would accept the post, and rapidly go to work.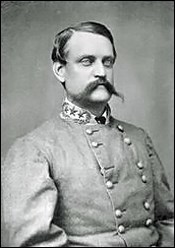 James Seddon and John Breckinridge
​
Breckinridge would quickly set to work reforming the Confederate Army, starting first with the new men. It was decided that the new commands created by the newly raised brigades would mostly be given to officers who had been wounded though out the war, and were returning to the CSA Army looking for a command, with only a few going to officers seeking transfer to infantry command. The decision for the commander of the cavalry brigade would be a simple one, with it going to already a Confederate legend Turner Ashby. For the men to command the infantry brigades, Breckinridge would turn to the army. He would select three of the brightest young officers--Robert E. Rodes, William Dorsey Pender, and John B. Gordon--to form a committee to decide on who to give the commands to. The fact that these three officers were all from the Eastern Theater can help explain why so many of their selections were men from that theater [1]. The three officers would present their report to Breckinridge, who brought it to Davis, who approved it. The most interesting change that resulted from this would involve the Texas Brigade. The Texas Brigade was currently under the command of Van. H. Manning, a native of Arkansas. Seeking to return the brigade's command to a Texan, Senators Louis Wigfall and William Oldham approached Davis with a plan. One of the men who had returned to command was John Gregg of Texas. Their plan was for Gregg to be transferred to command of the Texas Brigade, and for Manning to receive Gregg's command. Davis, looking for support for his military expansion, would agree, much to Gregg's joy and Manning's annoyance. Nonetheless, Manning would stay with the army, and the Texas Brigade was again commanded by a Texan.

The members of Breckinridge's selecting committee: Robert E. Rodes, William D. Pender, and John B. Gordon
​
Another one of Breckinridge's reforms were to bring all the CSA cavalry forces into one command, the Cavalry Corps. To no ones surprise, command of this corps went to J.E.B. Stuart, who would also receive a Lieutenant General's commission with it. Stuart would be thrilled by the news, with many commenting that it rivaled the joy he felt after his successful action at Gettysburg, but his joy was short-lasting. The cavalry corps brought together two different types of cavalry, with very different views of the purpose of it, with them being referred to as the "Raiders" and "Cavaliers" by modern historians. Among the Raiders were men like Nathan B. Forrest, Joseph Wheeler, John H. Morgan, and William E. Jones. Among the Cavaliers were men like Wade Hampton, Fitzhugh Lee, Turner Ashby, and Rooney Lee. The friction between the two groups was fierce, and it rubbed Stuart the hardest. Soon, order became hard to maintain, and it rapidly became clear to Stuart that he was going to have to side with one group or the other. Stuart would side with the group he knew best, the Cavaliers, and as a result, the Raiders began both a whisper and newspaper campaign against him. The final snapping point for Stuart was when he discovered a petition being passed around the senior officers of the Cavalry Corps intended for Breckinridge and Davis. Its request was that Stuart be relieved of command of the Cavalry Corps. At first, Stuart was not disturbed or surprised by the list of men whose name were attached, as all were known raiders. The name that brought Stuart to despair was that of Wade Hampton, who it is believed signed the petition as revenge for his brother's death at Brandy Station, which he believed could have been avoided if Stuart had been more vigilant. Stuart would show the petition to several of his closest officer confidants, including Fitzhugh Lee, Tom Rosser, Channing Price, and John S. Mosby. Eventually Stuart would be so depressed by the now constant newspaper attacks against him that he tendered his resignation to Breckinridge, and returned to his Virginia home, never again to engage in public affairs. Breckinridge would then give the command to Nathan B. Forrest.

Nathan B. Forrest
​
One more event would rock the army during Davis' presidency. General William "Extra Billy" Smith was still smarting from being relieved of command during the CSA assault on Washington, but he remained in the army. He, however, had a growing hatred towards the army's senior officers, then Davis, and eventually the CSA as a whole. He believed he had been better off living in the United States, and decided to become a traitor. He promised that in exchange for the rank of brigadier general in the U.S. Army, he would reveal as many of the South's military secrets as he knew. Unfortunately for Smith, this letter would become public knowledge when Pendleton would reveal it to Davis, hoping to make it appear that he had no ill-will towards the South. This would lead to the treason trial of Smith, which was unprecedented in CSA history. Breckinridge decided that there would be twelve seats in the court, with one for an officer from each CSA state, and an additional one to represent the officers from the border-states. When Smith learned of this, he requested that no West-Pointers, a group he despised, be appointed to a seat, which was denied. He later would request that Jubal Early, who appeared likely to receive Virginia's seat, would not be given it. This time, Smith's request was granted [2]. Smith would know that his fate was essentially sealed before the court-martial even started, so he decided to spite Jefferson Davis in his choice of a lawyer. He would choice Edward Pollard, a man with a history of anti-Davis articles. As Smith and almost everyone predicted, the court-martial was rapidly decided, with a unanimous decision that Smith was guilty of treason, and that his punishment should be execution by hanging. Smith's execution would be done in private, with only one captain, and four privates being a witness to it.

Governor and General William "Extra Billy" Smith, 1797-1866
​
Overall, the Davis presidency was generally held as a success by the general populace, though they were certainly not by all, and most of his popularity stemmed from his successful execution of the war. With a single term limit, it remained unclear who would take up the reigns of the Confederate presidency when Davis left office in 1868, thus leading to one of the most bitter and hard-fought presidential elections in CSA history.

[1] The men the committee selected are as follows: John Pegram, George B. Anderson, Charles Winder, Barnard Bee, Robert Hatton, Maxcy Gregg, Charles Field, Victor Girardley, Richard Griffith, William Starke, Lawrence Branch, Samuel Garland, Elisha F. Paxton, John Gregg, William S. Baylor, William Cox, Zebulon York, Chatham Wheat, Thomas Garnett, and Philip Cook.
[2] The members of the court are as follows: Robert Rodes of Virginia, William D. Pender of North Carolina, Patrick Cleburne of Arkansas, David Lang of Florida, John B. Gordon of Georgia, Benjamin F. Cheatham of Tennessee, John B. Hood of Texas, Cullen A. Battle of Alabama, Richard Taylor of Louisiana, Richard Anderson of South Carolina, Benjamin G. Humphreys of Mississippi, and John G. Walker of Missouri.
Last edited: