3. Playing to (or Fighting with) the Base.
Chapter 3
Playing to (or Fighting with) the Base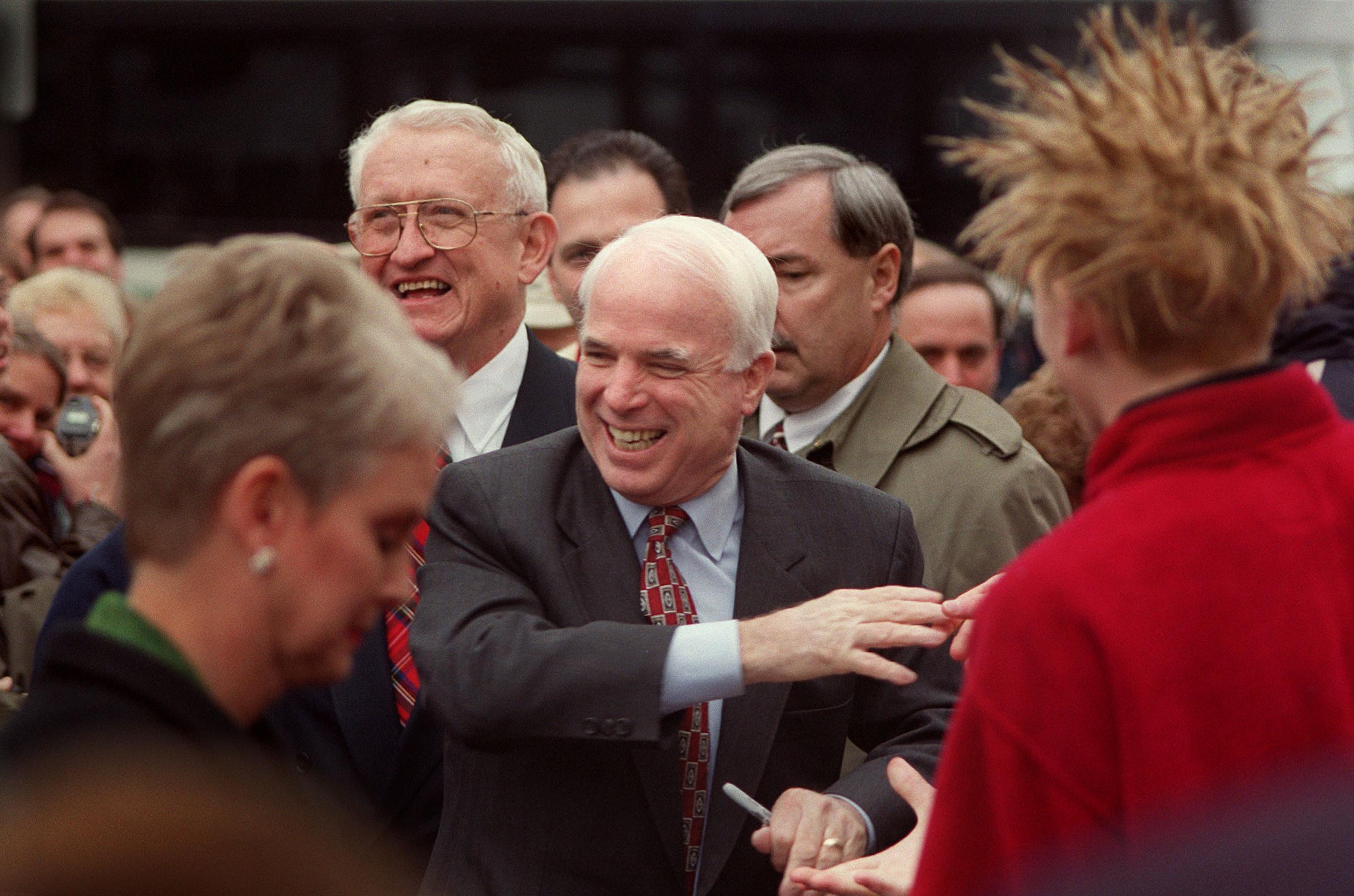 President McCain felt compelled to have a good working relationship with Republicans, and so he got to work on passing tax cuts.
​
While President McCain and his administration battled with Congressional Republicans over campaign finance reform legislation, the president's team was simultaneously working with Republicans to pass comprehensive tax legislation. When conversations began about a Republican trifecta and how to use it, Speaker Hastert, Leader Lott, and the president agreed that they could find common ground on the issue of tax cuts. The devil, or rather, the disagreement, was in the details, however. McCain presented much of his initial proposal at a press conference just before his Congressional address in February. He wanted to draw in a line in the sand on certain issues. Unlike many conservatives, he was not willing to support an outright repeal of the inheritance tax (though he supported cutting it), the majority of his cuts were for the bottom 99% of income-earners (those making less than $300k-$400k a year), and he included provisions that closed loopholes that allowed top income-earners to get away with paying less than their expected share. It quickly became clear that Congressional Republicans and the president were actually quite far apart on tax reform.

Hastert knew that the majority of his caucus wanted more, and he watched as McCain used the bully pulpit to advance his message on campaign finance reform. He sensed an opening. With presidential resources concentrated on the Bipartisan Campaign Reform Act, Hastert felt he could work quietly with more conservative Republicans in the administration to get a favorable tax bill. His staff reached out to Kellyanne Conway who began making regular voyages to Capitol Hill to discuss tax cuts. They wanted the inheritance tax on the table. They insisted on reducing the top bracket from 39.6% to 34.5%. Conway explained that the president was prepared to veto any bill that cut the top bracket. Republicans were outraged.

Tax cuts gained a new passionate advocate in the form of House Majority Whip Tom DeLay of Texas, a conservative legislator who was outraged by the president's insistence on campaign finance reform and driven into a state of rebellion by his position on taxes. Shortly after a meeting with Conway that ended in few changes, DeLay took to the Capitol Rotunda for back-to-back interviews in which he blasted the president's approach to taxes. "I have a great deal of respect for President McCain," DeLay said in one interview, "but he seems to have forgotten everything we've learned about economics from President Reagan. These tax cuts that Congressional Republicans are going to pay for themselves. They will generate such an economic jolt that income to the government will actually increase." Weaver laughed as he informed the president of DeLay's comments.

News came in March that the economy was officially entering a recession, and McCain became more willing to play ball on tax rates, but he remained adamant that the top rate would go unchanged. While the majority of his efforts remained concentrated on the campaign finance reform bill, he knew that he had to juggle the tax debate as well or the conservatives would overtake his messaging. He agreed to a wide-ranging interview with Katie Couric in April that touched heavily on campaign finance reform but also made room for a discussion of taxes and other administration priorities. When Couric asked about taxes, the president outlined the differences as clearly as he could. "I think these two issues are related, Katie. Right now, you have some in my own party more worried about big breaks for their donors than they are about relief for hard-working Americans. That's silly and it doesn't make any sense, until you remember who has the power in this town and why. Donors have the power because they have the money. If you make their money count for less, then the people have more power," the president said. In an effort to move the president to the right on taxes, Republicans had actually strengthened his hand on both key issues.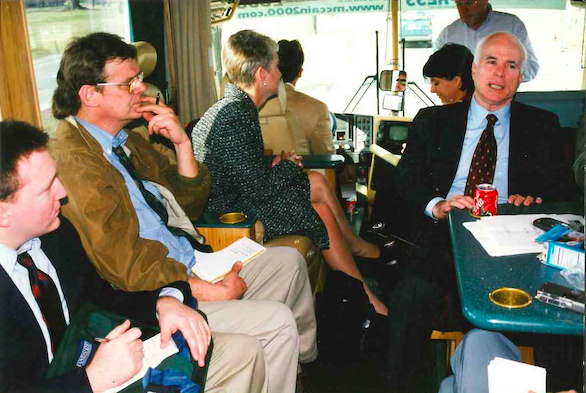 The president's popularity gave him leverage when negotiating with Congressional Republi
​
It soon became clear that Republicans lacked any real leverage against McCain. His approval rating was high, and they had to be able to deliver something on taxes. McCain was at least giving them that. They agreed on a cut to the inheritance tax, the creation of a new 10% bracket for single filers with taxable income up to $6,000, joint filers up to $12,000, and heads of households up to $10,000. Then, the 15% bracket's lower threshold was indexed to the new 10% bracket. The 28%, 31%, and 36% brackets were all reduced by 2.5% over 4 years. McCain got his way on the 39.6% bracket. It was smaller than Republicans wanted, but they joined the president and smiled gleefully behind him as he signed it into law in June.

The summer of 2001 was a complicated time for the administration. The beginning of John McCain's presidency had been rocky for the president's relationship with his own party. He had checked a number of boxes to please conservatives. On his second full day in office, McCain reinstated the Mexico City Policy, banning aid to international groups performing or counseling on abortion. Beginning in his third week, the president began submitting a number of conservative judicial nominations to the Senate. Senate Majority Leader Lott was taking those requests and getting them through the Senate as quickly as possible. While his other colleagues bemoaned the tepidness of the new president, Senator Orrin Hatch, the Chairman of the Judiciary Committee, was rather pleased with the president's work. When some of the nominations became too moderate for most of the Party, McCain invited Ralph Reed over to dinner in the White House Residence where they discussed a number of issues, including the judicial branch. Reed left the White House and made calls to friends on the Hill. "John's on our side," he said. "Let him put through some people he likes, but he knows who to put on the Court." The crisis was averted.

On February 6th, McCain flew to the Ronald Reagan Presidential Library & Museum in Simi Valley to speak on the former president's 90th birthday. He praised Reagan's record, applauded his willingness to be his own man, and praised his economic policy. "Ronald Reagan is the model president," he told the crowds. And conservatives around the nation breathed a sigh of relief. Maybe McCain wasn't going to be so bad after all, they thought. After the speech, McCain headlined an expensive and well-attended fundraiser for the Republican National Committee. He was still doing his part as party leader.

Of course, there was plenty that upset them. The campaign finance reform legislation and the president's aggressive campaign strategy around it was the most egregious misfire. Plenty of Republicans were also angered by McCain's tax bill, which they insisted did not go far enough. Worst of all, he was popular! Their hands were tied. He had all of the political capital he needed, and they had none. For so many who longed for a Republican trifecta in government, this was not panning out how they'd imagined it. So, McCain, following the advice of Mike Murphy, threw conservatives a bone when he could. In April, McCain announced he was abandoning plans to ratify the Kyoto Protocol, saying that without involvement from China and India, the agreement was effectively useless.

Still, on too many issues for conservatives, McCain held firm. The White House refused to agree to a number of earmark requests when Republican congressmen demanded them. The lawmakers said they had to deliver for their constituents. The White House told them to support the president's agenda and that would suffice. McCain's budget included some increases to defense spending, which went appreciated by his party, and it included an expanded school voucher program, also appreciated by the right. The budget wasn't the dream scenario for House and Senate Republicans, but it was enough. As it worked its way through Congress, it helped some on the right stay hopeful as other less conservative legislative priorities for the president gained support among the American people.

After the passage of McCain's Law and the Republican tax bill, the conservatives in the Party had largely forgotten the judicial nominations, defense increases, school vouchers, and other acts of good will. They were stewing. As if on purpose, Mississippi Congressman Ronnie Shows decided it was time to cause further disagreement on the other side of the aisle. Over the summer, he introduced the Federal Marriage Amendment, which quickly gained more than 20 co-sponsors. He had a press conference and demanded it be referred to the House Committee on the Judiciary. It was, and then it was referred to the Subcommittee on the Constitution. Everyone in Washington knew that the votes did not exist to pass it, but Karl Rove knew that gay marriage was a wedge issue, one that voters instinctively aligned with Republicans on. Rove was now working with a Political Action Committee to elect more conservatives to Congress, and he believed gay marriage was part of the equation.
Despite George W. Bush's loss in the 2000 Republican presidential primaries, Karl Rove was still considered a top Republican strategist in conservative circles.
​
The House Judiciary Subcommittee on the Constitution was chaired by Ohio Congressman Steve Chabot, who was elected comfortably during the 1994 Republican Wave and had no problem being reelected afterwards. He was a backbencher. He minded his own business. He voted how his Party asked. Then, one day, Karl Rove knocked on his door and told him that he could guarantee the Republicans a permanent majority in the House, Senate, and Congress with one decision. Chabot's ears perked up. Here was a top Republican operative and Jim Sensenbrenner, the Chairman of the House Judiciary Committee, promising Chabot the chance of a lifetime. He could be part of the next 1994 Wave, and not only would he be responsible for making it happen, he could be star of it on cable news.

During an otherwise sleepy summer, Chabot announced that when Congress returned in the fall, he would bring the Federal Marriage Amendment up for a hearing. The White House was blindsided. Speaker Hastert played dumb, insisting that Sensenbrenner and Chabot acted on their own, but the McCain team knew that was a lie because they received no punishment from the Speaker. No one went rogue in the House without repercussions. Internally, McCain's inner circle was divided.

The president was against the amendment. He always said he opposed same-sex marriage but that it was fundamentally a state's rights issue. He didn't want a Constitutional amendment. Weaver thought this might be a good bone to throw to the right. "I'm hearing from Kellyanne that they're fired up about this," he said, "and it's only going to get worse. This whole summer Fox News has nothing else to talk about. Plus, Kellyanne said she met with Karl Rove. They think this is a winning issue for us in the Midterms and it could keep some seats from flipping. That would be huge."

Salter disagreed, as did Schmidt. They argued that this was exactly the kind of issue that McCain should avoid altogether. If he got involved, it would only anger people – the base or those in the middle who viewed him as a voice of reason. As Salter said, "Your popularity comes from the fact that people trust you to do the right thing. They believe you when you say you have their best interests at heart. If you start pushing for a Constitutional amendment on a non-issue, you're going to lose that credibility." Schmidt agreed.

Murphy was torn, but mostly he was just angry. Of course, the president had to oppose the amendment. It was a bad law, but it was another issue that would unnecessarily rile the right. Unfortunately for the White House, it didn't go away. In fact, it got worse. The president's silence was taken as opposition to the amendment by the right and support of the amendment by the left. Pastors in the Bible Belt told their parishioners that Washington was on the verge of "destroying family values." Activists on the left found unlikely bedfellows with libertarian Republicans and they began calling the phones of every member of Congress. Not to be outdone, Jerry Falwell energized the right to do the same thing. Somehow, a sleepy summer turned into a battleground over same-sex marriage.

The issue got worse. Talk radio talked about the president's betrayal of the right. Democratic lawmakers demanded that the president take a stand. Every day at the press briefing, Howard Opinsky, the White House Press Secretary, had to issue the same statement: "President McCain will comment on the legislation if his opinion becomes necessary, but as presidents do not sign Constitutional amendments, he feels this matter is best left to the House Judiciary Committee." It was a weak non-answer, but it was all they had.

Finally, in early September, as the amendment moved towards a hearing, the president went into the press room and made a brief statement. The debate was becoming too much of a distraction for him, and he certainly didn't want the amendment to pass out of committee and further fuel tensions. He wanted to give Republicans cover to say no. "A lot has been made about this Federal Marriage Amendment," McCain told the press. "In reality, I think everyday Americans are more worried about the economy than they are some Constitutional amendment that will take years to pass if it makes it out of Congress. That said, I owe the American people the clarity of my convictions. If I were a member of the House, I would oppose this amendment. It is a gross intrusion of the federal government into an issue that should be decided state-by-state. That said, if the state of Arizona proposed a similar amendment to its own constitution, I would support that." The president didn't take any questions.

Conservatives were outraged, and Kellyanne Conway went to Mike Murphy's office to express just how tense relationships with the Hill were. "We need to do something," she said, "to mend this relationship. We're losing our own party, and honestly, Mike, I'm about to walk."

"What do you suggest?"

"Let's have the president take Hastert, Lott, and some of the other top conservatives on a retreat to talk things through and find issues they can agree on."

Murphy liked the idea. "Where and when should we do it?"

"I've talked with their staffs. We all agree that they should head out to the president's in Arizona. They're willing to extend recess another week to figure this all out, and we all agree that would be best. They'd leave on Friday and get back on Tuesday."

"The 11th?

"Yeah."