Soldiers of British National State Army stand in front of a burning building in Derry, the second largest city in Ulster.
​
As part of the "Ulster Agreement" between the Second Irish Free State and the British National State (ruled by Oswald Mosley and his vitalist British Renaissance Party), Northern Irish Protestants who want to leave Ulster are preparing for evacuation ahead of the planned transfer of Ulster from British Rule to Irish Rule that is scheduled to take place on May 12, 1960.
Members of an Ulster Defence Brigade marching in Belfast.​
However Northern Irish Protestant paramilitaries (now calling themselves Ulster Self-Defence Brigades or USDBs), feeling betrayed by Mosley and his government, have refused the order to lay down their arms and have instead started to launch terrorist attacks on Catholics and pro-Unification Protestants throughout Ulster as well as attacking British troops and the incoming Irish soldiers*.
Irish National Army soldiers on a former British National State Army military base in Ulster.​
The Irish Republican Army, which was to lay down their arms as part of the agreement, has taken up arms again to protect their fellow Ulster Catholics from the USDBs.
Irish Republican Army fighters patrolling an alleyway in Derry, Ulster.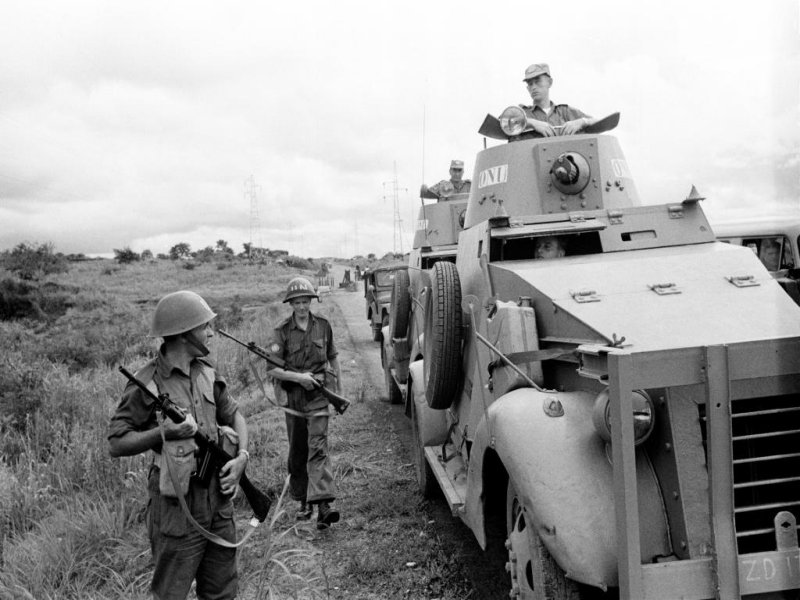 Irish soldiers, with armoured cars, on patrol in the Ulster countryside.​
Flag of the Ulster Self-Defence Brigades.
Andy Tyrie, a general of the USDBs.
Major General Art Mac Carthaigh of the Irish National Army.
​
Dublin has put him in charge of overseeing the transfer of Ulster from British rule to Irish rule. Mac Carthaigh is also tasked with maintaining order within the six counties of Ulster.
The aftermath of USDB bombing in a Catholic neighbourhood in Derry.
Ulster Self-Defence Brigade weapons cache seized by Irish National Army soldiers and Irish Republican Army fighters.​
—————————————————————
* = The Irish National Army, aka the Free State Army/Regular Army, is to be taking over the duties of the British National State Army in Ulster in regards to keeping the peace as the Irish Republican Army and Ulster Self-Defence Brigades both lay down their arms as part of the Ulster Agreement. The Army is to do this by declaring martial law throughout Ulster and enforcing the disarmament of the IRA and USDB until such a time has passed where the Irish Government is comfortable with ending martial law in Ulster and a civilian government can be set up.
Last edited: