Discussion and original thread here. If I misplaced anything or mangled a copy-paste, let me know ASAP in a pm!
​

PAY THE BONUS
- A GREAT DEPRESSION TIMELINE BY JAMES MADISON KOHLER (NAPOLEON53) -

"I told that trigger-happy fool not to go down there. I told him it was no place for a Chief of Staff. If only we could have foreseen what tragedy it would have become, I would have disobeyed orders. May God forgive us."
-Dwight D. Eisenhower, aide-de-camp to General Douglas MacArthur during the Bonus Army Massacre of July 28, 1932

​
"Flash news bulletin! This is Jerome Jenkins for WFED, 1500 on the dial. Chaos has struck our fair Washington today after the Bonus Expeditionary Force march was brutally and utterly crushed by military and police forces. Chief of Staff MacArthur claimed he was under orders from President Hoover to disperse the throngs of angry Great War veterans and restore law and order. He also claimed that the makeshift organization had become a wing of Communists. General MacArthur personally led 1000 troops to remove the protesting vets from government property. However things have rapidly spiraled out of control after the Army opened fire on the mobs, killing and injuring at least 30, including several children. Reports of violence and civil unrest all across Washington are coming in now and we are getting told that a bomb inside of an automobile has exploded in front of the White House. We will bring you more as we have it. Now back to the Roaring Ragtime Orchestra Hour."​
"Get me MacArthur! I will have that man's arrogant neck!" declared a vexed and panicking Hoover, pounding his fist against the desk of the Oval Office. His assorted staff of some twenty officials and officers were in there with him, sweat stains clearly showing through their uniforms and suits. "I tell that man to restore order and coax those people into going home and he shoves a bayonet in their back and mows them down like they were some of the Kaiser's boys!"
"Mr. President," an Army Captain barged in, "We need to evacuate, sir. We need to secure the capital and we can't do that with our President in danger. I would ask you all to-"
A ball of fire erupted on the White House lawn, rattling the windows and sending everyone to the floor, hands clutching their heads.
"Mr. President! We need to leave! Now!" shouted Vice President Curtis. "We need to evacuate immediately! We need to ensure continuation of government."
"Yes," said Hoover, picking himself up off the floor. "This is an attack on the US government. This is MacArthur's doing, and he's going to stay here and clean this disaster up. Prepare to leave."
It was July 28, 1932. Just days before in Germany, Reichswehr troops under Gerd von Rundstedt had seized control of Prussia following severe civil unrest and rioting. Political violence seemed to be sweeping the globe. And it was about to jump off Americans' newspaper pages and into their everyday life. It was July 28, 1932. At 12:03, the first shots rang out. Within seconds, total pandemonium gripped the US capital. At 1 pm, as Army troops began destroying the camps of the homeless BEF marchers, a 1925 Ford parked in front of the Hoover White House exploded, killing two police officers with a homemade bomb and maiming several civilians. The White House's iron fence was blown open by the homemade bomb and dozens of BEF rioters ran through the wreckage and began pelting President Hoover's residence with rocks and bottles.
President Hoover, Vice President Curtis, and hundreds of members of the government fled to a military base in Delaware. Violence erupted nationwide and angry veterans and citizens took to the streets overnight and when July 29 dawned, the world was watching as the United States teetered on the brink of total civil breakdown. How President Hoover handled the situation from this point on would determine the fate of the troubled nation. Whatever happened, a political storm was on the horizon that had not been seen since 1865...
HOOVER'S GOVERNMENT IN CRISIS

Bonus Army supporters rally at the Capitol in defiance of the government, August 1, 1932
​
"In recent days, unrest has gripped the core of our nation, and many Americans do not know what to think about our future, or how to survive in the present. It is clear to me that by only laying down our arms and working toward a brighter, industrious future, can we once again live fulfilling lives and get our economy roaring back to what it once was or greater. Civil unrest and targeting law enforcement officials is no way to deal with our problems. I also wish to apologize on behalf of my entire administration for the actions of my Chief of Staff, Douglas MacArthur, and the men under his command. He has been arrested, and will be administrated military justice at a court-martial. I never wished or ordered for him to fire upon protestors and I was mortified by it beyond belief. He has been replaced as Chief of Staff by General Malin Craig, an honorable Missouri native and a true patriot. We are sorry. My government made mistakes. And we deeply apologize. It has become clear that the people of the United States no longer have confidence in my administration. As such, I will not be seeking reelection this fall. My last act as Commander in Chief is to call for national peace, national brotherhood, and national compassion. Furthermore, I feel that I can no longer fulfill the duties entrusted in me as President, and effective at noon tomorrow, I will step aside in favor of my vice president, Charles Curtis. It has been an honor to be President of the greatest country on earth. May God bless you all, and may God bless America."

-President Herbert Hoover, August 1, 1932

It had been just a handful of days since the Bonus Riots had broken out, and violence and unrest had swept the nation. The already tanking global economy stood on edge as they watched America descend into violence. Hoover was a villain to over half of America. Millions cried out for him to be impeached. His government, now operating out of Dover, Delaware, at a small military base. Navy ships floated just off shore, ready to evacuate the entire government to sea if there was a further escalation. Hoover was fearing all-out civil war as he took to the airwaves on the first of August to announce he would become the first president in US history to resign from office. The news was greeted at first with jubilation by many, and then by concern. Charles Curtis was a relatively unknown quantity. He hadn't actually said much of anything nice about Hoover before he had been pacified with the vice presidency. He was infamous for his 1930 remark, "Good times are just around the corner." He seemed like most people's bungling, but lovable, uncle.
Except many viewed him just as culpable as Hoover for the "Bonus Massacre." To the hardliners, he was guilty too. Everyone in the government was held up by the veterans as part of the problem. And they wouldn't stop until everyone who held office on July 28, 1932. They were going to "drain the swamp," at gunpoint if need be. And so it was that multiple groups of disgruntled citizens around the country had commenced a vigilante war on the establishment. Congressmen received death threats by the hour. The Washington Metropolitan Police Chief, Henry Pratt, was assassinated in his office by a Polish-American Great War veteran, Henry Poniatowski, who had served as his janitor for two years. The man emptied a Colt revolver into Pratt before being blown away by several nearby officers.
In the South, as the economy and politics had tensions running high, race relations weren't getting better either. A showdown between several KKK-linked groups and some liberal socialist and communist organizations was getting bloody. Many local blacks took to the communist cause as they suffered through possibly the worst of the Depression. Black unemployment was quadruple the national average, and many saw the Republican Party as the emancipation party but also as the party of mistreating veterans and tanking the economy. However they also scorned the casual racism of the Democrat Party. It was in the deep south that the first Communist Leagues began to form. However, the same could be said of the radical militant right that began to resent that the conservative Republicans were letting violence get so out of hand without it being crushed. It was to that end that radical pseudo-fascist militias formed almost instantly to confront the communists. Everyone seemed hated Hoover. The Republicans wanted him gone and never to talk about him again, and the likely 33nd President-to-be, Franklin Delano Roosevelt, and his Democrats wanted to beat the Hoover horse long after it was dead. And dead it soon would be, with all seriousness.
On August 2, 1932, at high noon, Charles Curtis was sworn in as the 32nd President of the United States, in Dover, Delaware. Hoover shook the man's hand, wished him well, and then retired to his quarters on the base. There he typed out a quick note:
"I, Herbert Clark Hoover, 31st President of the United States, wished nothing but good for the world, and the people of America. I strove every day for excellence, and I regret the many mistakes I made personally that led our nation down this path of violence and troubles. I feel every day for the families mourning their fathers and sons that were so brutally slain by my Chief of Staff. I should have never let it get that far. I cry every day for the failures I have wrought upon this my nation. I see us about to go over the brink into the abyss, and so I go to meet that abyss, in an effort to hopefully make amends and remove my tainted name from the public discourse. I, Herbert Clark Hoover, am a patriot. And a failed President. I wish nothing but love to my wonderful wife Lou, and my amazing sons Herbert Junior and Allen. I am sorry I failed everyone around me and my country. I go now to the abyss. Goodbye."

After sealing the note in an envelope and handing it to an army sergeant stationed to guard his quarters, he did a brisk salute and told the soldier he was to go give the note to President Curtis. And then he retired to his quarters, and at 4pm on August 2, 1932, former President Hoover ended his life at his desk, killed by a self-inflicted gunshot wound to the head. He died instantly.
To the entire world, this was absolutely stunning, and everything everywhere seemed to screech to a halt. And now a new President had one hell of a mess to clean up. And three months to do it.
THE SEPTEMBER INSURRECTION
The Bonus Brigade, a militant group of anti-government protestors, rally in Philadelphia, August 20th, 1932

​
The global economy was a complete shambles. President Curtis now had to deal with the aftermath of his predecessor killing himself, an economy teetering on nonexistent, a Chief of Staff on trial for slaughtering citizens, the rising power of Nazism in Germany, and radical wingnuts from every political faction rioting in the streets. And he had only three months to make sure Roosevelt didn't utterly annihilate the Republican Party from history.
The Bonus Brigade, a militant anarcho-socialist organization headquartered in Philadelphia, with many Communist members, was drawing support from across the nation. A commune was created on the outskirts of Philadelphia promising work for food, and a place to build a "Hooverhouse" for each family. Veterans and homeless poured in from near and far, and soon over 25,000 people were all living in the giant slum. Curtis was not keen on this and neither was the military or the mayor of Philadelphia, J. Hampton Moore, a staunch Republican.
All over the nation, radical socialistic thinking was spreading like wildfire. Maybe it was time for a Socialist States of America. However, there were still a majority of Americans who were hesitant or even downright hostile to socialists. As unrest plagued the nation, street battles between the right and left, not unlike those in Prussia and the Germanic regions, became daily events. The death toll was creeping into the upper hundreds and Curtis needed to do something about it or he would look like an inept fool. But at the same time if he clamped down too hard he would have the same fate as Hoover, if not the same end. He immediately signed emergency legislation authorizing the payment of many bonuses to veterans, but to many of them it was too little too late.
Meanwhile, MacArthur's trial was expedited and he faced his Army court martial on August 22. He was found guilty of insubordinate conduct under Article 91, conduct unbecoming an officer under Article 133, and manslaughter under Article 119. However, during the proceedings MacArthur made it very clear he viewed the trial as a "Communist witch hunt."

"I regret that so much life was lost in Washington, but not everything is as clear-cut as it seems. We are under a threat of Communist infiltration, Communist subversion, and Communist degeneration of our country and society. Ain't no way in hell a man like me is just going to stand by while damned revolutionaries take to our streets and break our laws. I did my duty. I can do no other."

-Douglas MacArthur, August 22, 1930, before being sentenced to his dishonorable discharge

Meanwhile, young Major Eisenhower refused to admit any wrongdoing and claimed over and over he told MacArthur to stand down. However, he also said during the proceedings that the fear of Communism overshadowed MacArthur's thinking. And he claimed that even though the Bonus Marchers were wronged and brutalized, there were real communists among them and they need to purge themselves of those elements. But largely he was out to preserve his career and wanted nothing to do with the incident. He was acquitted after it was decided he was "just following orders."
And on the other end of the spectrum was Major George S. Patton. A hellion of a man, Patton insisted he only was following orders but that:
"Now that the cat is out of the bag, and we got commies running around with a bunch of decent Americans, causin' trouble and raisin' cain, we need to act swiftly before we wind up with a second Civil War on our hands here. We need to crush communism wherever we find it. We don't need it here. It's not American and by God we need to stamp it out before we all end up like a bunch of Russian sumbitches starving in a hellhole somewhere."
Major Patton was acquitted of any wrongdoing and restored to active duty. He would have quite the future indeed.
In other matters, no President had ever resigned before. And some people saw Curtis as an illegitimate leader. This was about to come to a head in one of the gravest crisis in American history.
New Jersey had been absolutely overrun with riots since July, and for the popular Democratic Governor, A. Harry Moore, Curtis's presidency was the last straw. To him, Curtis was a no-good, half-Indian, lame duck of a President who shouldn't even be in office. And Curtis's initial lackluster approach to ending the rioting despite the fact that Trenton and Newark looked like battlefields pushed him over the edge. Moore mobilized all New Jersey National Guardsmen on September 1st and marched them to a Federal headquarters building. There he told the Federal troops they were to leave the state immediately and leave combating the rioters to them. Moore also announced that he saw the entire current political structure of the nation as a "failing republic of overreach and empty promises." He also claimed that President Curtis was just as much of a disgrace as the late President Hoover and that he needed to be removed from office.
Curtis finally was angry. He didn't see himself as a great President, but he did see himself as a legitimate one that was trying his best with what he had and he saw Moore's actions as an egregious attack on the Constitution and the Federal government, and as spitting on Hoover's attempted suicidal redemption. He had had enough. On September 4th, three days after the withdrawal of Federal troops from New Jersey, Curtis ordered Chief of Staff Malin Craig, with Major Patton in tow, to march to the New Jersey capitol building and arrest Moore and his advisors for sedition. Patton led his tank column down the main thoroughfare in Trenton with speakers and bullhorns advising any members of the National Guard or state government were to surrender immediately. Many did become intimidated by the Federal troops and gave up without a peep. However, it was not National Guardsmen who were about to ambush the tank corps.
At 2:21 pm, some twelve blocks from the capitol, a small handful of black flag anarchists hidden inside some high-rise office buildings began firing on the tanks with small arms. Four soldiers were killed immediately before the tanks opened fire on the buildings, blasting them to bits. The Federal troops immediately became spooked and some began firing on the surrendered National Guardsmen during the chaos. It was a bloodbath. Patton tried to calm his men and regroup to the south, but it was too late. A rolling gun battle had erupted across town. For the first time since 1865, American troops fired on American troops. After an hour most of the fighting had stopped. There were few casualties after the initial ambush, as most of the battle was just covering fire or deliberate misses at fellow Americans. Patton meanwhile was not about to give up. He was furious. To him, Moore was to blame entirely. He pressed on after the ambush and fired warning shots at the capitol building. At 7:35 pm, Governor Moore and his advisors marched down the steps of the building and were arrested.
As news of the "Battle of Trenton" swept the nation, stocks tumbled even further. Curtis had another massacre incident on his hands. But this time it was in self-defense. Or so he hoped people would see it. What most people saw was an inexperienced Kaw Indian in over his head and now American soldiers were dead. He had been the first president since Lincoln to see such a thing. A second wave of violence shook the nation. Most scholars refer to it as the September Insurrection. As the country fell apart, radical KKK groups tied to the Democratic Party began patrolling towns from the Deep South all the way up the Ohio and into Indiana. The Bonus Brigade in Pennsylvania began throwing talk out of running a socialist candidate in November. Republican radicals and fascists actually began clashing with the Klan. Negroes began putting their support behind the radical socialists, with many civil rights groups and black organizations putting their lot in with the Bonus Brigade. On September 19, the Bonus Brigade hosted the "Rally for a New America." Thousands showed up to informally nominate a candidate for the Presidency. With an almost overwhelming margin, they decided on the 42 year old socialist and Great War veteran Milton Stein.
Meanwhile, Franklin Roosevelt was preparing himself for a landslide victory he was sure would be his. However, with a secret truth about his health about to leak out, the political scene was about to get even more interesting....
THE OCTOBER REVELATIONS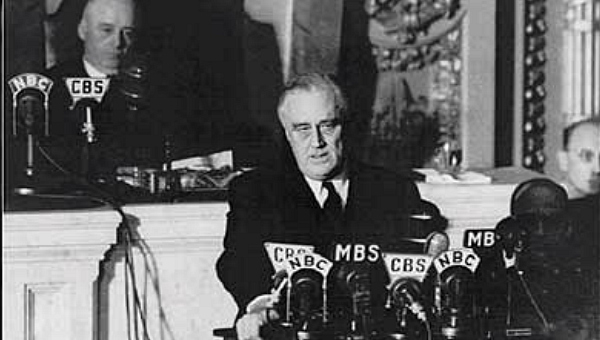 Franklin Roosevelt, Democratic candidate for President, addresses the media about his health and recent scandals within his political alliance

​
Things were looking peachy for the Democrats as October of 1932 dawned. However, their well-oiled machine was about to have a wrench thrown in its gears. Roosevelt was secretly crippled, a fact he managed to hide very well. Never letting it get in his way, he managed to keep it quiet for years. Many in Washington knew, but were either paid or chose not to bring up the matter. However, as total electoral annihilation loomed in about 40 days, President Curtis decided to pull out all the stops and had it leaked to the press. And though Roosevelt did take a dip in the polls, especially with some Democrat voters defecting to socialists under the Reverend Norman Thomas, the Republicans still trailed far behind. Curtis essentially resigned himself to defeat and tried to keep the country from plunging into civil war. New Jersey had become a spark that might ignite a bonfire, and Federal martial law there certainly was winning him no votes. What he did not know was another scandal was about to break in the Democratic camp.
It was in New York City on October 3rd, at the Empire State Building, that a "gentleman's club" was hosting a high society get together of well-to -do industrialists and political kingmakers. Hosting the event was Al Smith, former Governor of New York, vehement ant-Roosevelt Democrat, and CEO of Empire State, Inc.. Co-hosting with him was Robert Sterling Clark, hero of the Boxer Rebellion and heir of the Singer Sewing Machine Corporation. Among the attendees were the CEOs of Heinz foods, Winchester Repeating Arms, Goodyear, Standard Oil, and General Motors among others, several governors, numerous lower-ranking politicians, and a handful of military officers. They all feared one thing: Communism. And they were determined to keep America from turning even farther left than it had in recent months. The event was masked as a get-together to view and discuss some of the Empire State Building's planned upgrades and to show off some of Clark's recently acquired antique paintings.
At dinner that night, after talking for hours of various ways to stump Roosevelt's success, most had given up, slowly realizing the landslide in November could not be stopped. Unknown to all was that Smith and Clark had an ace up their sleeve. It was none other than newly-promoted Lieutenant Colonel George S. Patton who entered the dining hall with a beige folder under his arm. He summoned everyone's attention before stepping up to the table and tossing the folder down.
"Good evening, everyone. I come to you tonight as an American. A patriotic, red-blooded boy. A capitalist. I come to you to bring something to the light which the communist bastards have tried to hide in the shadows for several years. I have here, in this little damn folder, testimonies from eye-witnesses to multiple visits to Democrat and Roosevelt headquarters and events by agents of the Kremlin. These papers show strong evidence of, how you say, collusion.
Hell
of a bathroom reader if you ask me. Hell of one. Gentlemen, we can sink wheelchair boy
before
he becomes President of these states, or we can do what my associate Mr. Clark has to say. I think we should all listen to him for a moment."
The Singer Sewing Corporation heir rose from his chair and leaned forward on the table, fire in his eyes and said, "We're going to take this country back from the abyss, just as Hoover wished. We're going to save the United States. We're going to save the economy and feed our veterans and starving homeless. Now we have a plan, and it's dangerous. But you all are trusted friends. What we are about to discuss cannot leave this room. A plan has been drafted... We shall go ahead and
let Roosevelt win
. Yes, that's right, we let him become President. We have no need for that bumbling fool Curtis or the tainted Republican Party. We need to make people forget about the entirety of the Hoover administration. Then, faced with slowly trickling evidence of Soviet collusion, Roosevelt will become a shame on this country and voters will reject him utterly regardless of his policies. We shall show them that the threat MacArthur warned us about at his Court Martial, the threat which set this ball in motion, is real, and it reaches to the very highest offices of this once-great country. The people will reject Socialism, Communism, Progressivism, and the two party state that we have so long endured. They shall see the threat posed by the Godless Kremlin and our country will come roaring back. And we have a plan to remove Roosevelt from office once the public has sufficiently turned against him. That is where Lt. Col. Patton comes back into things." Clark gestured for Patton to resume speaking.
Patton nodded and continued. "Thank you, Mr. Clark. You see, all across America there are thousands of upset veterans that feel left out or wronged or stabbed in the back by our government. They're mad as hell and we all know they have a damn good reason. We tried reaching out to Major General Smedley Butler, a decent man, but he turned us down and called us crazy. So lately I have been in talks with General Pershing, our hero and commander from the Great War, and I have good faith in the man to follow through on his word. He has confided in me that he has no faith in Curtis or Roosevelt to lead us. Now General Pershing is a little up in his years now, but he has contacts with every veteran organization in this country. In Germany they called it Der Stahlhelm. Here we call it the American Legion. Thanks to our friends at Winchester Repeating Arms, and the good old Second Amendment, Pershing has informed us that if Roosevelt moves us in the wrong direction, namely cold and easterly if you get my drift, that he can gather at least 500,000 men to march on Washington and arrest Roosevelt as a Communist spy and a foreign agent. Pershing would then lead the government as Secretary of Internal Affairs. The Cabinet would be purged and reorganized, and then new elections could be called to decide on a figurehead President. But the military will rule and capitalism will be saved. Order would be restored and many reforms could be put in place under more... heavy-handed tactics... to ensure the revival of American industry."
"Lt. Col. Patton, where did you find this information of the Russian collusion?" asked a young industrialist named Prescott Bush from the Union Banking Corporation, a company with heavy ties to German steel magnate Fritz Thyssen.
"Well, can't say we did it alone. Army intelligence, one of my main areas at the moment thanks to our ongoing coup in New Jersey, has been watching Roosevelt like a hawk, don't get me wrong, but it was actually a few calls from German intelligence that tipped us off. The Hun bastards have been spying on Russian agents inside the US and they decided the situation was interesting enough to tip us off. Grateful to them that they did, or else we might be saying President Roosevelt for the next four years."
And so it was that the Business Plot was hatched. Those who weren't sold on the idea quickly came to their senses when news broke shortly after the meeting that Smedley Butler had been involved in a deadly car accident several blocks from FBI headquarters. This was it, a plot to overthrow the soon-to-be President of the United States.
Robert Sterling Clark

​
As news was purposely being gradually leaked out about his ties to Russia and increasing concerns about his health, Roosevelt still led in the polls by a large margin, but doubt started to slowly set in on Democrat voters. Was their man a Russian agent? Just the mere question began to eat at the popular consciousness, slowly starting to erode the feelings of total outrage after the Bonus Massacre. The recent popularity of socialism, and the growing Philadelphia Veteran Commune, was concerning. Roosevelt went into November still a sure-fire winner, but things were about to get very hairy very quickly. And the most interesting thing of all was that Patton's dossier was largely nothing but German and Italian manipulation.
PRESIDENT-ELECT
​
When November and the election rolled around, FDR won by a wide margin, akin to Hoover's victory in 1928. However, his reputation was already in shambles. A self-feeding media frenzy kept up an unrelenting barrage of accusations about his ties to Russia. Most frequent were questions about his alleged meetings with Soviet Ambassador to the US Boris Skvirsky, and Skvirsky's visit to the Philadelphia Veteran's Commune.
"It was a mere polite introduction to Mr. Skvirsky at a luncheon engagement. I also met several other nation's ambassadors and they were all polite, kind men of distinction, and we talked over some finger sandwiches like gentlemen. Nothing more!" Roosevelt addressed the press on November 12th.
"Mr. President-Elect," started the ABC reporter, "Is it true that a Russian oil company donated large sums to your campaign?"
"No! AMPET stands for American Petroleum, what part of that do you not understand? Their Vice Chairman of the Board might be a Jewish immigrant from Russia originally, but that has no impact on anything at all!"
"Is it true that the liberal wing of the Democrat party seeks total desegregation of whites and blacks in America? Is that what you stand for?" asked NBC.
"That is absurd. We are not about to undermine American Society. We have no interest in such radical changes. What our people of every color want is jobs, jobs, jobs, and food in their pot! And that is what I will give them. I want to fix the economy and all you people do is jabber on about my nonexistent ties with Russia and if you're going to put me before this kind of firing squad at least give me a cigarette first."
"Mr. President, what are your goals with New Jersey?" inquired CBS.
Roosevelt took a sip of much-needed water before answering, "Finally a damn question I can respond to. My goals are to gradually end martial law and call for proper elections to determine a new governor. Our brothers and sisters in New Jersey will eventually go back to jobs, food, and a normal life."
"Mr. President, what have you to say of Mr. Skvirsky's visits to the Philadelphia Veteran Commune, a Commune which, frankly, went strongly for you or the Socialist Reverend in the election?" the ABC reporter shifted the discussion back to the last thing he wanted to talk about.
"Look," Roosevelt pointed a stern finger at the media man, "I have no control nor say over how Mr. Skvirsky spends his time. He is a fully recognized diplomatic official and is entitled to the respect owed him and may travel wherever his papers allow. I know nothing about his trips and I've had about enough cockamamie conspiracy theories running around about them. I don't know if he went to pass out candies in the camp or if they sang the Internationale together. I don't know and frankly am not interested. I've had about enough of this witchhunt pandering to reactionaries among us who have already come to their own conclusions that I absolutely adore Joseph Stalin and wish to implement Marxist policies simply because I want to create public welfare agencies and take us off the gold standard, a standard which got us into the economic depression we are currently stagnating in. It was unhinged capitalism which took us from a thriving country to the depths of the depression."
"So, you're saying
capitalism
is to blame? Would, say,
socialism
be a better form of government in the current situation?" pressed the ABC man again, his eyes squinting in suspicion under the brim of his fedora.
"No damn it!" Roosevelt stamped his hand on the podium. "We need a regulated free market and we need to inject it with capital and ensure our economy recovers."
"So you want to bail out failing companies for the good of us all? Isn't that by definition redistribution of wealth? Taking from Bob to keep Sally from going under? Marxism, if you will?" Roosevelt could hear the accusing tone in the man's voice.
"No, no, no, it is a New Deal for the American people, rich and poor. I am not tied to Big Industry and I will always be there for the little man. That man need's security, knowing the government won't let businesses and monopolies tank the economy without any guidance from the government whatsoever. Now you can read any Liberty League-leaning rag and you'll read the phrase socialism until your eyes are raw, but what you won't read are my programs to reform banking, agriculture, and grab America by the bootstraps and set our ship on it's proper course again. Now, I have urgent matters to attend to and so I take leave of this ambush. Good day to you all."
THE BATTLE OF PHILADELPHIA

Members of the Philadelphia Commune prepare for the arrival of Federal troops

​
Roosevelt was a very unhappy man. He was struggling to get anywhere, and he hadn't even been sworn in yet, until March. Congress however, had voted to move the inauguration of future presidents back to January 20, but that wouldn't take effect until 1937. President Curtis was holding the country together in the meantime as best as he could, but FDR worried he wouldn't get anywhere at all with all the communist conspiracy theories. In early January of 1933, however, the situation in Europe became much more alarming. Paul von Hindenburg had finally proclaimed the young firebrand German National Socialist German Worker's Party (NSDAP) leader, Adolf Hitler, as Chancellor of all Germany. And it was in these times where the right was seeing a surge in popularity that the Philadelphia Veteran Commune was about to make headlines again, and the nation would be plunged into civil unrest once again, and the results would not help the left in the nation at all.
On February 3rd, 1933, President Curtis moved Federal troops to Philadelphia in response to growing reports of revolutionary activity at the Commune. Some 15,000 members of the Army and Marines and 1000 policemen from across Pennsylvania arrived and surrounded the camp. Two days before, it was reported that the Communal Committee had developed a plan to overthrow the government of Philadelphia and proclaim a Soviet-style People's Republic. The Federals began ordering for the dispersal of the Commune at 9am. When the veterans and their families refused to budge, Lt. Col. Patton ordered his tank column forward. As the tanks crept closer to the walls of junk and refuse that the leftists had stacked up, the veterans inside started chanting, "Shame! Shame!" Patton again ordered the militias to disperse. He was determined not to repeat MacArthur's mistake, so he tried to give them multiple opportunities to surrender and go home. Each time the tanks crept a bit closer.
At 3pm, Patton announced a final warning over his tank's speaker system:
"The people of America and Pennsylvania wish no ill on you. We respect the service you offered us during the war. Hell, I fought alongside many of you salty bastards. However, due to confirmed reports that your leaders are planning to overthrow the duly-elected local and state government, and in an effort to prevent this state from becoming a second New Jersey, and also again to shut down this unlawful assembly, the United States government and the state government and local law enforcement give you one more chance. If you have not shown an effort in good faith to withdraw from this campsite by 4pm, we will have no choice but to enter your campsite and disperse you with force and arrest your leadership. Once more, disperse by 4pm, or we're coming in."

US Marines rushing across the fields during the Battle of Philadelphia
​
The men inside the fortifications looked pale. A couple thousand men and their families jumped fence and deserted to Federal lines. But most stayed. When 4pm rolled around and the veterans remained, tear gas was deployed and Patton lowered himself into his tank and closed the hatch. With a jolt, his tank started forward and became the rallying point for all the other armored vehicles. As the M2A2 tank smashed through the main gate, bullets began to fly on both sides and the destruction was unimaginable. As the veterans attempted to stop the tank column to no avail they were being mowed down in droves. Five biplanes flew overhead and dropped grenades on the main barracks buildings, which set off massive explosions of stockpiled ammunition and ordinance, killing at least 100 in the initial blasts. Within 30 minutes the veterans had been totally routed, and Patton had the ringleaders arrested. As some of the vets scurried into Philadelphia proper, the US Cavalry charged down the empty streets in search of runaways.

"I was only 5 at the time, but I remember my mother holding me under the front window and trying to keep my head down. I asked what all the explosions and horses were about. And then I heard the screams. A few hours later, we opened our door and saw five men's bodies in the street, dressed in rags, two in Great War uniforms, and also a horse, laying atop a badly wounded US Cavalryman. We dragged the wounded man into our house and bandaged him up. My mother turned to me and said, 'This is what the Communists bring to our home.' I never will forget ever."
-Jericho Wallace, eyewitness to the Battle of Philadelphia, describing his experience in Marlon Spear's 1974 historical account
Red Blood: The Crushing of the Philadelphia Commune

US Marines present a captured Commune battleflag, Philadelphia, February 3rd, 1933
​
Towards the end of the day, most of the revolutionaries had been killed, arrested, or chased off. As the Federal troops began tearing the camp apart they made a very interesting discovery. Inside one of the main depots were dozens of crates with Red Cross insignia, all labeled "Goodwill Food Relief." Inside them were hundreds of Soviet-made rifles, handguns, and assorted military goods, mostly hidden under layers of canned vegetables and soup. Before long, newspapers across the country were running stories about the "attempted Communist revolution in Pennsylvania" and how close the state had been to becoming a Soviet Republic. The country, just earlier that year, had been leaning far left. Now, as the smoke cleared over the Commune, far right hysteria hit a zenith nationwide and anyone with ties to the radical left now found themselves being watched like field mice by an owl's nest. Most all of the Liberty League's accusations of FDR being tied to socialism were bogus, but now an attempted Communist insurrection had been put down in the nation's heartland. Truly, the first months of FDR's presidency would be difficult indeed.
BREAKING POINT: FISH VS. ROOSEVELT
President Roosevelt addresses the nation and replies to the challenge of Congressman Hamilton Fish
​
Franklin Roosevelt's reputation was absolutely on the rocks by the time Inauguration Day, March 4th, 1933 rolled around. The smashing of the "Philadelphia Putsch" had undermined the impact of the Democrat victories, and the likes of Al Smith and even Vice President John Nance Garner of Texas turned their backs on him. In fact, Garner seemed to actively work against the new President. Almost immediately the Supreme Court shot down all of his policy ideas. And as the tensions between the Executive and Judicial offices grew, there was mounting frustration from the American people, many of whom were calling for FDR's resignation.
In late May, the twenty leaders of the Philadelphia Commune were executed for treason, inciting violence, attempted overthrow of a duly-elected state government, local government, sedition, and collusion with foreign agents. It was a show trial unlike any the nation had seen in decades. And the Russian angle was becoming a major international incident. Other nations began speaking their minds on the subject.
Included among those was the very opinionated German Chancellor, who, because of the Reichstag Fire and its aftermath, had been given dictatorial powers some weeks earlier. As he was leaving an official function with his general staff in tow, reporters asked him a few questions on recent events in America.
"Sieg heil, mein Fuhrer! What do you think of recent events in America, such as the evidence pointing to a potential attempt at overthrowing the government and creating a Marxist republic, mein Fuhrer?" inquired a reporter respectfully, while his men took rather strapping photos of the photo posing with the Italian ambassador.
The Fuhrer made a shoulder shrug gesture and replied, "Well, when ones country is overrun by Communists and left-wing radicals, those things are bound to happen. They need a stronger leader there, one who can handle the Marxist threat and keep the American people safe! Unless law and order is restored there, there is no hope, and they shall never see the kind of growth and stability we Germans enjoy in the Reich. We saw the likes of the spasms they are going through in the Weimar days, we had Der Stahlhelm for that. We had the NSDAP for that. They need something to unite their people in a bipartisan effort. No excuse me. Sieg heil!" The Fuhrer then saluted the Italian ambassador, the press, boarded his staff car, and drove off.
​
Also coming out to speak his mind was Crown Prince Edward of Britain. As he enjoyed a night out in London he took time to do several short interviews, including one with the BBC in which he gave his opinion on American matters.
Edward took a long drag off his cigarette and told the reporter, "The Yanks need to learn when a firm hand is needed. They have been so huzzah for personal liberties and their Founding Fathers that they haven't realized times have changed and Communism is no laughing matter. It isn't the British way, nor the American way, and I shan't like to see the likes of it take over our former colony and ally."
The BBC man held a pencil to his chin momentarily, thinking of his next question. "What do you think of President Roosevelt's struggles to earn national respect and to win the confidence of the people?"
"I... don't think it's possible."
"You don't think it's possible, sir?" the BBC man eagerly asked for confirmation, knowing headlines would be made.
"No." Another cigarette drag a sip of a martini followed. "If I was the American Congress I would go for a vote of no confidence, er, ah, impeachment... as the Yanks would say. If I was Roosevelt I would just, well, resign. Besides, being in the shape he is, how much more stress can he really handle? I admire him for his steely determination but Mr. Roosevelt is not a well man, and we all know of his physical limitations. It would be better if he just step down. Let a stronger chap take over, perhaps Vice-President Garner. Cowboy though he is, he seems a feisty one. Even if Roosevelt is not a Russian agent or some such nonsense he is not fit for the office."
​
Americans headlines soon screamed in big black letters, "
FUTURE KING CALLS FOR FDR'S RESIGNATION.
"
Hamilton Fish III, creator of the House "Fish Committee," later known as the House Committee on Un-American Activites
​
As the weeks dragged on, by mid June there was to be the final straw. Congressman Hamilton Fish III, a wheeler-dealer New York Republican, Great War veteran, and dogged anti-Communist (and member of the Liberty League), called for President Roosevelt to come speak before the Fish Committee about the subversion accusations. Roosevelt was now caught between a rock and a hard place; if he refused to go before the committee he would be accused of being a coward and a Russian agent, and if he accepted he would be lambasted and roasted on a spit by Fish, a man with nothing but contempt for him going back decades. When Fish was shipped off to France during America's entrance into the Great War, Fish felt as though he was going to his death. His transport ship, the USS Pocahontas, was in open waters with no protection from German submersibles. When he wrote to then-Assistant Secretary of the Navy, none other than Franklin Roosevelt, to complain about the lack of an escort, Roosevelt sent a simple reply back: "
We all have our risks to take.
" FDR was in deep trouble, and his cabinet was at a loss as to what to tell him. Blood was in the water, and Fish could smell it.
When the President finally had to give his answer, he did so over the radio, publicly, on June 20th:
"I have been asked by Congressman Hamilton Fish III to appear before the Fish Committee in the House to discuss my dealings with agents of Soviet Russia. This follows months of bizarre and fantastic stories of me being some sort of Benedict Arnold selling us out to the Kremlin, something which couldn't be farther from the truth and which I repudiate utterly. No part of my campaign, no part of my administration, not one single, solitary part or particle of my personal life has ever been in any way tied to Russia or Communism or any sort of Marxist ideology. This sham has gone on long enough and is nothing more than an attempt by the vestiges of the old guard of Washington to hinder my policies and to bring down my personal reputation, as well as those of the members of my administration. This will not stand and I will not feed into it any longer. I reject Congressman Fish's invitation to speak before the House. I am the duly and democratically elected leader of this republic, and nothing in the Constitution gives Congressman Fish these almost godlike powers to summon whom he will at any given time, to make them as fools and pariahs on the national and global stage. I am done with the theatre of these accusations. The demagogues in the press harangue me daily about things which simply are not true. It is true, that a Soviet backed coup attempt occurred in Philadelphia some months ago, resulting in the tragic loss of over 5,000 men, women, and children... the largest of loss of blood on American soil since the Presidency of Abraham Lincoln. Also, a handful of days ago, five servicemen and two citizens lost their lives in a shootout in Kansas City with gangster Charles Floyd. And, as I mentioned the late President a moment ago, I feel his words hold more truth than ever before; that a house divided against itself cannot stand. Again, I shall not be appearing to speak before Mr. Fish nor any other member of Congress, unless I were to suddenly commit a crime in the future. As of today, I have done no wrong, simply try to bring our country together and I have been fought tooth and nail every step of the way. I hope you shall join me in my cause, to bring a New Deal to the American people, and a brighter tomorrow for all. May God bless each and every one of you, and may he guide us through these troublesome days."

Despite the well-written speech and some supporters feeling rejuvenated upon its broadcast, the stocks quickly fell and the press went into convulsions trying to cover the story. The headlines now screamed, "
FISH VS ROOSEVELT: FIGHT OF THE CENTURY
" and
PRESIDENT REFUSES TO TESTIFY ABOUT CONNECTIONS TO KREMLIN."

That night, Franklin's wife Eleanor gazed out the White House portico windows. "Can you hear it, Franklin?" she asked, turning to him.
Franklin wheeled himself closer but frowned and shook his head, "I hear nothing, dear."
"I hear it, Franklin. It's the sound of troubles. It's the sound of a ticking time bomb. This won't go on forever. We are nearing the breaking point. I do hope and pray for your success, Franklin. But I fear we are losing this one."
The First Lady's words would soon prove prophetic. It was the evening of June 21st, 1933. Just thirteen days were left before General Pershing would begin his triumphal march into Washington...
It was July 4th, 1933. Almost two weeks had passed since Roosevelt had rebuked Hamilton Fish. And at the Independence Day Rally of the American Legion and Veterans of Foreign Wars in Washington DC., General John "Black Jack" Pershing marched out through the central thoroughfare of the packed stadium. Thousands of veterans were gathered, each adorned and festooned with medals and liveries of conflicts going back to the Civil War. As the 73 year-old marched down the carpet in his dress uniform and riding boots, he paused to shake hands with as many as he could. He loved these men. They had experienced a bond almost closer than that of man and wife. They had fought together, from the Indian Wars, China, to the Philippines, Cuba, the Banana Wars, and the Great War. There were veterans with missing eyes, limbs, but most were missing something else: Pride in their nation. The intensity of the moment gripped him, and he could see the yearning to make America great again.
He saluted and shook the hand of a leather-faced 7th Cavalry veteran. The man was still standing like a rock at his age and looked like Father Time, with a beard to match. He was worn down, gaunt, and you could see a century of stress and war on his face. But the one thing that was in brand new shape, in perfect condition, was his Union Blues. His cavalry kepi sat proudly on his head, and medals for the Civil War, Indian Wars, and Cuba shone on his breast under the stadium lights. He shook Pershing's hand with a firm grip and then pulled him in closer, whispering in Pershing's left ear, "He has loosed the fateful lightning of his terrible swift sword."
"Glory, Hallelujah, my brother," said Pershing, a rare tear coming to his eye. He continued his march, as "The Girl I Left Behind Me" finished. It then shifted to his personal favorite, "Over There."
"OVER THERE, OVER THERE, SEND A WORD SEND A WORD SEND A PRAYER!" sang the veterans in unison.
Pershing saluted to wild applause. The singing continued.
"THAT THE YANKS ARE COMING, THE YANKS ARE COMING! AND WE WON'T COME BACK TILL IT'S OVER OVER THERE!"
Pershing was greeted by numerous high ranking former generals and veterans as he neared the stage and the podium.
"SEND A WORD! SEND A WORD! SEND A WORD TO BEWARE! AND WE WON'T COME BACK TILL IT'S OVER OVER THERE!"
The song finished as he slowly ascended up the steps to the podium. Huge flags hung from the walls, and a massive portrait of George Washington hung from the wall. "
Funny,
" he thought to himself, "
I technically outrank him.
" The song took on new meaning for him. "
The Yanks are coming, to Washington, and we won't come back till we have restored our country
." He then adjusted the microphone and dead silence shot through the hall immediately. He spoke.

"Gentlemen, the dames of France are fond and free, their lips are warm and willing, I have warmed the maids of Italy and Spanish eyes are thrilling."
Huge applause and laughter.
"Gentlemen, my fellow veterans and Americans, it is an honor to speak before you today. It is a hell of an honor. And though we have endured countless hardships here we stand today, united as patriots, to celebrate our nation's independence. But as we celebrate 1776, many of our boys are not here to join us. We left their dying embrace and silent tears on the fields of Cuba, on the shores of the Philippines, even on the plains of Gettysburg. And on the shelled out craters of the Marne. They sacrificed all they had on this earthly plain of existence to secure a safe future for us, and our children and grandchildren. Every day I kiss my wife and hug my grandchildren, and then I think about those wives and grandchildren who will never see their husbands and grandfathers again. Now I ask you what did they die for? They died for freedom and for the United States. If they all rose from their tombs today like they will some day when the Lord deems fit, what would you think they would say of our current situational report? As a military? As a nation? Do you think for one moment they would approve of the wholesale slaughter of veterans and the Russian puppet sitting in the Oval Office just a couple miles from here? You all know the answer. They would be ashamed."

Pershing saw the somber faces through the crowds, some weeping. He continued.
"Corporal Leonard P. Jones. Army. 2nd Infantry. Hell of a man. Killed in action, December, 1917, during the collapse of the Kaiser's forces. The war was already won. But he drew a short straw and stepped on a landmine and was removed from this earthly realm. That man died on Christmas Day. Sergeant William McElmore, Marines. Killed in action while saving children in a school from an active battlefield situation, 1899, Philippines. These are just two men I knew that come to mind. They would be ashamed of what we have been reduced to. But I do not come to you today to cry out in the wilderness with you all and weep about our glory days or fallen comrades. I come to uplift us all. To announce a plan to restore our country and make America great again. You see, there is a coalition waiting in the wings of honest, God-fearing Americans, most of them veterans or active duty, who seek a restoration of American pride and power. To truly drag us out of this Depression and to make sure the world knows America is back. And better than ever. America First, not League of Nations globalism, will be our credo! We will not agree to any deal, 'new' or not, unless it of sound economic and national principle! We shall drive out socialist, Communist, Anarchist, and Marxist drivel from our Republic! We will make America whole again. We will make America first again. We will make America great again!"
Wild applause.
"This coalition of the willing is waiting for your support with an outstretched hand of friendship. It waiting for you to say 'yes, I too wish to restore the Republic'! It is the Liberty League! They tried to take our birthplace of democracy, Philadelphia, and turn it into a degenerate hellhole. They would have destroyed the 'bourgeois symbols' of our Republic! But it still stands, freshly wet with the blood of patriots and of the Soviet agents who thought they could desecrate its sacred grounds. The Old Liberty Bell still has some rings in her!"
The stadium literally shook. The applause and hollering was almost deafening.

"I ask you to join me! Together, Billy Yank can break Franky Red just as we did Johnny Reb. All those who wish to join the Liberty League are welcome to join! Because at this moment, all across this region, over 400,000 men are in waiting, all veterans or patriots, for my signal. Upon my signal we shall take up arms and march upon 1700 Pennsylvania Avenue and force Franklin Roosevelt, the no-good two-timing coward, to resign! The swamp of muck and mire will be drained by the point of a bayonet. We shall restore the Republic and right our ship! Join me for the Second American Revolution!"

Halfway through the announcement sounds of shock and jubilation rose to a fever pitch. Immediately as Pershing saluted the crowd and stepped away from the podium thousands of eager veterans shouted, "USA! USA! USA!" "DOWN WITH MARXIST TRAITORS!" and "DOWN WITH ROOSEVELT!"
Within 30 minutes, Pershing was outside watching volunteers stream in from every road and street, from the coffee shops, from the tailors, and from the farms. Hundreds of thousands of men. Equipped with Winchester rifles the Liberty League had distributed and with whatever they had in their homes, including rusting swords, veterans lined up cheered as Pershing rode up and down the ranks, his own sword drawn one last time. White and blue banners of the Liberty Bell flew high, emblazoned with the words
"The Old Bell is Still Ringing."

Meanwhile
,
just a few miles away, the Roosevelt White House was in a full-blown meltdown. Staff scurried everywhere, papers flew through the air, trucks loaded up important documents and items, and women wept.
"Mr. President! We need to evacuate you immediately to Camp Hoover! The reactionaries are coming, sir!" said a secret service agent.
Roosevelt stared in horror out the window. "I know. I know. But it is too late, Vice President Garner has just informed me all routes of escape have been cut off. We are trapped."
"Sir, if we mobilize the National Guard up from Virginia and Maryland we can try to bust through their lines and make a run for Delaware and set up a government in exile!"
"No. Agent Williams half of the National Guard
has
mobilized. For Garner."
"Sir?"
"Agent Williams, my own Vice President has cut off my escape. Garner and Chief of Staff Craig have joined the Liberty League. They have made us sitting ducks."
"Sir, as your personal bodyguard I will defend you to the death. We all will."
"There will not be a need for that, son. I will give myself up to Pershing. He is a decent human being, however misguided, and I do not think he wishes me bodily harm. I will not risk my staff or my family in some sort of damn-fool last stand of the First Family. That would be beyond selfish. No, I shall turn myself over. It has been a pleasure working with you, Agent Williams. I wish you the best of luck in life. Now, please, prepare the main hall to look respectable. I don't want Pershing to think I live like a barbarian."
"Sir, yessir. It's my honor serving under you, Mr. President." Williams saluted. Roosevelt saluted back. Williams scurried off.
"AND WE'LL MAKE MEXICO PAY FOR THE BONUS"
OR, HOW AMERICA LEARNED TO STOP WORRYING AND LOVE THE LIBERTY LEAGUE
US Troops on parade before leaving to collect payment of American war debts

​
The ruling Liberty League had to act fast. When Pershing took the White House and arrested FDR for espionage and collusion with a foreign government, VP John Nance Garner, marshal of the National Guards of Virginia and Maryland, was immediately installed as President, which helped to make the League's rule look more legitimate. However, Garner was merely a figurehead, and Pershing held the real power as the "Secretary of General Affairs." Due to his sincere loyalty and service to the League, Patton was promoted to General and placed in charge of the security of Washington, DC.
Now, the new government was on the move. It had to placate the people immediately. It outlawed the Democratic and Republican Parties, but didn't discourage new ones for now. In that moment in time, there was only the League. The Constitution was suspended under a state of emergency by an executive order signed by Garner and Pershing, and Congress and the Supreme Court disbanded. Acting with no constraints, Pershing immediately announced Prohibition had been ended. This was a wise move, and it won the loyalty and support of a vast, vast percentage of America. Now they had to begin some sort of fix for the economy. Many plans were bandied about, but by early August, the President, Pershing, and the Cabinet had arrived at a conclusion.
For over 40 years, Starting with the Spanish-American War, America had been embroiled in a series of conflicts to the south of the border. Known collectively and informally as the "Banana Wars," it had seen an extensive loss of men and treasure, with little to be gained. For most of the conflicts, America had crowned itself a liberator or savior in Mexico, Cuba, Nicaragua, Honduras, Haiti, Dominican Republic, all in the Caribbean, and the Philippines in Asia. From fighting the Sandinista, to quelling Pancho Villa, putting down the Negro Rebellion in Cuba, to supporting Panama's declaration of Independence from Colombia, America had invested much. Now, Pershing, a veteran of many of those same conflicts, said it was time to be rewarded for their efforts. The Pershing Plan was simple: March into the countries America had aided or assisted and collect tribute. This would then be used to pay veterans their bonuses and to put capital and spending money into the economy.
Above all was Mexico. The unstable nation had a deep-seated rivalry with the US, and above all was the Zimmerman Telegram, in which Germany had conspired with Mexico to attack the US and reclaim Texas, Arizona, New Mexico, and California. To quote Pershing's speeches, "Mexico stabbed us in the back and cannot be trusted!" Mexico had gold. Mexico had oil. Mexico had farms. Mexico had things which the struggling US needed badly. And so it was that in mid-August, 1933, Pershing called all able bodied men to join the military. He whipped into a shape in weeks that hadn't been seen since 1919. Millions of men, ready to go at any time.
General Patton was then instructed to take troops, cavalry, and tanks to Corpus Christi, Texas, and they were placed on high alert. On August 20th, the US ambassador to Mexico acting on behalf of the American government demanded Mexico's government under Abelardo L. Rodríguez pay the USA the sum 700 million dollars in installments over the next five years. If the money was not paid, the US armed forces would march south and confiscate appropriate resources and put in place a trade embargo to squeeze it out of them. Mexico, very unstable since the resignation of President Pascual Ortiz the year before and still recovering from losing a fifteenth of its population in a decades long civil war, was thrown into a panic.
Many cried for war, but the President knew his country would simply be annihilated by the vastly superior US forces. He had good reason to fear Patton, as the man had practically invented mobile vehicular warfare during the Pancho Villa Expedition, and had strapped the corpses of Mexican fighters to the front of his truck. On August 28, 1933, General Patton and his entourage of some 500 troops crossed the border under truce flags and arrived in Mexico City on September 8th. There, Patton and Rodríguez signed the 1933 Expeditionary Force Reimbursement Accord, and Mexico pledged to deliver the sum of 600 million dollars, plus 20 percent of the money gained from oil sales. Also the US was given exclusive trade rights with Mexico until the year 1999. Rodríguez was utterly humiliated, and his regime was very unstable. However, in exchange for his cooperation, the US was to open Camp Coolidge, five miles from Mexico City, as a permanent base for 400 US troops who were sworn to uphold Rodríguez as the rightful President of Mexico. This also approved the leasing of several tanks to the Mexican government, plus military trainers. They were almost immediately needed, as riots broke out across the capital city. With the use of tear gas and small arms, the attempted revolt was almost immediately crushed. This firmly cemented Mexico as a puppet of the United States and a major early and much-needed success of the Pershing-Garner government. On a side note, taking a major interest in these affairs was Nazi Germany, whose agents and officials were quite present at the signing of the Accord.
Patton's Army marches to Mexico City to attend the signing of the 1933 Expeditionary Force Reimbursement Accord and to begin the construction of Camp Coolidge

​
As Mexican treasure was sent back to the States, the first real payment of Bonuses was accomplished, and armed with this new cash some veterans began to create new business or get a new lease on life. Next, that fall in late October, similar demands were sent to Cuba and Nicaragua, and as the US Navy was anchored not far from their shores, they also gave in to US demands. The rest of the regions followed soon after, and before long gold, oil, and cash was flowing into the US economy, and its effects could be felt nationwide. Things were still not good, but definitely getting better. Critics were shut down by Pershing: "We are owed this. Our boys died for them. This is merely fair. You can't ask for your neighbor's help when you are down and not expect him to do the same. Besides, we keep this entire damn hemisphere safe thanks to the Monroe Doctrine, and this is the least they can do. I don't look upon them as inferiors, but merely as neighbor's who can't afford to protect themselves from aggressive foreign powers."
This all led to the summoning of national leaders to Miami, Florida, in December of 1933. On Christmas Day, Mexico, Cuba, Nicaragua, Costa Rica, Guatemala, El Salvador, Haiti, the Dominican Republic, Honduras, and Panama all agreed to sign themselves into a treaty and trade agreement with the United States, known as the North American Protection Sphere (NAPS). This treaty placed every country which had been "assisted by the US government in internal conflicts from 1899 to present day" under a yearly reimbursement debt, and also promised the US easy ports for their Navy and the first say about trade agreements. However, in exchange the US also promised immediate protection from any foreign powers, leasing or gifting of military equipment, and assistance to the governments of said nations in the form of cheap foodstuffs, emergency relief, and "in-country advisors" that would essentially help keep whichever dictator happened to be in power in any given region.
The world's reaction to NAPS was quite mixed, and France especially officially condemned it as "wanton aggression by a state gone rogue." The Soviet Union also condemned it. Britain remained neutral, however many resented the formation of the alliance (though however Prince Edward and Oswald Mosley of the British Union of Fascists (BUF) spoke positively). Germany, Italy, and Spain all applauded the effort by the US to pull its economy back together whilst strengthening trade and borders. Also, after the US, those same countries were next in line for any trade deals and they were to profit heavily from the US's "hemispheric protection racket."
As 1933 drew to a close, America's economy had come roaring back, but at the expense of constantly battling civil unrest. However, the improvements in the economy were undeniable, and many "found their loyalty bought with a bonus."
THE FOUNDATION OF NATIONAL INDUSTRIALISM
AND THE ECONOMIC CLANS
Henry Ford, the creator of National Industrialism
​
The seeds were planted for the corporatocracy the United States would become as the main companies that financed the overthrow of Roosevelt now found themselves wielding most of the power amidst a climate of hysteria about Marxism. This was their hand to play, and they did not want to miss their chance.
When Henry Ford was appointed as Chief Advisor to the Secretary of General Affairs, he began formulating an entirely new method of governance and way to worm the US out of the Depression. He discussed with Pershing and Garner a new method to completely revive the economy. The first, he said, was to eliminate Prohibition. This was done almost immediately. Now, the next step was to have meetings with all the major corporations and businesses. A "Convention of the Corporations to discuss the prospects of reviving American infrastructure and capital" was hosted at the Empire State Building, now the central office for the Liberty League as a political party and movement. There a new way of business was about to be unveiled.
Ford unveiled the "Clan System for National Industrialism" on September 9, 1933. It would be months before bickering was ended and rules were set, but for the most part it was a success. Each part of an industry was divided between the five "Business Clans." These clans were as follows:
The Transportation and Machinery Clan - Headed by Robert Sterling Clark, this Clan consisted of the Singer Corporation, Santa Fe Railways, Ford Motor Company, General Motors, Fargo Motor Company, and many others.
The Banking Clan - One of Nazi Germany's innermost tentacles inside America, it was possibly the most important clan, consisting of all the major banks in the country. It was helmed by Prescott Bush, and heavily influenced by German tycoon Fritz Thyssen
The Distilleries Clan - Led by a redeemed Al Capone following his full pardon due to his syndicate going to bat for the US government against leftists during the Chicago Riots following the Fourth of July Coup and later assistance in ratting out illegal liquor manufacturers in the North American Prosperity Sphere. Extremely influential and wildly popular, he led the major mob families that had pre-existing illegal distilleries into "going legit." Capone Brewery opened in late December, 1933, employing thousands of people.
The Agricultural Clan - Led by a convoluted chain of command, it mostly just had control of seed supplies, and was supposed to ensure appropriate distributions to local markets. Worked a lot with with the Transportation and Machinery Clan to ensure adequate supplies and tractors and other resources reached farmers struggling through the dust bowl.
The Armaments Clan - Captained by Winchester's board of directors, and probably the second most influential clan. Worked hand-in-hand with the Banking Clan and the US Government. Included all major firearms companies. New guns without the "ARMTC" seal of approval were almost worthless.
What National Industrialism was all about was the fact that companies and clans could essentially set their own policies and self-regulate, but whatever they did had to be toward improving the country. "Free to do whatever you wish, as long as it is healthy and good for the Nation." It was really Ford taking heavy inspiration from German National Socialism, but the "S-word" wouldn't have been popular in the States at the time. Companies that violated standards or did things which hurt the economy could be punished by their clan or even kicked out, in which case products and ventures by the company would not be given the clan's seal of approval, making their products near worthless and their stocks bomb. Ford had created a self-governing economy, almost completely free of Federal interference. It was a bizarre system never before seen, but it showcased the assembly line style thinking of Ford.
The first mission Ford gave the clans was to create enough jobs for everyone. Surprisingly, this mostly worked. Unemployment fell a staggering 9 points between September, 1933, and January, 1934. The cost and goods needed for Patton's excursion into Mexico, and then later base and ship building within the NAPS as a whole, shot the economy right in the arm and the American people began to finally see a light at the end of the tunnel... Even if the light led to fascism. It is interesting to note that for the longest time Adolf Hitler's office in Berlin had had a portrait up of Henry Ford, the only portrait in the entire office. Following the release of Ford's manifesto, Hitler had a new portrait commissioned and sent as a good-will gift to Ford himself. Ford repaid the favor and hung a portrait of Hitler in his own office and then commissioned a portrait of Hitler to be made and sent to the German Chancellery.
Portrait of Chancellor Adolf Hitler of Germany (1933), commissioned by Henry Ford and gifted to the Reich Chancellery
​
Now, as the government prepared its economic policies, the military was overwhelmed trying to crush mutinies and revolts. In California oil hands staged a leftist rebellion. Dwight D. Eisenhower, now a Lt. General, was placed in charge of quelling the uprising. It quickly became a massacre as the leftists were systematically rounded up and executed. More and more of the Left began fleeing north to Canada, such as William Z. Foster and Louisiana's Huey Long. There they set up the US Government In Exile. They petitioned the world to aid them in attaining the release of Roosevelt to lead their cause, and received aid from France and the Soviet Union, but were largely ignored by the rest of the world. This was likely because the world of the Great Depression merely wanted America to remain stable for a while or risk another financial collapse. Indeed, that is one reason why German and Italian agents were so ready to help out the fledgling government.

Now the government began it's true propaganda campaign. They would rope Hollywood into it, form a secret police force, and crack down even harder on dissent in 1934. They would also experience a major international incident that would in turn lead to the severing of diplomatic relationship with its new arch enemy: France.
THE PARIS CONNECTION
Logo of the Camelots du Roi
​
It was in the early morning hours of February 6th, 1934, that members of the far-right French paramilitaries and political groups 9marched on the Palais Bourbon in Paris demanding the abdication of the leftist French government. Riots quickly broke out and all out street battles ensued between the authorities and the far right activists. By 5 that afternoon, vandals had set fire to several buildings around Paris and the Palais Bourbon had received massive damage from rocks, stray bullets, and assorted items being thrown at it, and the National Assembly inside was in a panic. Protestors chanted "We want a king! Out with the Assembly!" The Third French Republic was on its knees until the arrival of the Army to put down the mobs. It took until midnight, but the uprising was quelled and its leadership arrested.
Chief among the right wing groups was the Camelots du Roi, a fascist monarchist organization. And when government forces raided their headquarters the next day, what they found was an explosive amount of intel linking the Camelots to members of the German, Italian, and American governments. A letter from the famous Charles Lindbergh, then Secretary of the newly-minted Department of Foreign Affairs, guaranteed American support for any potential revolutionary government in Paris. Similar promises came from Germany and Italy. When the bank accounts of the organizations were raided they were discovered to be full of funds that had been funneled in from sock puppet organizations of the NSDAP and the North American Protective Sphere. This outraged the French government who then expelled the ambassadors of Germany, Italy, and the United States from its soil and public rallies were held where Frenchmen burned swastika, Italian, and NAPS flags in the streets and beat effigies of Hitler, Mussolini, and Pershing. France started looking more inward and became much more leftist. The League of Nations tried to pass a denouncing of the three involved countries, but to no avail.
Prescott Bush, founder of the Union Banking Corporation and Head of the US Banking Clan
​
America then sent Prescott Bush, head of the Banking Clan, to Paris to try to restore some sort of diplomatic relationship a couple weeks later. However, as his motorcade was en route to the National Assembly it came under fire by five assassins who had perched themselves high on the rooftops. Banking Clan security guards, clad in black leather not unlike that of the German SS, returned fire with automatic machine guns. Bush was thrown under a car during the conflagration and the firefight lasted a good 15 minutes. Two Banking Clan guards were killed and three of the assassins were shot dead in turn. Finally able to coordinate an escape, the caravan sped off, bullets still plinking off the sides of the cars.
France issued an apology to Bush as he prepared to escape the country at the Paris Airport. Bush calmly and quietly turned to the French diplomat, looked him dead in the eye, and said, "Go to Hell, you red son of a bitch." He returned to America on March 1st, three days later, to a hero's welcome. Banners reading "GIVE 'EM HELL, PRESCOTT!" were draped over the entrance at the Glen H. Curtiss Airport in Queens, NYC, and flowers were left for him in droves. People cried out in rage over the deaths of the two American guards and before long all across the country people had begun anti-France rallies. Some called for war even.
Secretary Pershing, speaking to the American people on radio that night, said:
"This act of treachery, far worse than any involvement we had with any of their political parties, has ended with the deaths of Anthony Floyd and John Trent, two American boys simply doing their jobs. We will not accept this treatment by an ally. We will not tolerate treachery. Effective immediately, all trade and diplomatic relations between the United States and the North American Protective Sphere with the Third Republic of France are hereby ended. We will do quite well without them, and they will not share in trading with our now booming economy. Let them fester in the darkness of the Depression. America shall go alone! Beginning today, I also call for the dissolution of the useless, inept, and corrupt League of Nations. This entity has proven that it has no real use except to promote Globalism, Socialism, and to hold God-fearing nations down. It deserves to be torn down, and the nations of the world can govern their own affairs quite well on their own."

Last edited: