Congressional Elections 1992
Congressional Elections 1992
Ross Perot, the wealthy businessman who made his fortune digitizing records for AmCare, took a deep look into politics during the war. He felt that both major parties had contributed to what he saw as "an avoidable war" (he conveniently kept this thought to himself though). Frustrated with what he saw as a "bloated two party system", he made a proposition to Dick Lamm, Jim Jones, John Anderson, and the rest of the progressive party leadership: "If you make me the house faction leader I can more than double your seats in 1992." Wielding with him the "Seven Point Plant", backed by polling, data analysis, and mathematical models, Perot convinced a Progressive leadership, desperate for new life in the party (and Perot's campaign donations) to give him a chance.
Perot's strategy featured the Seven Point Plan, as follows.
1. Focus primarily on the house because -
a. Statewide senate races feature: too many variables in play each election, too much on the line for many voters to vote third party and for donors to spend on a minority party, are too expensive to win, and don't develop long-run candidates.
b. House seats in contrast are: (1.) Much easier to flood with money, (2.) More low-stakes in voter's minds, (making them more willing to vote for the Bull Moose), and (3.) Feature weaker major party candidates more likely to be picked off due to possible scandals or extremist views, with less national coverage that could be sicked against our candidates.
c. Most importantly: House Delegations by state pick the President in the case of a hung electoral college.
2. Focus on Smaller States because:
a. They are ignored by major parties searching for voters to choose their candidate.
b. They have electorates that often don't match national profiles based on the needs of bigger states.
c. They fit our target demographic (discussed later), urban or rural socially liberal, and fiscally centrist to center-right non-religious white voters.
d. With some small states, if we win one or two house seats we will control their congressional delegation.
3. Focus on Northern States: (The Famous "Northern Strategy" comes into play here).
a. These states as mentioned contain very urban or rural socially liberal, and fiscally centrist to center-right non-religious white voters.
b. These states are small (see previous point).
c. These states feel alienated by Southern/Blue Collar focused Democrats and African American/Suburban focused Republicans, and feel like both major parties don't appeal to them.
d. These states are mostly:
i. Isolationist and Dovish.
ii. Socially Liberal (besides Guns see later).
iii. Fiscally Mixed-they are neither Communonationalist nor liberty conservatives.
iv. Libertarian with regards to civil rights.
v. Have a tradition of pre-New Deal progressivism in the likes of William Borah, the Non-Partisan League, the Populist Party, etc.
4. Social Position Changes
a. Socially, Democrats and Republicans are quite similar outside of civil rights, which is too toxic to touch, we have an advantage playing as a truly socially liberal, pro-feminist party, which will win us Urban Progressive seats.
b. To win rural seats we need to be THE anti-gun control party, we must heavily promote Bob Casey Sr. and elevate his faction in the Democrats whilst accusing Republicans of being weak on this issue. We can advocate some sort of regulation, but as a whole be against policies to ban different types of guns.
c. We can split social conservative voters on this wedge issue, as many in plains states care more about guns than abortion, family-values, etc., and will side with us over the major parties while we continue to gain in urban areas with our social liberalism and support amongst feminists.
5. Emphasize the Farm Vote
a. Thanks to Bob Dole's work with both the liberal black republicans in the Wednesday Group, lead by John Lewis, and the Black Conservative Coalition, lead by Clarence Thomas, they have forced the party establishment to put in the platform a plank calling for an end to all agriculture subsidies. The black community sees them as "welfare for whites" and "part of an unjust economic system meant to keep our communities impoverished". However, rural white republicans, especially less-religious donor class, love them. We can pick up Republican votes and money by endorsing food subsidies for farmers in the Midwest.
b. Lee Iacocca has endorsed massive steel and automobile tariffs. This worries the export-dependent farm industry, who fear they may be affected in any future trade wars. In addition, many wealthy "wall-street" liberals enjoy cheaper overseas products that are available thanks to free trade. We already see tariffs as an infringement on personal liberty, so we need to emphasize this to win urban liberal Kennedy Democrats and the farm vote.
c. Win over hippies and small farmers alike with our support for agricultural co-operatives and unique agricultural business structures.
d. Farmers hate wars and the rationing, surpluses, etc., that they cause. We need to emphasize that we are the party of peace, especially as farmers start feeling the pain of overproduction thanks to total war. This will lead to claims we are unpatriotic, however, which should be minimized. In addition, if we emphasize the McGovernite "food for peace" program (i.e. sending food aid instead of military aid to help poorer countries develop) we can demonstrate that our agricultural subsidies will go to good use.
6. Push for more "Direct Democracy"
a. Create a constitutional amendment to repeal the Supreme Court ruling in Obey v. Dyke and allowing recall elections for Senators, (our anti-corruption stances will win us previously unwinnable seats in these cases).
b. Emphasize a more open primary system that is less reliant on donors or lobbies at all levels. The goal should be to keep money out of politics. Corporations are not people, after all.
c. Have the most presidential primary debates of any party to open our candidates, their plans in government, and our platform to The American People.
d. Change the new Presidential Primary calendar to emphasize small states "left-behind" by both major parties' respective primaries. (I personally recommend that we make Oregon become the first state in the primaries as it contains a lot of Libertarians and Left-Wing Progressives alike. On another note, the order to primaries should be randomized as well, so that Minnesota and New Hampshire do not receive an unfair advantage every primary season.)
7. Cater to hitherto un-catered constituencies: The following constituencies have been abandoned and not targeted, we need to emphasize them, especially in the long-term.
a. Native Americans: Neither Party has addressed their issues with regards to religious liberty, land rights, and opportunity.
b. Rockefeller Republicans-Wall Street Types that feel nervous about Republicans increasing social communonaitonalism and anti-corporate welfare stances.
c. Liberated Women and Hippies-disliked by both parties, already voting for us in large numbers, turnout needs to be increased.
Excerpt from the presentation given by Ross Perot to the Progressive Party leadership from the Library of Congress
Perot discussing the popularity of various proposals from a recording of this presentation
This ultra-detailed platform appealed to a party establishment tired of campaigning on platitudes. Perot considered adding an anti-immigration stance, the so-called "Secret Eighth Point" (as it was hidden to prevent leaks) to win over the Democratic white working class union voters. Left-wing progressives, lead by Pat Leahy, already frustrated with an end to support for gun control, said they would consider publicly not endorsing "The Points" if this plank was added. Even though nominee Dick Lamm was a committed immigration restrictionist in the senate, he did not have enough power with the party elders to force the plank through. Dick Lamm would later say that he would have forced the election to the house if the "Secret Eighth Point" had been added, that way allowing him to run on it rather than avoiding the question, but that is heavily disputed.
Congress
200 Dems, 170 R's 65 Progs
Thanks to progressive strength and tails from Iacocca's victory, Democrats took the house, albeit narrowly, in 1992. However, a rather bland campaign worked to Democrats' disadvantage. So did their "party-unity strategy", an attempt to focus on building a party-wide agenda rather than tailoring candidates regionally. In the end, combined with an united Progressive presidential campaign, Ross Perot's "Northern Strategy" worked extremely well, more than doubling Progressive representation in the house. While libertarians and left-wing progressives still needed to iron out their coalition, the party looked strong.
Considering the possibilities, Republicans in the house did fine. However, a new strategy needed to be sewn. Which direction would the Republicans take now? One option was the James Stockdale Strategy: de-emphasize social issues outside of guns, attack Progressives for obstructionist policies, and emphasize conservative economics as truly anti-corporate welfare and against "the man". Uniting with the progressive vote had saved some key seats in 1992, albeit by small margins. The other was to copy Ted Bundy in Washington State: Possibly to double down with the wars on crime, abortion, and sin? Ted Bundy was a wildly popular figure in the Republican Party, and his tough on crime policy was both admired and mirrored throughout many states.
Dole's relative success, especially with black voters across the ideological spectrum, on a platform light on everything besides cutting government programs he saw unnecessary, like Amtrak, the National Science Foundation, and agriculture subsidies in order to cut the deficit while preserving the welfare state, meant that the entire party could agree at least a bit on the economic side. Finally, new leadership in the house delegation would have to be sorted out as Roy Cohn agreed to resign before the 1994 election.
One thing in particular marked the senate races: candidates were increasingly growing attached to their parties' platform, and "mavericks" of all stripes suffered as a result. Thanks to the Northern Strategy, socially liberal and fiscally moderate (but not necessarily both) Republicans and Democrats alike were gradually migrating towards the Progressives.
As far as the actual results were concerned, Republicans performed well, while they lost an easily winnable seat in Ohio to Democrat Bernadine Healy, Carroll Campbell miraculously survived in South Carolina, and pickups were made in the states that Republicans won in the Presidential election. Mormons, infuriated by the accusations thrown at Orrin Hatch by Democrats, put Jon Huntsman Jr. into the senate. 46 Republicans + Conservative NY Senator James L Buckley "Buckley the Younger" made a Minority Government in the Senate headed by Majority Leader Quinn from Hawaii. Progressives, thanks to smaller states like Alaska and party switches by Kent Conrad, and Larry Pressler (who previously ran for office as a Republican), made gains. Joe Biden considered switching to being a Progressive, but enjoyed his position as chairman of the Technology and Development Committee too much to abandon this post. Running a minority government would be difficult, but Majority Leader Quinn decided against making a coalition with the Progressives until absolutely necessary.
46+1 R, 41+1 D, 11 P Senate
The Promise of pork, having a minority party leader in the seat and his personal firm stance against illegal immigration made Perot seem more moderate and helped Perot win a pedestrian race in his seat, raising the Progressive count in the Texas delegation to two (Ron Paul held his seat). It didn't hurt that Perot set a record for congressional spending in one race either.
(P) Ross Perot vs. (D) James Hill vs (R) Anthony Williams
The Alaska At-Large seat had been held by Jack Coghill for a very long time. However, when Jack Coghill endorsed George W. Bush over Mark Hatfield, who had a dedicated following in the state, (Hatfield lost to Hatch by 200 votes there with only 1000 votes for Bush) many voters grew frustrated with him as both "Hatch People" and "Hatfield People" distrusted him. Meanwhile, per Perot's Northern Strategy, Andre Marrou, an ex-Hatfield campaign staffer, and arch-libertarian who flirted with both the Republicans and Progressives, was handpicked by Perot to run in Alaska. Marrou deflected concerns about his relatively extremist stance on economic freedom by stating in his campaign announcement speech "Our state sovereign wealth fund is ingenious and uniquely Alaskan, bringing it, or any welfare policy, to DC would be like riding a camel from Fairbanks to Anchorage". Democrats chose Tony Knowles, a moderate liberal known to be both boring and a flip-flopper. Making the race interesting was Joe Vogler, the 78 year old founder of the Alaskan Independence Party. Post-war, a dedicated number of Alaskans began to feel isolated from national politics. A disproportionate number of Alaskans died in the Third World War and while Alaskans were a patriotic lot, the state's growing independence economically (thanks to new oil explored under Rumsfeld's light regulatory touch), politically (its state government featured a very left-wing sovereign wealth fund while being almost Coolidgeian in its regulation of guns, abortion, etc.) and culturally (the most popular sports in the state-Dog Sledding, Basketball, and Ice Hockey were dying off elsewhere) lead to a growing fringe independence movement. Vogler ran on a platform of increasing Alaska's economic independence on the federal government whilst supporting Scandinavian style social democracy at home, a referendum on independence, an Internationalist, and a socially Communationalist platform to the extreme (to gain the endorsement of religious voters who felt abandoned by the other three candidates). Johnny Carson put Vogler on his show and joked that he wanted to make Alaska a "freezing cold and Christian Saudi Arabia". However, Vogler's age hurt his ability to campaign, and Hatfield Republicans gravitated towards Marrou, as did economically conservative Republicans frustrated with Coghill's moderate record (having voted against social security privatization). Coghill also fared extremely poorly in debates. Knowles failed to energize any voters and couldn't campaign in October after breaking his leg. On election day, Marrou pulled it out with 38% of the electorate to Vogler's 33%, Coghill's 24%, and Knowles's embarrassing 5%.
(P)Andre Marrou vs (R) Jack Coghill (incumbent) vs (D) Tony Knowles vs Akip Joe Vogler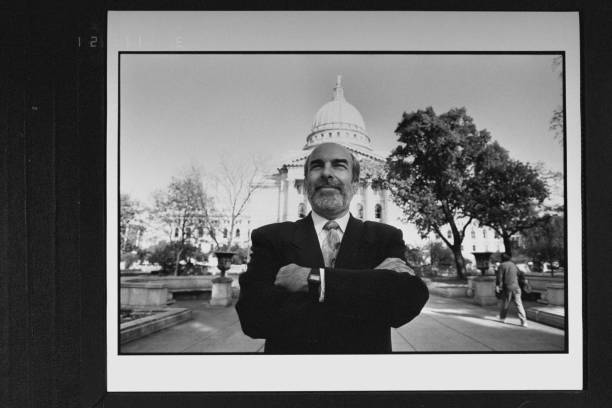 In a more conventional race, Bob Casey Sr., a prominent Pro-Life Communonationalist, beat Republican incumbent Arlen Spector, by emphasizing his combination of a "whole-life" social stance, tariffs, and pro-family welfare policies that were intended to promote another baby boom after the last generation was heavily devastated by WWIII. Bob Casey was also part of a convention move sponsored by U.S. Catholic Bishops to push gun control onto the Democratic Platform as part of a "whole-life" ideology (which some also thought would win over liberal urban voters too). While defeated in a close delegate vote at the 1992 convention, many pointed towards this as a future Democrat campaign plank, even though gun deaths were not a prominent issue in part thanks to AmCare's emphasis on promoting mental health to prevent any more expensive treatments once problems emerged).
D Bob Casey defeats R Arlen Specter and P John Perry
Pete McCloskey, the Republican 1972 Presidential Candidate, finally chose to retire from the senate in 1992, feeling that his seat was in danger, and seeking a "life after politics".
Progressives chose ex-CA Secretary of State Jerry Brown. Thanks to an effective long-run PR campaign, and his work preventing the anti-war protests that dogged the Vietnam war, he had transformed his image into the next Progressive heir-in-waiting and the one who could unite the libertarian progressive and left-wing progressive wings of the party.
Democrats chose a moderate in the form of rising movie star, Tom Hanks. Beloved for his work in the 1990 comedy film Dragnet, based on the old cop show, which had kept many a mind off the war for two hours in the theater, Hanks was a household name across the country. During the war he had helped mobilize actors in the war effort as head of the "Union of Actors for Victory". In addition, he had arranged post-war a pay raise for "off-screen" workers, to help meet the increase in the cost of living post-war. Hanks had caught the political bug, and Democrats thought they had their own answer to Ronald Reagan. Outside of the film industry, Hanks didn't have his own party base, and he had been an outspoken critic of the presidential nominee. While this hadn't mattered in the primaries, it was a worrisome sign for the general election. He had "the potential to win 10% or 80% of the vote" according to some political pundits.
Republicans chose James Stockdale, a retired Admiral, who had been studying and teaching Roman history and collapse at Stanford, as part of the Liberty Conservative think-tank Hoover Institution, before being re-enlisted in WWIII as a west-coast strategist. While he had performed admirably in the third world war (his work on coordinating American and Japanese convoys had saved many lives), he was not widely known and had had a much bigger impact in Vietnam, a war now forgotten in the scheme of things compared to the larger WWIII. He had been persuaded to run by his friends at the Hoover Institution, and while initially reluctant, he began to enjoy himself, and became convinced that he had to save the American Republic from what had befallen Rome long ago.
Many wondered why Stockdale even bothered to run, with such strong Democratic and Republicans candidates. At the first debate, he was polling in the high 10's. Asked about this in the first question of the first senate debate he thundered: "I'll you why I'm here, to win this election!", eliciting a roar in the crowd. He then proceeded to attack the Progressive Party for "increasing gridlock in our constitutional system" and remarked that "I study the fall of the Roman Empire for a living. And believe me, a lot of the policies suggested by
the actor and the cultist
on this stage are similar to what turned Rome to dust". Stockdale focused on winning every Republican and Progressive voter in the state, thinking this would get him "over the top", and so shied away from social issues and emphasized the deficit and "good government". Stockdale also brought up Jerry Brown's relationship with Jim Jones, and dubbed him a "dangerous choice". Meanwhile, Hank's criticism of Iacocoa and increasing "disinterest in the whole hyper-partisan system of politics" resulted in a poor finish to the campaign season.
While Orrin Hatch would fail to win the state on election day, Stockdale won enough progressive-leaning voters to go over the top. Tom Hanks' criticism of Iacocca cost the Democrats a critical senate seat and earned them an outspoken critic of their fiscal policies. Jerry Brown's past associations with Jim Jones (proven when the LA Times reported that Brown was a registered member of the People's Temple and used Jones's contacts on the campaign) cost them a winnable senate seat. Stockdale became famous as "Caesar's Favorite Senator". He would be fondly remembered for his long-term thinking, references to ancient history in senate debates, and openness to listen to constituents, especially the young, just like the students he taught.
R James Stockdale vs D Tom Hanks vs P Jim Jones
A famous photo of Stockdale during his opening statement that made its rounds after the first debate
In the bigger picture, Wayne Owens, Dem. Senate Leader from 1988-1992, was defeated for re-election thanks to Hatch's victory in Utah. Strom Thurmond returned to his role as Democratic Senate Leader, but publicly announced he would retire sometime soon, though many wondered what "soon" meant.
Last edited: