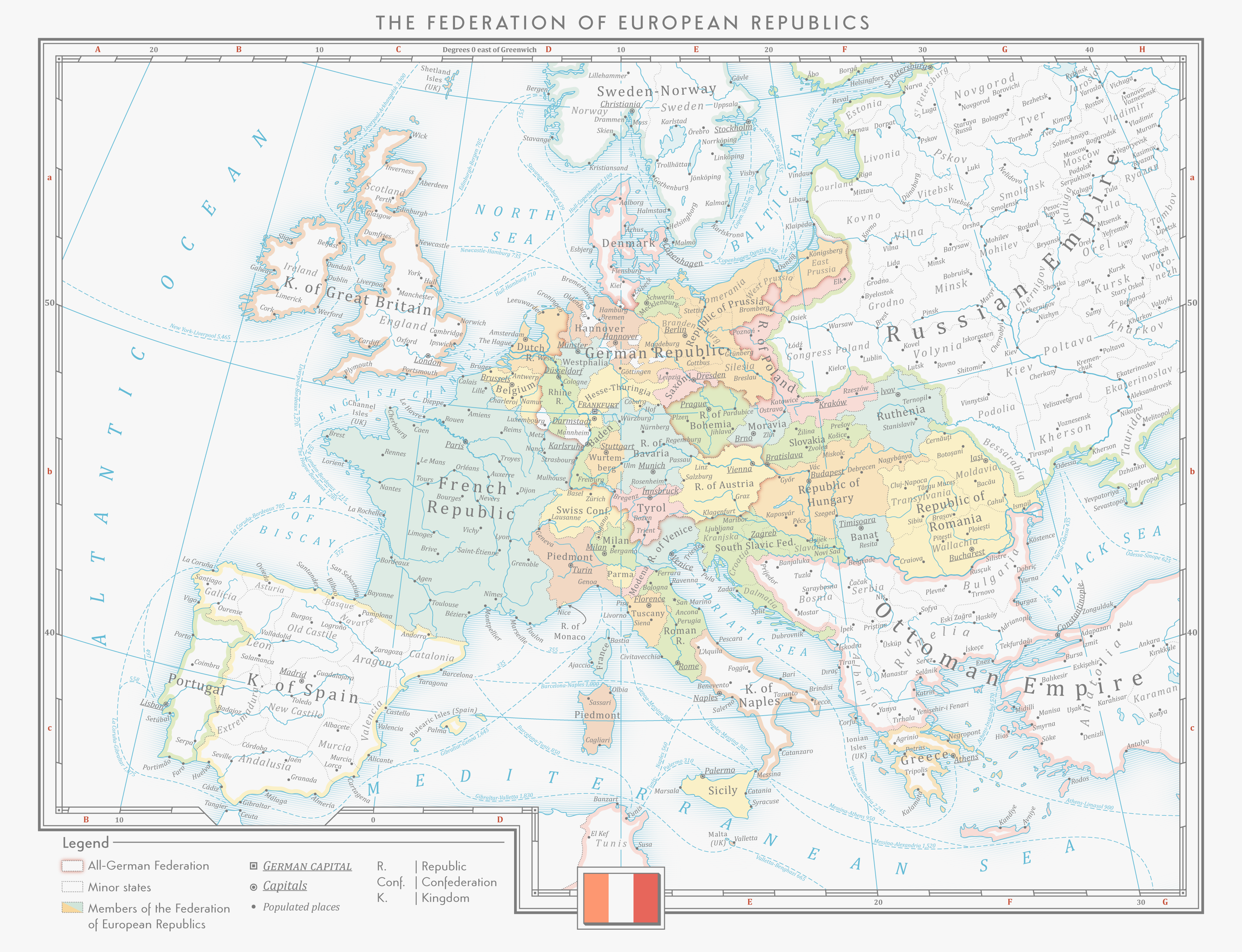 Spring of Nations​
The 1848 Revolutions of Europe raged against and quickly toppled the traditional monarchical institutions of the continent. Beginning on the Island of Sicily in January, it quickly spread to the streets of Paris who swiftly knocked down their King Louise Philippe and set up a provisional government. The news of the revolution in Paris quickly spread to the rest of Europe, the Austrian Emperor and Prussian King fled to Britain, the nobles of Ruthenia and Romania fled to Russia and the Pope fled to what was left of the Kingdom of the Two Sicilies. In their wake they left a Europe for the working and middle class of Europe.
The prime motivators for the revolts were a popular nationalistic opposition to the multi-ethnic empires of Austria and Prussia, disenfranchisement of the conservative rollbacks of the reformations made by Napoleon in parts of Europe and the wealth inequality between the upper classes and the middle and working classes. The revolutions were especially inspired by the wishes of the peoples of Germany, Italy, Romania, Poland and the South Slavs to live in united nation states.
The fresh German republics were quick to organize an All-German National Assembly in Frankfurt to organize a united German Federal Republic. Upon freeing themselves from the Russian, Ottoman and Austrian empires, the Romanian peoples united their three lands into a single country. The bickering of the Italian states over what a united Italy would look like led nowhere. To combat the conflict of interest between Austria and Prussia inside the German Republic they were forced to abandon all of their non-Germanic lands, the state of Hesse-Thuringia was also formed as a first step in the German mediatisation.
As the conservative monarchical powers of Great Britain and Russia loomed over the radical mainland, popular support of the Pan-European ideas of Giuseppe Mazzini soon arose all around republican Europe. He proposed a common Federation of European Republics to organize against any attempts by Russia or Britain to re-install the old kings and emperors.
Though the Federation of European Republics is a global powerhouse, it's internally divided. In France an increasingly disenfranchised peasant class gawk at the bickering of Liberals and Socialists in the capital. In Germany conflicts between Austria and Prussia keep on slowing down full centralization, and the mainly socialist Rhine Republic alienates the largely liberal politics of the other German republics. Territorial disputes over Alsace between the Germans and French, as well as French claims over Belgium, may in the future boil over into a civil war. The republics of the South Slavs, Poland and Ruthenia agitate for war with the Ottoman Empire and Russia to free their brethren, and the Schleswig-Holstein Question is still a point of contention between the Danes and Germans.