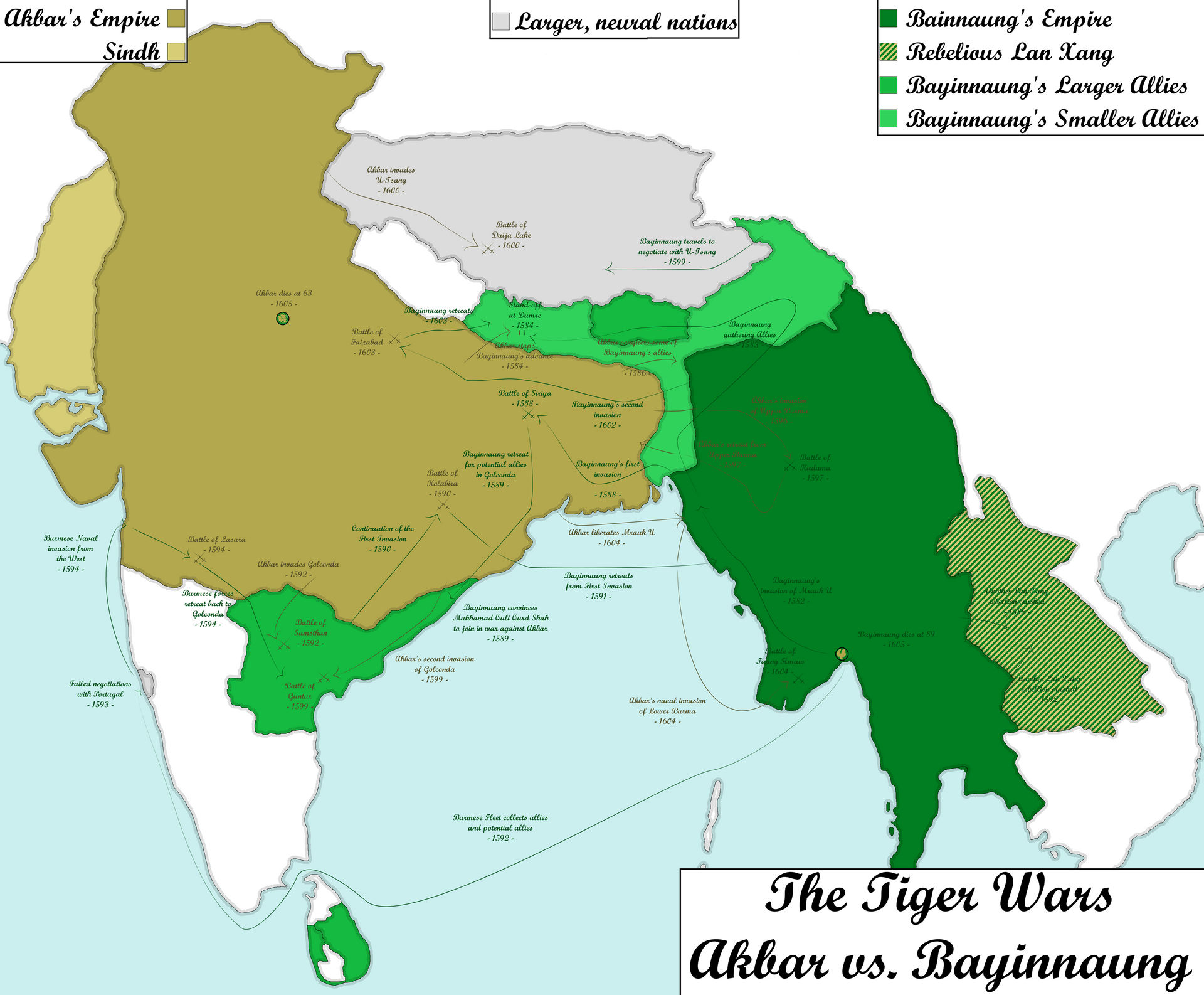 For twenty five years, two tigers ruled in Asia: Bayinnaung of Burma, and Akbar of India. But if there's one thing to know about Tigers is, they've very territorial. When one encroaches on another's territory, war break out.
In the 1570's, Akbar of India expanded into the Bengal region in one of his final acts to purge the treacherous Suri dynasty. However, in doing so, he approached the borders of Burma, led by the Therevada Cakkavatti Bayinnaung, whom was wary of his expansionist neighbor. In 1582, he launched an invasion of the Kingdom of Mrauk U, or the Kingdom of Arakan, and the next year, he went on a diplomatic tour of north-eastern Indian Subcontinent in search of allies, which he (followed by a fierce army built from men across his empire) found plenty of. In turn, it was Akbar who now felt threatened. In 1584, in the hills of Nepal, the armies of India and Burma, led by the two tigers themselves, stood opposite of one another. However, on this day, no blood would be shed, as Bayinnaung turned to return home. Lan Xang had rebelled again, and he would need to put them down, again. But both Akbar and Bayinnaung knew that Dumre would not be the last time they would face another.
In 1586, Akbar led a short expedition on east side of the Ganges Delta, swiftly conquering some of the allies of his Burmese counterpart. This would incur Bayinnaung's wrath, and in 1588, he would launch his own expedition to the opposite side of the Ganges Delta. But this wasn't just land of some allies, no. This was considered core territory of the Mughal Empire, launching the first phase of the Tiger Wars. At the battle of Siriya, Bayinnaung was able to inflict a defeat upon Akbar's army, but not without some serious losses of his own. Not wanting to give the expedition too soon, his army would turn south and look for more allies, to look for kings who felt threatened by Akbar's India. Bayinnaung found an ally in Muhammad Quli Qutb Shah of the Golcanda Sultanate. Despite their difference in faiths. Muhammad saw a greater threat in the empire on his borders, and joined forces with the Cakkavatti, and together, returned for another fight against Akbar. However, for this second fight, Akbar was ready, and in the Battle of Kolabira, Akbar's mighty Gunpowder Artillery was able to smash the army of the Toungoo. Bayinnaung quickly fled home to lick his wounds and prepare for the next battle.
Muhammad Quli Qutb Shah was left alone to face the wrath of Akbar, and in 1592, faced defeat after the Battle of Samsthan. He was humiliated, forced to pay tribute to Akbar, and to break all alliances with Bayinnaung, but was otherwise left alone, with his kingdom in one piece. On the other side of the Bay of Bengal, Bayinnaung was putting down yet another Lan Xang rebelling, hopefully this time for good. He also sent a fleet to go gather the military of his tributaries on the island of Ceylon, and potentially work with Portugal to weaken Akbar. In 1593, the Burmese Fleet landed in Goa and looked to get an agreement from governor on behalf of the Portuguese Crown. However, said governor was also still under the assumption that Burma and Portuguese India were at war. Confusion in diplomacy led to a breakdown of the agreement, and the Burmese swiftly fled north when a Portuguese relief force approached.
The Toungoo Army would land on the west coast of the Mughal Empire, far from any friend besides, possibly, the Golcondans. They marched Eastwards in hopes of linking up with them, burning and pillaging everything in their path there. On their way there, an army of Indians caught them at Lasura, and the Burmese march turned into a route, fleeing into the territory of the Muhammad Quli Qutb Shah. The sultan was merciful to the Burmese army who had abandoned him four years prior and provided them a ride home, but otherwise gave no further aid. This act alone, for the people who left him and his people to fend for themselves, was already much to ask, and if Akbar the Great found out about it, it very well might cost him his kingdom. And, five years later, that's precisely what happened.
Akbar grew tired of Bayinnaung's continued aggression, despite his continued failures. It became obvious to him that Bayinnaung was growing too old too properly command an army, and his empire would be shattered by simply a defeat on his own soil. And so, Akbar decided to take the fight to him, and in 1596, he led an army across the Purvanchal mountains into Upper Burma. However, the 80 year old Bayinnaung was not without fight left in him, and in early 1597 he was able to jump on an unsuspecting Akbar at Kaduma, forcing the Indian Emperor to give up the expedition and flee back west. The Toungoo Empire would cheer merrily, for the Cakkavatti was to inflict a devastating defeat upon the Indians and their Muslim Emperor, shaming him as the Cakkavatti had been shamed at Kolabira. But the war was far from over yet.
As Akbar headed south to defeat the treacherous Muhammad Quli Qutb Shar, Bayinnaung traveled north into Tibet. Although they followed two different paths of Buddhism, he hoped that could still get the Tibetans to recognize him as the true Cakkavatti, or at least to recognize the threat posed by Akbar's India. He failed in the former, but succeed in the later, and with his successful, he returned home in preparation for another invasion of India. It wouldn't take long for Akbar to hear of the alliance, though, in not long after, an army of Muslims would invade Tibet and defeat them. Akbar's demands for them were the same that Muhammad Shah first received: Pay tribute and break off the alliance with Bayinnaung. Not wanting to receive the same fate that Golconda received, the Kingdom of U-Tsang humbly agreed.
In 1602, the penultimate battle would begin with the second invasion of India personally led by Bayinnaung. His army of Burmese, Thai, Lao, Shan Arakanese, Sinhalese, and many more raged across the Ganges Plain, only halting their wrath for prayer in the Buddhist holy sites around the Ganges plain, such as Bodh Gaya. For the Toungoo Army, this was not just a war, but a mass, armed pilgrimage, relatable to the Christian Crusades of the early part of the millennium. Their final stop was designated to be the Mughal capital of Agra, but they would not make it there. In 1603, the armies of Akbar were finally able to cease their advance at the battle of Faizabad. The Toungoo armies retreated back east once more.
But Akbar was not to leave such an insult unpunished. By the start of the next year, his army landed in Mrauk U, taken by Bayinnaung so many years prior, and returned the Arakanese King to the throne. From there, he launched another expedition south and landed in the Irrawaddy Delta. Bayinnaung tried and failed to march on his capital, and Akbar would do the same, confident that he would succeed. This was not to be, for Bayinnaung and Akbar would face each other one final time in the Irrawaddy Delta, with Bayinnaung defeating the Mughal Emperor. Akbar would would have to return home without capturing the Burmese capital.
Not long after, the ancient Cakkavatti would finally succumb to his age, at 89 years old. Akbar, he caught an illness in the Lower Burma campaign, wouldn't live to celebrate long, dying a short few months later at 63 years old. But it would be Akbar's empire that would have the final laugh, for without their great Cakkavatti, the Toungoo Empire disintegrated, while the Mughal Empire would live on.