High-Speed Rail (Part I) - Role Models In Europe
The railway and the underground were invented in Britain and the settlement of its various daughter nations would've been impossible without their railways. Yet in spite or maybe because of this, the Anglo-Saxon nations remain special in details. If it comes to rapid transit systems, most systems in the world have their lines either numbered or lettered simply. Anglo-Saxon systems need their lines to be named, at least after their colors on the map if nothing else. High-speed rail is another matter wherein the Anglo-Saxon nations have at least turned into late adopters.
Without the TGV and the Channel Tunnel, something like HS1 wouldn't exist and something like HS2, even though it's sensible without a connection to the Continent, wouldn't be planned. And whereas rebuilding the Great Central Main Line may be charming as it's originally been built with HSR-like parameters and ambitions into France in mind long before it was cool and as it would be considerably cheaper as most of the route is still existant, there are good reasons why this won't happen, at least not at the expense of the decided HS2 course.
Other countries like the USA have their vast geography and their, on average, low density of settlement to blame for their lack of high-speed rail in their countries, but then it's also a political mess ad absurdum. Japan as the inventor of HSR is a special case due to its dense geography, but France and Germany are archetypical in the difference of their respective networks.
La Grande Vitesse Pour La Grande Nation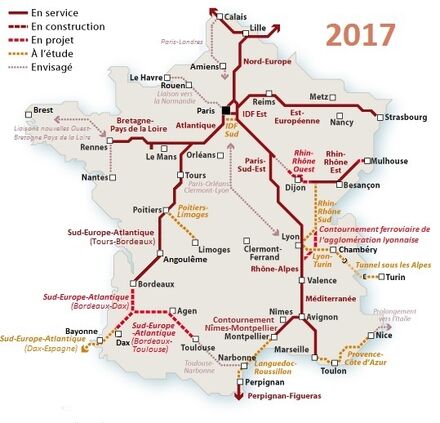 What's especially apparent about the French system is how it expands into neighboring countries. Bigger ones have their own lively domestic systems, others got colonized by neighboring systems. Domestic demand alone would've allowed the western and Mediterranean routes to be built, but the rest has been helped by destinations in neighboring countries. Nord-Europe was the second LGV to be built, but its name alone already says that it's so much more about London, Brussels, Amsterdam and Cologne than merely Lille. The Chunnel is largely to thank for HS2 to even be considered in Britain. LGV Est-Européene has likewise become a beacon into Germany before getting a proper extension to Strasbourg.
LGV Rhin-Rhône has little to with a love for Alsace and a lot to do with linking up to Switzerland and Germany. Currently, the routes hardly mesh and the first tangential LGV in eastern France will primarily provide quicker direct connections from Germany to the Med. Even LGV Atlantique ended in Le Mans and Tours for over 20 years before its extension to Rennes and Bordeaux
just this year
. If those routes ever mesh for big tangential routes way beyond Paris to become a reality, they'll first have to branch out enough that filling the gaps becomes less of a drag. In this decade, the SNCF is in the process of introducing clockface scheduling for the TGV. The idea is that e.g. trains from/to either Paris or northeastern France to/from either Marseille or Montpellier will stop in Lyon at the same time and offer a convenient interchange. When in doubt, this goes at the expense of Paris because TGV terminate at and depart from Paris all the time anyway.
One Country, Multiple Centers - The InterCityExpress
When the HGV Nürnberg-Erfurt goes online by the end of this year, the internal unity of Germany has also been achieved in its HSR network. Berlin to Munich will shrink from 6 to 4 hours. It took more than ten years to build and some critical voices wanted the project to be shelved. Then again, the very first HSR line Hannover-Würzburg in Germany took 18 years to build and what both lines have in common is their shared difficult topography with many tunnels going through the Central German Uplands. Those connections don't sound as sexy as Cologne-Frankfurt or Hamburg-Berlin, but that's the thing: They're trunk lines connecting general directions in a polycentric Germany. The maiden line followed the logic of a divided Germany, yet it took a connection to West Berlin into account. The newest line will properly fit east-central Germany into the all-German grid. In essence, you see a role-model network that works into all directions. Then again, this has been achieved with more than just new dedicated HSR lines. The blue lines on the small map indicate upgraded legacy lines and they're plentiful in the north with its flat topography. Often they're not longer as they have to be because it suffices to work out under the auspices of the clockface schedule.​
Priorities Matter Most - The Fast Grid In Switzerland
Due to its special political system, Switzerland needed plebiscite-proof legislation for upgrading its grid. The clockface schedule is actually a brainchild of the Swiss people in order to serve the stations beyond the big cities with just as fast connections. Even foreign HSR trains follow the clock inside Switzerland. On the other hand, especially as it's a small country with proximate interests just beyond the border, Switzerland is also active in lobbying and also financing HSR beyond its borders when it's rather in the interest of Switzerland than of the lines' host countries. This is especially true for the LGV Rhin-Rhône which ends in Mulhouse which is just around the corner from Basel. Another potential target would be a line to Munich that would link up to Sankt Gallen. High-speed rail inside Switzerland is only then built when it makes node-to-node connections shrink under well-defined thresholds, usually multiples of half an hour. Orange clockfaces indicate a 15/45 nodes instead of 00/30 as they need to be accessed in multiples of quarter hours. Image #1 shows the state as of 2000, image #2 its expansion after the opening of the Lötschberg Base Tunnel, image #3 after upgrading lines in direction Germany, and image #4 shows the desired state of 2030 well after the recent opening of the Gotthard Base Tunnel which is about much more than just that.
Other European-Country-Sized Examples
Check out this
50-page port from the Midwest HSR Association
where they explain how Spain has trains that combine diesel and electric engines and two types of gauges to offer comprehensive HSR services besides the usual AVE trains, let alone the differentiated local, medium and express services of the Japanese Shinkansen.
United States Is Like Several European Countries
Distances are insane in North America, same for Australia. And unlike China and India, there is no equalable density of population to indiscriminately criss-cross the entire place with HSR. Then again, there are some megaregions that could be best describes as a comprehensive set of agglomorations, a landscape of cities if you want. And if you look at those megaregions, you see some striking similarities. The Great Lakes form a hub-and-spoke system not unlike France where Chicago serves the central role akin to Paris. The maiden trunk line connecting northern and southern Germany equals the Fresno-Bakersfield part of California HSR and if look that the Rhine, you see something like a corridor as in BosWash, Piedmont Atlantic or the I-35. The biggest megalopolis in the world however is the Blue Banana stretching from England via the Rhine down to northern Italy, like Manchester to Milan if you want.
Last edited: