Europa of "La Triplice"
Local time: 1950
If you have follow my TL, "La Triplice", you know that Germany won the WWI allied with Italy.
In this TL there is nothing comparable to WWII
The first years after the war were dominated by local wars(Dalmatian war between Italy and Hungary, the Polish uprising and Sovie revolution) , but by early '30s Europe find an unstable peace, shattered in forties by Algerian uprising, war of Somali indipendence, German intervention in far east and, more important, Mexican and Russian wars.
Germany:
Is the greatest power in Europe and one of the greater of the world.
Germany is a conservative federal empire, ruled by Berlin by Wilhelm III.
The empire provides a good welfare system. Politically it is not a dictatorship, but Keiser(and other kings) have a lot of power and civil rights, although formally respected, are less important than state security.
Said that there are no political police, and parties are free to compete in elections.
German army and fleet are ones between the most powerful and large, not only in Europe, but around the world and the atomic bomb give Berlin a fair advantage against many enemies.
Defeated Fascit Russia in 1948 and quelled the last Polish revolt in 1949 Germany seems suopreme in Europe.
The main problem of Germany is its colonial empire, that doesen't age well.
The brutaly which allowed its stability in Africa is becoming more and more a problem, Poland is always on the edge of revolt and reicharmee is spread in too many fronts.
Africa, probaly shall be lost before the '60s and Iraq shall follow soon.
Keiser Wilhem III Von Hoenzollern(1941)
Italy:
Italy is the european junior power.
A conservative monarchy under Umberto II di Savoia.
Differently from Germany, Italy is not only ruled by a militocracy but under D'Annunzio become close to a dictature.
When D'Annunzio died in 1938, the new italian PM(predidente del consiglio dei Ministri), Nitti was embroiled in a revolt against french colonists in Alegeria and by 1939 in a full war against France and United States with Britain.
When the war ended, Italy is not in good shape.
Economy, devasted by the war, struggles to recover, damages are extensive and Italy has not an extended welfare as Germany has.
Socially, the kingdom, is a mess of liberal democracy, prussian constitutionalism and ultra-catholic conservatorism.
Italian Army defeated the Algerianian rebels(with help of Tunisinian and Lybian irregulars), but Algeri is still a non-go zone.
Lebanon is the only secure colonial possession, Palestine and Syria are starting to agitate, comoplicated by jewish migrants around Jerusalem.
Costal cities of Lybia are secured, but desert is out of control.
Rome feels African Horn territories as lost in a war against Etjiopia that become more and more probable.
King Umberto II Di Savoia-Carignano

Republic of Great Turkey:
Turkey is a new player in the European arena.
Given dead after WWI, under the ironfist rule of Kemal Pasha resurrected in a new (for now) regional power.
Kemal left go away the provinces with an arab majority and strenghtened the ties with turkophone and kurs one.
He(differently from HL) didn't spoil the Ottoman Sultan of his religiouse role and put christian minorities under the protection of the Caliph.
The millet system was partially manteined and greeks remained(mostly) faithful to Great Turkey.
Armenians were another matter.
If greeks were, rightly or wrongly, to be a part of this state as heirs of byzantine empire(which gave ottomans a lot), Armenians feel to be only a persecuted and oppressed minority(Armenian genocide worked in a lessere extent in this TL, because germany performed better aiding the ottomans in Caucasus).
Diring the Second Russian War, when Turkey entered in war against Russia on german side, Armenian arose in revolt and were punished(badly).
Now Turkey is decisely the third player of Central alliance with a good economy, a strong army and big allies.
The main problems were armenians(for them is not yet decided what to do, but probably shall not end well) and Caucasus where turkish military presence is a heavy burden, both for occupieds and occupators.
Ismet Pasha: President of Greater Turkish Repubblic
Kingdom of Hungary:
The kingdom of Hungary is the last of the central power, both for economy and military power.
Hungary is a country with a lot of problems and in the chancelleries of Rome, Berlin and Istanbul its end is belived a matter of time.
Hungarian army was not so bad during the Second Russian War, but at the end gained only some Rumanian counties.
Hungary big problem are its minorities, Differently from Turkey, Budapest promoted a forced magyarization and it didn't work well.
If Croatians stay leal because of italian army in Dalmatia; Galitia and Transylvania, without foreign menace, didn't the same.
Tension are rising now, and only the young King Otto is the reason why monarchy is not fallen...yet.
Hungary is confessional semi-dictatorship, where the Landowners party and the army rule with an iron fist.
The king is young Otto Von Habsburg, he is more or less a prisoner of Admiral Miklos Horty wich is, technically, only the First Minister but rules as a dictator.
King Otto Von Hasburg
People's repubblic of France:
France is a communist state, the revolution happened in 1924 when the party, on platform of social justice, partition of land and revenge from Germany won the election by a slight margin.
France is not, however, comparable with HL soviet Russia; and its first days were bloody, now its more calm and after the war againt Britain and Italy is more a socialdemocracy that a communist state. However only the Partie de travalleirs is allowed to run for elections and the Guetteurs(the whatchmen) the secret police is everywhere.
France is been always able to avoid a war aginst Germany and also to ignite a revolution in India and Italian ME, but is now under attack from Japan in Viet-Nam and Indocina(Tokyo send "volunteers" to start a national insurrection against the godless and western ruler), and the country is still ravaged by war, with a not so good economy despite american aids.
President de conseils Eduard Daladier
United Kingdom of Great Britain
Great Britain is in bad shape.
They fought americans in Mexico and Canada, defend from France along the channel and fought a war against a genocidal fascio-communist dictatorship in India.
However they manage to survive.
Allied with Italy, U.K saves Portugal(if not spain) from communism and defends Africa.
The loss of a great part of India, however hits very hard, First Minister, Wiston Churchill had to resign also if he was able to save Cylon, Pakistan, Bangladesh and mostly Burma(that was looking to Japan more than to London).
Despite the economic crisis, GB is still a democracy and has a good welfare.
The new premier, Clement Attlee, must defend Africa, maybe with the institute of Dominion-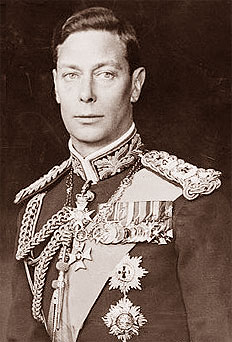 King George VI Windsor
Last edited: