JIMMY TWO!
America in Carter's Second Term
2023 Best Cold War to Contemporary Timeline
​
This is not about creating some liberal utopia. If it were, Jimmy Carter would not be my choice. The archetypal "liberal" president deregulated industries at the expense of unions, decided to dramatically increase the Pentagon's budget while sacrificing an opportunity for national health insurance because of its cost, opposed a minimum wage increase, and formulated an energy policy that relied heavily on the widespread use of coal. None of these would fare well in a Democratic primary today. But, at the same time, Carter seemed far to the left in other ways. He wanted universal same-day voter registration, and he proposed it at the start of his first term. He wanted to tax capital gains at the same rate as wage income. He rejected tax cuts for the rich. That deregulation I mentioned earlier was all part of helping the consumer — at the expense of big business interests (unions were collateral, not the intended object of Carter's ire). And that energy plan that relied on coal also invested significantly in solar and wind energies. He appointed more women and people of color to the federal bench than all of his predecessors combined.

But beyond this complicated legislative legacy is another stunning fact about our 39th president. He never told a lie. Not once did the press corps catch him in some outright untruth. And they tried. And yes, he was prone to some exaggeration here and there, but he never lied. Whether you read Jonathan Alter's biography of him, or Rick Perlstein's account of his presidency, or Kai Bird's biography of him, that fact isn't in dispute. He promised the people he wouldn't lie to them, and he didn't. He made mistakes — yes. He kept Bert Lance around too long — heck, he appointed him in the first place. He eschewed the norms of Washington, believing he could treat Congress — a legislative body of more than 500 full-time legislators — like the Georgia state legislature that convened for a fraction of the time. He thought he could handle the presidency without a chief of staff. And he worried too little about the political outcomes, rarely considering that particular policies may be popular for a reason.

Jimmy Carter is a lot of things, but he is not the simple caricature I learned about from the history books or from the conventional wisdom when I was growing up. He is not a big government liberal who drove our economy into the ground. He was not a hapless president in over his head watching the world pass him by. He did not spend his presidency prioritizing the White House tennis court schedule over the affairs of state.

Like a lot of us, I hate being lied to. And I grew up learning a certain historical canon — that Jimmy Carter was a failure. But when a car accident happens and a seatbelt saves the driver's life, there's a pretty good argument to be made that Jimmy Carter wasn't a total failure. When I sip a drink at a craft brewery, there's pretty good reason to believe Jimmy Carter didn't totally screw up on the job. When a family can afford to fly on a plane for their vacation, when impoverished Americans are able to access food stamps without first purchasing a physical stamp, when Americans watched the Soviet Union fall apart — all of these are instances when someone should have said, "Hey. Jimmy Carter wasn't a failure." But no one did. And few do today.

We are in the midst of a national reexamination of Jimmy Carter The President. We've always appreciated Jimmy Carter The Man. Jimmy Carter The Ex-President. Jimmy Carter The Humanitarian. But now we are reconsidering Jimmy Carter The President, and I think that's important. Not because he was the best or most successful president. Not because he was a perfect president, or even a nearly-perfect one, but because we've been lied to for so long. We've been told that Jimmy Carter is synonymous with failure, with disaster. That he is proof positive that liberal ideas don't work, when, in fact, Carter was one of the last presidents to face a major primary challenge because he wasn't liberal enough for the Democrats of the day.

No, Jimmy Carter cannot be fit into a box, and that's precisely why I felt compelled to consider what his second term may have looked like. I've read a lot of timelines on this board, but I believe the best ones are when the author makes a controversial decision — one that goes against the standard groupthink — and then is able to convince you to see their premise in a new light. I enjoy the timelines when 'plausibility' does not mean a simple straight line. For a man as paradoxical as Jimmy Carter, there is a lot to work with and a lot of decisions to consider. As I've written the timeline, I've been nervous, wondering to myself, Would Jimmy Carter really do that? But the reason Carter is such a fascinating subject for alternate history is because there are so many ways you could answer. My ultimate hope is that this alternate history shows you something about him that his biographers couldn't.

Of course, he had some ingrained traits. He was self-assured. He often thought he was the smartest person in the room. But even some of his most characteristically Carter beliefs — his love of peace, for example — were not absolute. He was no pacifist. He considered military intervention throughout his presidency before deciding against it. He wanted to take on big business and expand the social safety net without ballooning government spending. Which side won out with him? Hard to say. Conservatives will tell you the former. Liberals will argue the latter. And this is why his second term deserves a thorough examination. In fact, it deserves multiple thorough examinations.

If there was one North Star I kept while researching this timeline, it would be a quote from @Yes in his introduction of McGoverning: "The best fantasists, on the other hand, weave altered worlds then drop real souls in them, where they behave in the fresh landscape as real souls would. That's the goal here. Things change, but Things change. People don't stop being themselves (at least the ones already born when we start.)" There is no better advice for the alternate historian, but it is especially important to keep in mind when dealing with Jimmy Carter. As I tinkered with points of divergence and the 1979-1980 portion of this timeline, I kept going back to this quotation. In some ways, Carter is the best subject for this, and in some ways the worst. He is a man of contradictions, and in showing you other decisions he may have made, I have sought only to illustrate his complexity — not to change his character.

I thought about an early point of divergence — getting rid of Bert Lance. But there's no way Jimmy Carter goes to Washington without one of his closest personal advisers, especially while Charlie Kirbo stayed home. I considered having Carter embrace Kennedy's plan for national health insurance, but there is simply no way to persuade Jimmy Carter, in the environment of the 1970s economy, to buy-in to a plan the spent that much money, even though his heart wanted to give healthcare to all Americans. I have enjoyed reading and listening to Walter Mondale recount his time as vice president. He is almost aghast — still — that you were never able to persuade Carter based on political reasoning. It's not hard to find ways to make George Bush or Gerald Ford two-term presidents. You go back in time, tinker with the advisers, have them include a question in a poll they might have missed and you manipulate it so the president sees the path to the second term. But you can't do that with Carter, because Carter wasn't driven by finding a path to a second term — only I was.

All of this is to say, I've long believed someone had to do Jimmy Carter justice. And I'm glad that Jonathan Alter and Kai Bird have done their part. Now, it's time to bring the reexamination of Carter The President to alternatehistory.com. Of course, my version will not be definitive, but I hope it gets us to look at the possibility of a second Carter term in a real way. Again, the goal is not some kind of grand liberal erasure of Reagan. That timeline (which I often dream of) is more about going back to the '76 election, re-electing Ford or nominating Mo Udall — anything to get a traditional liberal Democrat in office to preside over the prosperity of the 1980s. This isn't that timeline. Jimmy Carter's second isn't going to be fun for Ted Kennedy or most Democrats, and it won't even be that fun for Jimmy Carter, but I hope it's fun for all of us as we consider what might have been.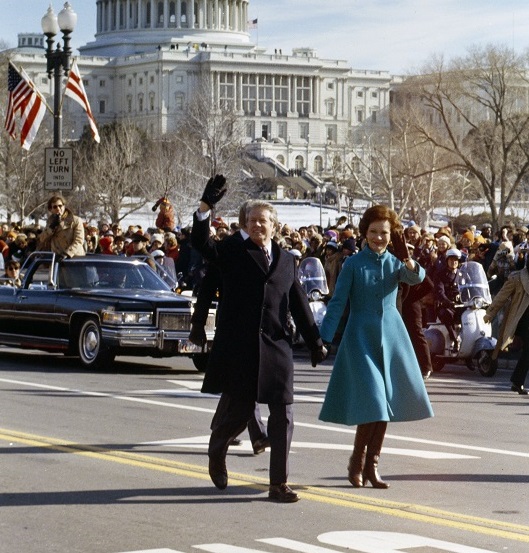 "No one can know what 'would have been,' but with a new beginning and the millstone of the captive hostages removed, we would have continued our strong commitment to energy conservation, maintained our nation's determined effort to bring peace to Israel and its neighbors, and kept our national budgets in balance."
-Jimmy Carter

"We told the truth. We obeyed the law. We kept the peace."
-Walter Mondale

"But in truth, Carter is sometimes perceived as a failure simply because he refused to make us feel good about the country. He insisted on telling us what was wrong and what it would take to make things better. And for most Americans, it was easier to label the messenger 'a failure' than to grapple with the hard problems."
-Kai Bird in The Outlier (2021)
​
Last edited: