Cover art from an issue of the popular manga
Zipang
by Kaiji Kawaguchi. A popular example of 'Gun-Manga',
Zipang
tells the story of a modern Japanese Navy destroyer - the
Mirai -
being sent back in time to just after the Soviet-Japanese border clashes in Khalkin Gol. After some debate - and some deep soul-searching among the crew - the
Mirai's
officers ultimately approach the Japanese government of the day, offering to place themselves at the IJN's disposal and help tech Japan up in return for said government listening to their warnings: warning chiefly regarding the impossibility of war with the United States and the true threat to civilisation coming from the Soviet Union. While initially the government are unwilling to abandon their course, the existence of the
Mirai
is enough to sway a number of IJN officers - including Admiral Yamamoto and the
Mirai's
down-time liaison, Lieutenant-Commander Kusaka Takumi - into launching a coup that topples the Army-dominated government and instals a more reasonable regime. Ultimately, Japan ceases their war in China and ends up going to war with the USSR, a war which - thanks to the
Mirai's
missile armament, as well as early jets, helicopters and rocketry developed with input from the
Mirai's
crew - they're able to win, claiming a large chunk of Siberia, as well as Northern Sakhalin and Kamchatka (and off-shore oil and gas reserves). Their new resources, plus oil in Manchuria that the
Mirai's
crew assists in developing drilling technology to access, ultimately allows Japan in the
Zipang
TL to become a self-sufficient power, one that does not suffer defeat by America.
Though on the surface highly triumphalist and nationalistic,
Zipang
is actually one of the more balanced Gun-Manga to have been published. It demonstrates many of the abuses that the old Empire perpetrated in its colonies - including acknowledging the existence of Korean 'comfort women', something that led to the author receiving death-threats from far-right activists - and shows the modern Japanese crew as being shocked at how their more positive view of pre-war Japan clashes with the reality. Ultimately, of course, with its ending of Japan becoming a 'nation untouched by the shame of defeat' and a major power, it does fulfil many of the Gun-Manga tropes...though in an intelligent way that allows Western audience enjoyment.
Japan is one of the major powerhouses in terms of international comics sales.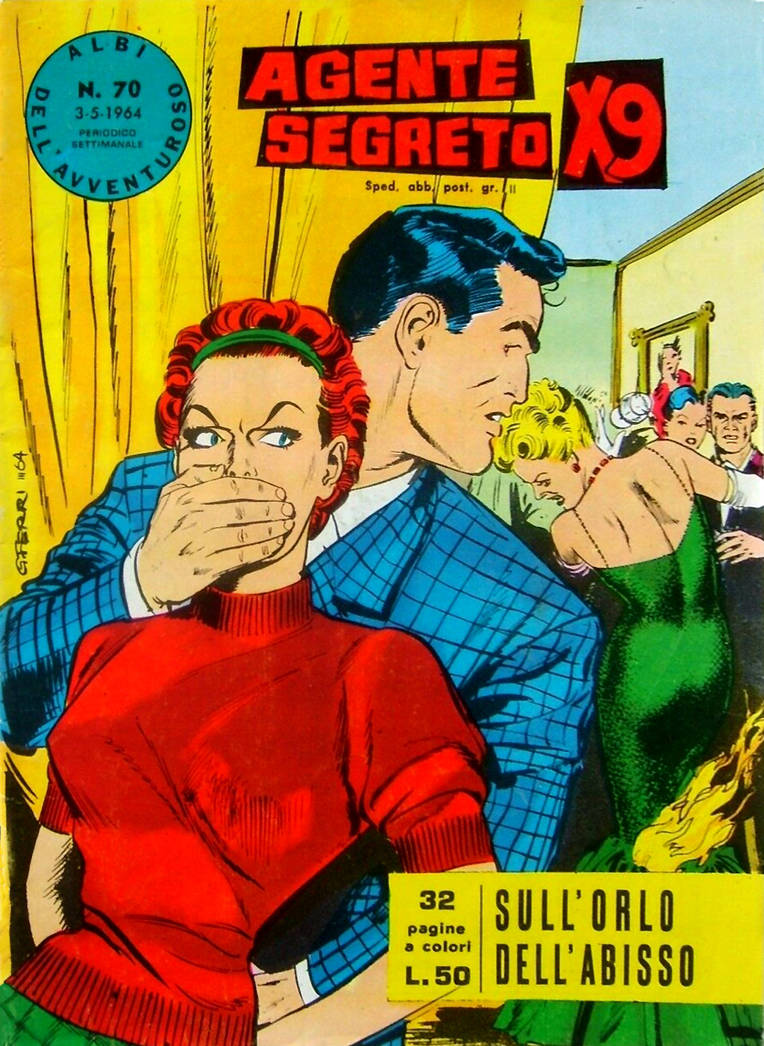 The cover of Issue 50 of
Agente Segreto X9,
a highly popular Italian comic series that began in 1955 and has continued to run to the present day (albeit with occasional hiatuses). Inspired by the popularity of the novels of British author Ian Fleming, Agent X9 - real name Aurelio Forte - is an agent of the Kingdom of Italy, fighting against the forces of Communism and all other threats to the Roman Alliance and the 'civilised world'. Originally portrayed as a devoted Fascist, later depictions of the character would make him more apolitical - partly as a result of the changing climate within Italy itself, and partly to allow for continued sales overseas, the character having proven popular in the British and American markets particularly. The issue depicted recounted the story of X9's 'most dangerous mission yet' (like all of his missions, as cynical reviewers would note), to kidnap the beautiful yet sinister Communist spy Nadia Ivanova aka Triple-X (hair and clothes colour-coded red for the convenience of the reader, to truly establish that yes, this woman is a Communist).
Italian comics, though containing some superhero-type characters, tend to be highly diverse in subject matter. Historical adventure - particularly set in Roman times, but also involving Renaissance-era swashbuckling - was a highly popular genre during Fascist times, and remains so today. Science-fiction has also proved popular - this was even true during Fascism, albeit under certain restrictions, but it would grow substantially in popularity after the establishment of democracy in Italy - along with detective, espionage and war periodicals. Themes have changed somewhat, with the more jingoistic material of yesteryear being joined (though not replaced) by more subversive and radical works, and the depiction of women has also changed significantly (there have been far more female action protagonists in Italian comics since the 1970s, as one example).
Italy is another major player on the international comics scene.
​
A page from Hellman of Hammer Force's 2014 revival special Hellman: Gotterdammerung. Originally created by Pat Mills and John Wagner for their Tempest comic of the early 1970s, the character of Hellman represented an early example of 'Good German' protagonists in British and other war comics - something that was particularly topical given the rise of Germany under the restored Hohenzollerns and its increasing economic and military power in alliance with America and Britain. Subsequent examples of war comics featuring German protagonists would include Kampfgruppe Falken, Iron Annie, Waidmann's Heil and The Grey Wolves, though Hellman of Hammer Force remains probably the most well-regarded despite its initial short lifespan.

Tempest - aka the 'sevenpenny horror' - was perhaps somewhat too much, as witnessed by its cancellation, but it was representative of a trend in British comics that had begun in the 1960s and intensified sharply over the coming decades. The multiple conflicts in the years following World War II - in China, in Arabia, and multiple smaller colonial/post-colonial flareups - had led to the more jingoistic 'Boy's Own' nature of British comics becoming seen by many as past its prime. Consequently, beginning in the 1960s, there was an increasing trend of gritty nihilism in the medium, in particular in war comics with more of an emphasis on the horror of war, a rise in antihero-type characters over outright heroes, and other such developments. (It is worth pointing out at this juncture that Tempest was not cancelled over its war content, but rather over more 'current' content - one football-related strip that delved deep into the then-topical problem of football hooliganism being particularly cited by moral guardians). Despite Tempest being cancelled, this thematic trend would continue in some of the more famous Brit-comics such as Action Picture Weekly, The Year 3000 and other such works that ended up making it big overseas...and, indeed, continues today.

Though Hellman of Hammer Force's original intended run did not get to be completed, the character would be revived in Hellman: Gotterdammerung by Northern Irish comic writer Garth Ennis, who would write a particularly dark yet moving story involving Hellman and the remnants of Hammer Force joining the Free German Army and turning on the Nazi regime. Ennis' story, though highly popular, would prove controversial among Germans for being a far more nuanced look at the FGA and the Wehrmacht than had been the case before - while Hellman and his people join out of genuine conviction, as to the bulk of named FGA members in the story, several FGA characters are shown as having joined up either to avoid punishment for dereliction of duty in their old units, or to avoid being labeled as war criminals themselves for their actions on the Ostfront. Nevertheless, the popularity of the book would lead Ennis to revive the character one more time in Hellman: Children of Israel, a story in which Hellman - having found himself unable to return to civilian life, and heartbroken by the devastation of Germany - travels to Israel to serve as an advisor in armoured warfare (mirroring Erwin Rommel's real-life career as an advisor to the Israelis). Though largely praising of Israel, the book also made a point of showing the Arab enemy as being human rather than a 'faceless mob'...and some eyebrows were raised by Hellman's closing lines: 'Israel. Such a history, yet such a young country. Like Germany... I pray they don't make the same mistakes we did'.

British comics, though not quite at the same level as those of Japan and Italy, enjoy decent sales overseas.

​
A/N: This one and the Wonder Woman bit in my previous post were inspired by Sorairo 's recent comment that American comics don't do so well because of Japanese and Italian ones. That got me thinking...and also made me think 'British ones would probably do well enough too...'