London Centre for Global Studies - Map of the United States [FUTURE]
May or may not be canon. Regardless, Merry Christmas!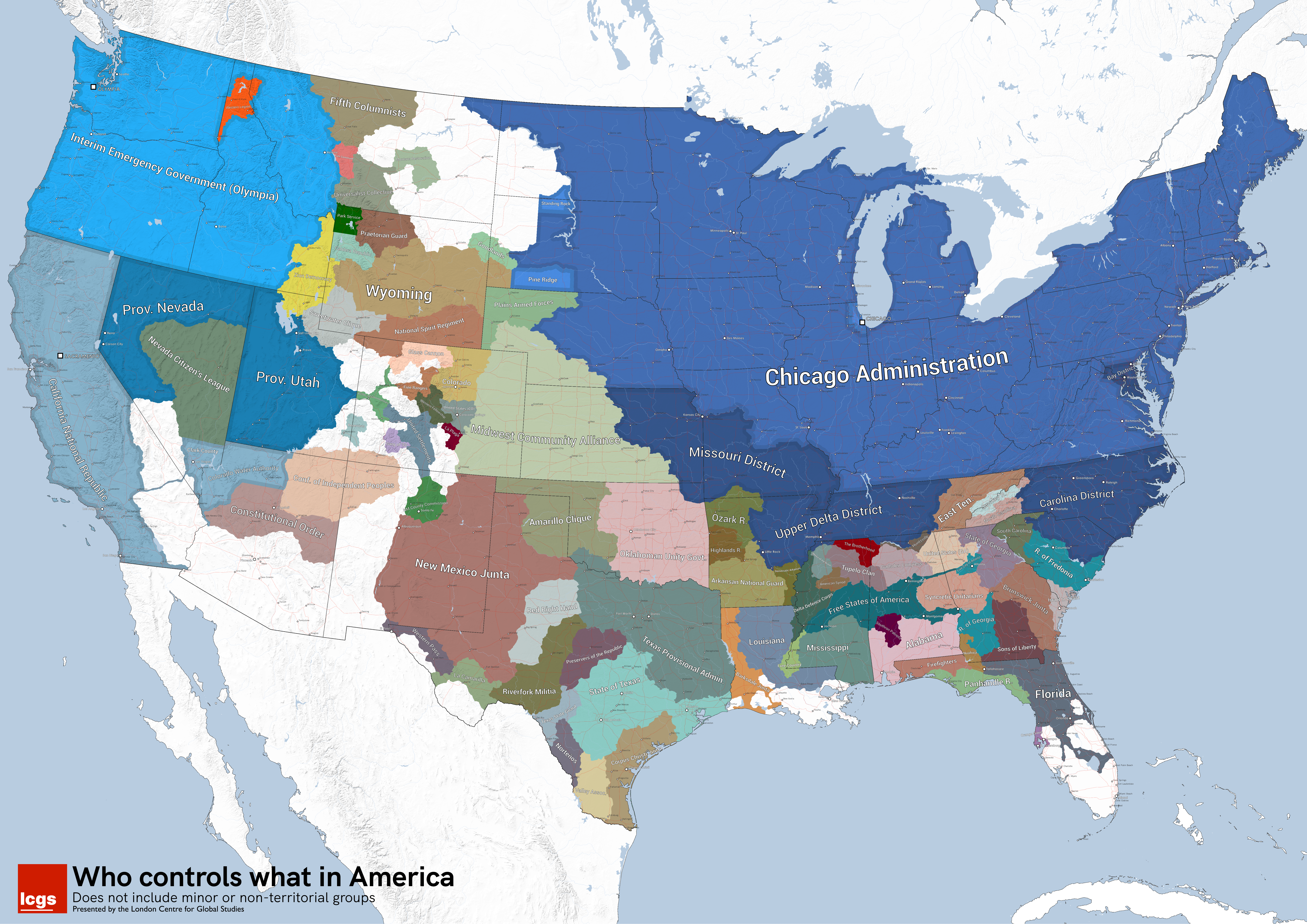 O beautiful for patriot dream
That sees beyond the years
Thine alabaster cities gleam
Undimmed by human tears!
America! America!
God shed His grace on thee
And crown thy good with brotherhood
From sea to shining sea!
The chickens have come home to roost.
What began as a series of car bombs in the country's capital has turned into an unprecedented environmental and political conflict that spans a continent.
To the north, the Chicago Government has successfully vanquished the last of the major federal pretenders and can fully turn its attention towards the business of pacifying the south. However, its cities, once the financial and industrial hearts of the nation and the world, now sit in squalor, devastated by years of war, neglect, deindustrialization, and environmental degradation. While in the halcyon days of yore New York and Boston might have been surrounded by neatly manicured suburbs, now there is only the stench of overcrowded refugee encampments.
But don't get the wrong idea. Refugees are Chicago's greatest export. Even the threat of unleashing millions of despondent refugees onto the Canadian border was enough to get Ottawa to quickly agree to a generous trade and water-sharing agreement.
To the west, the Pacific Northwest remains the most similar to the prosperity of pre-war America. The lights turn on and the garbage is still collected weekly across Oregon and Washington. Food isn't a concern either - California exports most of its food to the Olympia government.
That's all the Golden State is useful for nowadays. Nearly all the technological capital in Silicon Valley has fled to Seattle, and as such, the Pacific Northwest continues to lead the world in innovation and advancement. The latest government initiative involves turning the entire country into an "algocracy," where everything from rations, jobs, and criminal verdicts are decided by computer algorithms and artificial intelligence.
The south, by contrast, is a complete mess, riddled with wannabe militias, rogue military units, and roving bands of racial supremacists. As troops from the north arrive to press Chicago's boot onto the already fractured region, the only glimmer of hope for the south lies in the Free States of America - an equal society surrounded by a sea of hate.
Last edited: