Please note that I am not referring to the US creating new states, or partitioning states, I mean a (somewhat) complete overhaul of all of its administrative divisions in the whole country.
The Fallout universe is set in an alternate TL which diverged from ours around 1945, some 24 years after the POD in 1969, the United States reorganized itself into 13 Commonwealths (looking at it now, it is a pretty ugly layout that could have been done better), sadly we do not know a lot about how the 13 Commonwealths in Fallout actually worked, since the lore talks very little about them, however, it is known that they were an
"intermediate government between state and federal"
, and that the pre-existing states were not abolished, Commonwealths were just put on a level above states.
I should mention that since this layout above is ugly as sin, people have made their own head-canon interpretations of the 13 Commonwealths, such as this one: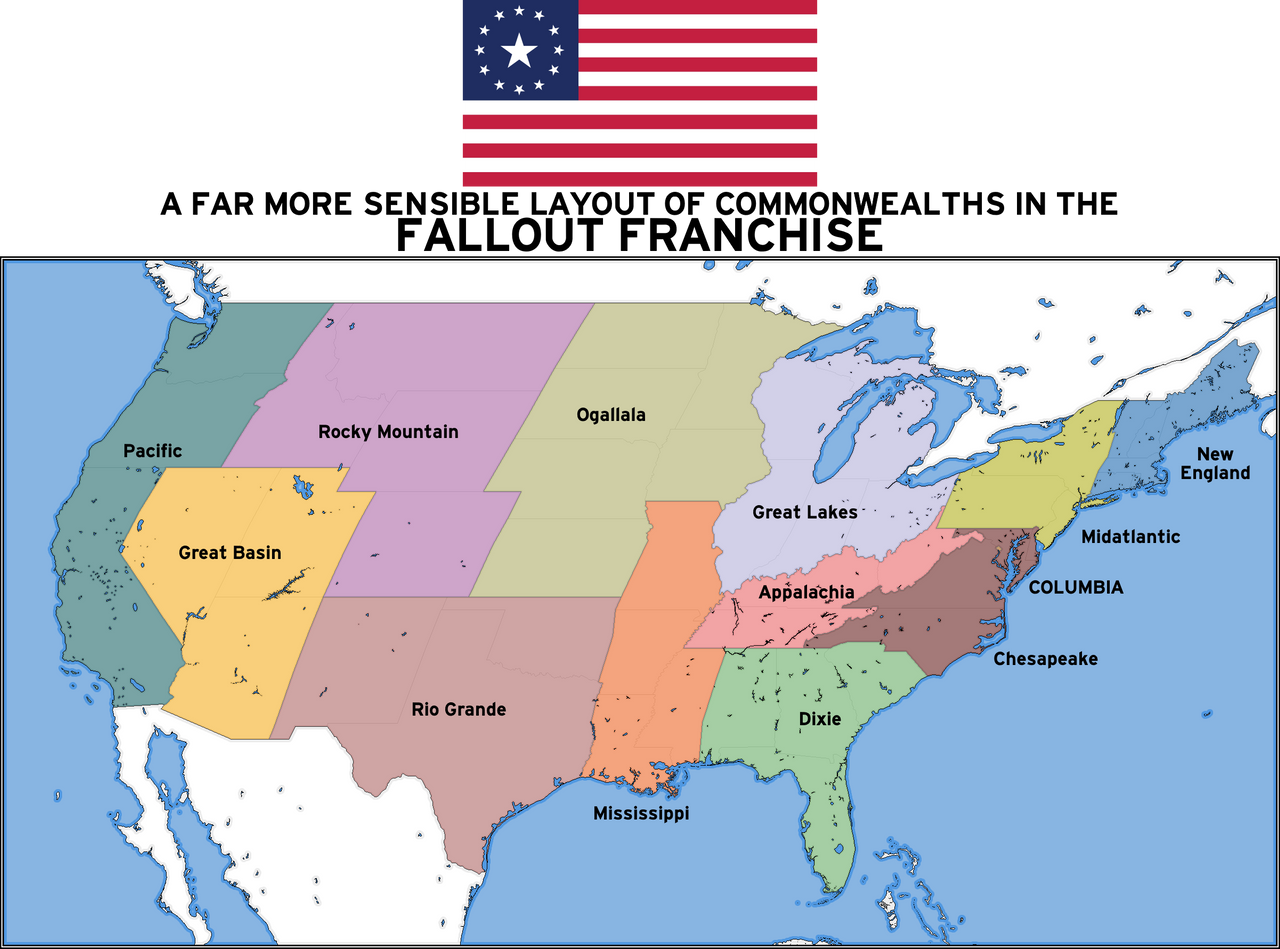 I am fascinated with re-organizing administrative divisions of countries, and I am also very into the pre-War lore of Fallout, so I was wondering if there is any possibility if something similar (but not identical, given how ugly it is) to the 13 Commonwealths in Fallout could have been applied to the US in our timeline.
1. What would be the reason for the US to do this?
2. How would this proceeding begin, and when would it be finished?
3. What would be its aftermath, and how would the country react to it?
4. Could it last forever?
5. Your scenario it of course does not requires 13 new administrative divisions, it can be as many or as less as you wish, and how much it would make sense.
This scenario can be similar to Fallout in the sense that the US states are not abolished, they continue existing but are surpassed by a different kind of administrative division, since I realize how near impossible it would be to abolish the pre-existing US states,
bonus in the POD is after 1945, much like Fallout itself.
To the mods: for most that I cite Fallout a lot in here, this is not a fandom scenario related to the series at all, just asking if something similar that in the lore of the game could be applied to real life, repeating, we have very little information about the supposed 13 Commonwealths in the game, as far as I recall this map above comes from Van Buren, a cancelled and non-canon Fallout game, I want to know what the proceedings to doing something like this in real life would be.
Last edited: