Chapter 20
An Englishman, A Scotsman And An Irishman Go To The World Cup...
​
The 14th of June had arrived and with it so too were the Quarter finals for the 1970 World Cup. For this, all four games would start at the same time and both the BBC and ITV for British viewers would broadcast both games involving the Home Nations though it would be said that many British eyes and even perhaps the rest of the world were casting their eyes over to the game between Scotland and England in which the two old rivals had been brought together for what looked to be an epic rematch and that match itself would be shown live on ITV (or on STV for Scottish viewers). For the other Home Nation there, Northern Ireland would take on Uruguay which would be shown on the BBC but sadly, they barely got a noticing from the rest of the British press as it was quite obvious nearly
everyone
wanting to cover that other certain game. Still, there was the Northern Irish press team there along with a few hundred Northern Ireland fans among the small twenty-six thousand supporters in the stadium proudly wearing green and white while waving their Hand of Ulster or Union Jack flags in one corner of the stadium with even a banner being raised saying '
Are you watching Dublin?
' which is an obvious dig at their southern neighbours. However the rest of the stadium is filled quite a number of the supporters in the ground are either curious Mexican locals or the vast majority being that of Uruguayan fans who have all made the trip north in the hope that they can repeat their own heroic shocks of 1950.
As the teams emerge from the tunnel, they are stunned to see the vast Estadio Azteca looking quite empty, barely a quarter full to put it midly. It's strange that there is hardly anyone here though it's more likely that most of the locals are watching Mexico's game with Italy over in Toluca. Still, a game has to be played and the Dutch referee blows his whistle to start the game. As the teams start playing, it is an interesting thing to note that two of the smallest countries left in this World Cup are playing against each other and it will guarantee that no matter whoever wins, a nation with less than five million people will be in the last four. Nonetheless, Northern Ireland nearly get off to a perfect start with just two minutes play when George Best sends the ball towards Dougan in the penalty box who fires the ball towards the goal, only for it to meet the hands of Ladislao Mazurkiewicz and keep the game goalless. As typical with this World Cup, this game along with the other games have all kicked off at noon due for television viewers in Europe but it means playing in the baking hot Mexican heat which is never good for anyone and Northern Irish manager Billy Bingham knows this as he tries to keep cool in the shade while all he can do is watch his team to try play Uruguay.
Bingham knows that South American teams play very different to European sides and he expected this Uruguay side to be no different, yet he didn't expect them to be quite physical as they started performing many bad tackles on the Northern Irish team in the thirteenth minute, Atilio Ancheta brings down George Best that looks like it almost breaks his legs and leads to many angry Northern Ireland players to confront the defender and the referee has to step in to ease tensions; it has also become clear that the Uruguayans have marked Best and in doing so to make sure he can't cause damage decide to inflict damage on Best in perhaps the worst way possible. Thankfully for Northern Irish viewers, Best gets back up on his feet and Ancheta, who has been given a yellow card by the referee for that moment, glares at his attacker and gets back into the game. From a free kick Northern Ireland are awarded which ultimately comes to nothing, the game carries on and it does become quite brutal with bad tackles taking place with neither side getting nowhere near a goal and the referee trying desperately to keep the game flowing. So much so that during that first half, Northern Ireland goalkeeper Pat Jennings would later re call years later that he spent more time being a spectator to near brawls on the field rather than someone trying to get a shot on target. The humid conditions are likely a factor to this and as the Ulstermen try to play the game, few of them have any thoughts about how the other game is getting on...
Jennings (left) and Best (centre) talking over things with manager Bingham (right) sometime during the 1970 World Cup
---------
​
To the surprise of perhaps no one, very few in mainland Britain took any interest in that game as the overwhelming majority of British viewers tuned into ITV to watch the big Quarter-Final encounter between Scotland and England. Other than the fact it was not only another big game between the two oldest footballing nations in the world or that it was a rematch of the final four years ago or even the fact that it would be the first to be played in the Americas, it had more importance that it would be between the World and European Champions which gave build up to it a unique edge like no other game prior had done. Alf Ramsay and Bobby Brown, now both knighted as 'Sir', both famously said in a pre-match interview to the press that no longer did either side see the other as inferior but as a worthy equal that either wanted to beat. Truly, it was Champion vs. Champion, mouth watering for the press no less. That all said, some cynics feared that it might be something of an anti-climax as the last game between the two sides was only back in April in the British Home Championship where they played out a dull 0-0 draw at Hampden with many finding it not good enough for if either of these two sides were to go all the way if they played like that. However even before a ball was kicked, there was good news for the Scots and bad news for the English in which England goalkeeper Gordon Banks wouldn't be playing in goals due to apparent food poisoning and that the backup keeper, Peter Bonetti, would play in goals. That said Brown had warned his players not to think that Banks being out would make things any easy for them as there were ten other English players on the pitch too...
With an estimated twenty-eight million people in the UK alone tuning it to watch the game live, it would also be remembered by a certain generation of the first England/Scotland game to be broadcast in colour for the first time were the white shirts and navy shorts of England and the blue shirts and white shorts of Scotland were now clear to make out and the very image of them lining up in the hot afternoon Mexican sun made for quite a surreal image that so far removed from either Wembley or Hampden. However many would think that this was the first game between the two to be played in colour though it turns out that this a classic Mandela effect as funnily enough the Home International game between the two was the first to be broadcast in colour. With that all said from the moment the two sides walked out onto the pitch and into the blazing Mexican summer sun, there was a serious edge in the air as whoever won this game would surely have a good chance of playing in the final and maybe going on to win the World Cup.
The stadium in the Estadio Nou Camp in León is filled to the brim with over twenty-three thousand curious locals who are all willing to see the oldest International football teams in the world take place in their city and of a small number of England and Scotland fans who've made the long journey out to Mexico. The game kicks off and right from the get-go, it proves to be a thrilling game with it being quite an open game and the spectators' heads going from left to right like a tennis match and it seems only a matter time until one side opens the scoring and in the twenty-first minute, Gemmell brings down Edwards just outside the penalty box and England are awarded a free kick. Many bodies are gathered in the box and despite some of his teammates motioning to the England captain to cross it to them, he focussing on Cruickshank's goal and finds an opportunity. The referee blows his whistle and Edwards kicks the ball over the Scottish wall and right past the arms of the poor Scotland keeper to slam the ball into the back of the net and put England a goal up so soon. There is great excitement from the handful of England supporters in the ground who are glad to get the early goal while their Scottish counterparts can only look on with dismay of being sucker punched by a fabulously free kick. They now know they have to come out and fight but it does look to be a tall order...
England fans making themselves heard during the Quarter-Final with Scotland
​
England start to outplay the Scots, the heat clearly getting to the latter, and even in the early moments of this match, it seems that England have this game already in the bag and no sooner than that opening goal in the twenty-ninth minute, England nearly get a second with Allan Mullery outwitting Cruickshank, only for the ball to just narrowly go over the bar. From the bench, Bobby Brown has his arms crossed and can only shake his head at how poor they are playing, with all the talk of Banks having food poising, he has to wonder if his own team have gotten a nasty bug of some kind. It is painful viewing for Scotland fans and joy for England fans which Ramsay feels satisfied as there was a great deal of criticism over his team not being all that good, no doubt victory here would shut them up. That all said just after the half hour mark, Scotland do find themselves back into the game with Bobby Lennox finding himself in a good position in the thirty-third minute when he fired a rocket at goal but it was down to Bonetti who got a hand to it to deny a Scottish equaliser.
The strange things is that Scotland actually begin to start to control the game and end up looking more like the team that are going to score yet despite England looking ropey, the Scots can't find a way and it is with great relief for those watching south of the border and those in the north some annoyance that the first half ends with England leading 1-0 though are quite lucky to hold onto it still. When the teams walk off the pitch some wonder what will happen next; some think England will hold on to this result and add to it, others think Scotland will score and go on to win themselves, but very few that day will know just what madness was to follow in that stadium...
------------
​
Meanwhile in the capital city just as that game was nearing the end of it's first half, so too was Northern Ireland's game with Uruguay. After forty minutes, it is still goalless and the small crowd are voicing their anger at wanting to see goals being scored. Then in the forty-third minute, Pat Jennings for perhaps the first time during that whole game is called into action when Julio Morales fires in a great ball, only for Jennings to dive to the left to keep it out as the South Americans are awarded a corner kick. When the ball flies into the box, Morales nearly scores again with a header and like before, Jennings comes in to keep the game scoreless. The first half is then over and the two teams go off the pitch with some of the players exchanging dirty looks with each other over the dangerous play that has been taking place, in some ways it could be said that a powdered keg is waiting to blow off at this rate. Bingham knows that they have to break the deadlock somehow.
Following a half time team talk and hearing what the score was in the England/Scotland game was at this moment in time, they returned to the pitch with some renewed hope that they could win this with the score still firmly deadlocked. This time the Ulstermen start playing a more silky South American style of football with George Best showing how it's done (then again, he has been doing this on football fields in England that are more like mud baths than pitches) and bizarrely enough, Uruguay start playing a more physical British style of play which makes the game look really strange for some. Both sides go near throughout the game for the opening goal, but sadly none are successful and up in the commentary box many of them are struggling to try and make the game more interesting, amusingly though the only bit of entertainment comes from the motley group of Northern Ireland fans singing in one corner of the ground with some lewd lyrics that BBC commentator Alan Weeks apologises to the viewers for some 'industrial language.' Surely something has to happen soon or this game might be about to head into Extra-time and with more of this heat, who would want that?
-----------
​
The players return to the sun-drenched pitch with some of the players thankful to get some cool shade while both supporters in the stands can be seen enjoying their ice cream and using fans trying to keep cool. The second half then begins with Scotland now fighting with renewed belief that they can do this and clearly England are starting to look rattled early on this second half and surely it is only a matter of time until Scotland get what they deserve. Then in the forty-eighth minute of the game, it does happen. Denis Law takes the ball up the field before back passing it towards Tommy McLean who takes the ball and looks out for Bobby Lennox motioning him to cross the ball up to him, in which the Kilmarnock player duly applies. Moore tries to stop the ball landing at the foot of the Celtic striker, only for Lennox to leap into the air and header a downwards header that Bonetti has no chance to grab and thus Scotland are back in the game.
Lennox celebrates with his teammates and Busby applauds his team's great fighting spirit to come back an he looks over to see Ramsay shaking his head and then starts talking with his assistant coach, no doubt talking about who to take off and who to come on thanks to the new substitute rule in place. There is a further moment of drama in the fifty-first minute when Moore makes a wonderful tackle that he used in the Brazil game which he snaps the ball off the feet of O'Hare and the Derby County player is caught completely unaware of what has happened and Moore passes the ball towards Mullery only for him and Stanton to make a collision into each other. It is a clear accident in which no one is at fault, but both players try to argue with the referee over who they think was to blame, instead the Argentine referee is having nothing of their lip and decides to book
both
players, much the annoyance of both teams, their managers and the fans all shaking their heads at such a stupid act.
Nonetheless, the game quickly restarts and just five minutes later from that incident, Law takes the ball from the half way mark and goes on a run like a man possessed to win and no English player can't seem to stop him with him dodging them with such skill and the closer he finds himself near the penalty box, many in the stadium start to rise with them all thinking that another goal is coming. The moment just as he is right outside the box, he strikes the ball towards the right of the net and there like with that first Scottish goal, there is no chance of Bonetti catching that and Law's screamer sends Scotland 2-1 after coming from behind to stun the World Champions. It is truly a wonderful goal and ITV commentator Hugh Johns would say during the aftermath of the goal was, "Truly you have to say that is magnificent! Denis Law has struck a sword through English hearts
everywhere
!" Also unknown to the players that somewhere in Argentina, a young boy watches that moment on television and declares that he would like to try that run someday...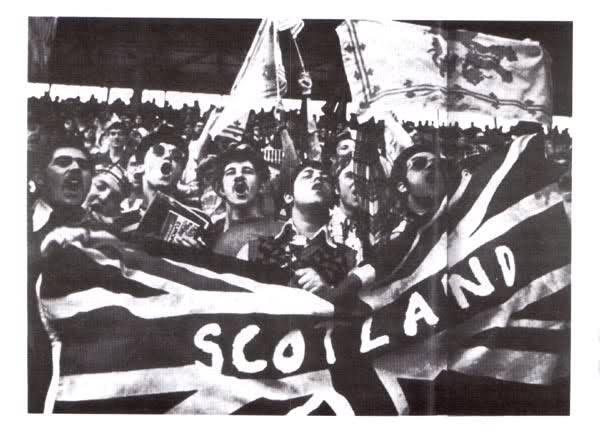 Scotland fans celebrate taking the lead against England
​
One has to wonder how the reaction back home in Scotland was like as probably everyone is celebrating like they've won it as England try to desperately find a way to get back into the tie, however there is still a long way to go yet and next up would be a moment that that point out the madness that this game was to descend into. In perhaps one of the most bizarre and more painful moments of the World Cup, Martin Peters, in the sixty-seventh minute tries to get his head onto a cross by Alan Ball and Cruickshank keeps his eye on the ball the whole time as he rushes to his left not looking where he is going. He gets a hand to knock the ball over the ball but as a consequence of not looking where he is running into it, he
slams
into the goalpost and falls to his side, completely knocked out cold. Pretty much everyone in the stadium grows quiet, fearing something bad has happened after a few seconds of him not getting up. Peters fears something bad has happened and motions for attention to come his way.
Thankfully, the Scottish medic team is on their way and try help the unfortunate Scottish keeper who is still out cold. For about a minute they try to bring him back and even the English medic team in a moment of panic run out towards their Scottish counterparts to try and help out. By now both sets of players are surrounding the stricken keeper fearing the worse has happened, however there is a great cheer and applause around the stadium when Cruickshank does slowly rise up while sitting down clutching his head looking dazed but nonetheless alive. That all said he is clearly not looking good to carry on playing so without any choice, Bobby Brown turns towards Bobby Clark, the Aberdeen and backup Scottish keeper and tells him to go on. With England's Gordon Banks not playing in this game, the match itself would be forever known as a tale of two keepers with both backup keepers having to play in this match.
Cruickshank is helped off the pitch as Clark rushes on to go in goals as now he is suddenly placed into a corner kick situation. The kick takes place in the seventieth minute with Edwards taking it, the ball crosses into the box and much to the horror of the Scots, England score thanks to a header by Peters with the score now at 2-2 and all square once again. Regardless of what's happened, no one will be asking for their money back in terms of sheer drama and goal scoring taking place. Also just a minute later after that goal, Charlton goes off and Colin Bell goes on but that doesn't mean both sides have everything to play for. In the seventy-sixth minute, Edwards nearly strikes home a wonderful volley that Clark makes a bumbling save that he nearly drops, thankfully he doesn't make a fool of himself there, though nerves are looking to starting to show for the Aberdeen keeper and he with many others will have likely forgot about the other match taking place...
Scotland keeper Jim Cruickshank before his injury during the game
---------
​
In the other game with Northern Ireland, the game is still 0-0 though that doesn't tell half of the story in which the game itself has been quite a rough affair in which both sides can't seem to get a lucky break. That is until the seventy-fourth minute in which John Cowan was brought down and it was once again that man, Ancheta, who strikes again and brings the Northern Irish midfielder down with many of his teammates all crying foul to the referee. Thankfully for them, the referee agrees and he runs up to Ancheta to show another yellow card and with brings out a red card to send him off. The Irish supporters can be barely heard cheering this action as the Uruguayan teammates try and hopelessly fail to make the referee to reverse the sending off, however the choice is final and Ancheta makes the walk of shame as he leaves the field and leaving his teammates a man down but thankfully not losing any goals just yet. Even after this, Uruguay players are still furious with what is happening and it takes another two minutes before things have calmed down, though like with many things, the heat is getting to everyone.
Surely now with their opponents being a man down, the Ulstermen have the advantage and they begin to try and prove this but showing the weak defensive flanks that the South Americans have. Towards the end of the first second half, it's clear that this game is Northern Ireland's to lose now and right up into the eighty-third minute of the game, George Best decides to end this game for good and with him dancing around the left side of the Uruguayan penalty box, he gets around several defenders before he lobs the ball right towards the right hand corner of the net, scoring yet another wonderful goal that rivals that goal with Mexico but more importantly, it is a goal that puts Northern Ireland 1-0 up in the dying moments of the game and he is surrounded by his teammates who know they are so close to the last four if they can just hang on.
Uruguay, shocked and angered by how things are looking dire, now desperately try to get a goal back but now all the Northern Irish players pull back to 'park the bus' as to make sure that their losing opponents have no chance to get back in this game. They try and try but it's no avail and after a pretty stuffy and defensive minded performance from Northern Ireland, the final whistle blows and great celebrations follow as little Northern Ireland have won this Quarter-Final and are in the Semis for the first time since 1958 and across the small yet troubled country, it is a moment that all can celebrate together. As the celebration on the pitch carries on, Bingham then comes out from the dugout to congratulate his players, but instead they grab him and host into the air and begin to walk around the pitch with him on their shoulders. It is a truly great moment and while this game might not be getting not that much noticed unlike their larger neighbours, it feels like there is something that this Northern Ireland team can do. The question now is who will they face and could the great George Best win a World Cup on his own?
Northern Ireland players celebrate after their victory over
Uruguay

------------​
During the time in which Northern Ireland was closing in to victory, things were hanging in the balance between England and Scotland when the game rolled into the last ten minutes. Nothing seems to happen for the most part up until the eighty-third minute, Bobby Brown makes a change when he brings on Jimmy Johnstone for Denis Law, whom the latter is not at all pleased of going off as he feels he's been doing all the hard work for Scotland during this game. Both teams are scared of losing to a last minute goal from somewhere and start playing without any of the fury that they had earlier. Speaking of substitutions, Norman Hunter goes on for Peters in the eighty-fifth minute as both managers start to feel like Extra-time is looming and it no one wants to screw up at this point. That is until right of the death when Scotland's O'Hare finds himself in a good position and looks like he'll score a dramatic goal, but Moore is just in the right place at the right time as he just manages to deflect out O'Hare's goal out for a corner kick and the Derby County player can only put his hands on his head in disbelieve how close he was for scoring and becoming the hero for his country.
With that the game finishes at 2-2 and now the game will be played for a further thirty minutes and curiously the first time that this two old rivals will play Extra-Time together. As much as it has been a great advert for British football, it has been nerve shredding for fans on both sides and there is still a lot more to play which is not quite perhaps what those with strong anxiety watching this game will want. The two managers start giving their players new tactics on how to finish this game off and before anyone knows it, extra time begins. In the ninety sixth minute, Edwards makes a fabulous run at it and fires it past Clark and thinks he has scored, however his joy is quickly gone when the referee strangely chalks it off, leading to much booing from the England fans in the ground thinking it was a clear goal. Then to make matters worse for England in the hundred and eighth minute, Johnstone makes a great move around the English defence and hammers home the ball to put Scotland 3-2 up, GOAL!
The game has become an utter madhouse with the pressure and heat making both teams open and in this case, England's defence crumbles and the fear that not only England might on the way out but also is the added fear that the team to knock them out might be none other than the Scots is one to cause terror in their hearts. Following that goal, the game becomes quite bad tempered with both sets of players becoming more agitated, no doubt thanks to the blistering hot sun and the referee looks to be on the verge of losing control of the game and it not be that of a surprise if this match was to end into an all out brawl between both teams. England though seem to find inspiration from someway as if someone has lit a fire up their backsides as they go hunting for a goal to draw level but despite their efforts, Scotland hold firm and before they know it, the first fifteen minutes of extra time are up with Sir Alf Ramsay knowing he just has another fifteen minutes to go to keep a hold of their World Cup. He knows he can't let those Scots ruin everything for him, after that defeat at Wembley three years ago, he won't give up so easily.
Charlton during the game with Scotland
​
The second part of extra time begins with both teams all watered down in mostly their own sweat and both are out to find the goal that might have huge implications for the game as a whole, if Scotland score then they are surely through, if England do then the game turns on it's head once again. Jock Stein, sitting next to a stoned face Bobby Brown, is sitting down on the bench with his hands over his mouth feeling the strain as what is happening, it is a game not for the weak of heart giving how much this game would give anyone a heart attack, God knows how millions back home are feeling, most likely the hospital attendance has spiked because of this game. Then in the hundred and seventeenth minute it all happens. Duncan Edwards is seen making great passing towards Francis Lee and then with the knowledge that time is against England, he sends the ball up towards Colin Bell who utterly slams the ball into the right side of the goal with Clark making a dive for it. It looks like he'll save it, but the ball just narrowly rolls under him and all he and his teammates can only do is watch the ball go in for a goal that brings England back to 3-3 to add more drama to this game of utter shear insanity. Clark slams his fist to the ground in anger that it was such bad luck and for the joyful English supporters, more to add to their list of Scottish goalkeeping blunders they always have a habit of taking great delight in.
It is true madness out there with the game clearly becoming the one
everyone
will remember from this World Cup and England now have their tails up with them going in for the kill for their fans yelling 'Attack! Attack! Attack!' while Scotland are looking more like the team on the ropes and nothing like the team that was so close to winning the game earlier. England keep pressing and in the the final minute of the game, England's efforts are awarded with a corner kick with even Bonetti running up from the goals to help with what will surely be the last moment of the game. Edwards takes a deep breath as he feels his heart is hammering against his chest as he prepares to take the corner, this has to be it he must be thinking as he looks into the face of the Scottish players all hanging around the penalty box looking weary about how the game has panned out. The whistle blows and he kicks it towards the box, Scotland fans can only hope the ball is kicked away but the ball lands right into the box with a mad scramble of players trying to get on it and Bell nearly strikes the ball home but Clark knocks it away...but in his horror, into an incoming Mullery who with perhaps the easiest effort he is ever going to get just taps the ball in...
GOOAAALLL!!!
4-3 to England!!! Scenes of utter bedlam follow with the Mullery get piled up on by his players and their supporters in the ground can be seen celebrating like wild, the same with millions across England, and even the local Mexican crowd can't help but join in with the celebrations for witnessing perhaps the craziest game of football anyone has seen, only downside was that it was not the final. That said in all these scenes of jubilation, not everyone is happy as the distraught Scottish supporters simply don't know what to do and the players who felt like they have all been given the biggest sucker punch of all are all lying on the ground absolutely heartbroken at what has happened in the dying moments of the match. Scotland captain John Greig tries to get the players back on their feet for any small but hopeless chance of hope they might have even in the dying embers of the game. Most however can't do it for the fact they have lost it right at the death and most sympathy goes for Clark who has face buried into the grass feeling like he has brought shame for himself and his country. However his teammates console him just for the last push and the nearly inconsolable keeper gingerly has to move back into his position.
Sadly for Scotland, any hopes of a fruitless comeback is short-lived as the referee blows his whistle for full time and England are through to the Semi-Finals in the most dramatic of fashion. It has been a true champions game with all the drama and excitement that some where hoping for with it later going down as the greatest England/Scotland match ever while also being labelled as the 'Match of the Century' by most outside of Britain whom the latter had boasted the 1966 final was the match of the century though even they would have to say this game possibly topped that. Sir Bobby Brown himself is heartbroken, but Ramsay comes over to shake his hand and congratulate him on the game.
Johnstone leaves the field with the rest of the team after their heart-breaking 4-3 loss in the Quarter final to England
​
"Well done dear chap," Ramsay consoles Brown. "A bloody good game that was, gave us a huge scare there. I'm sure at this rate, Scotland will be World Champions within the next decade I'm sure."
"A-Aye," Brown croaks, his voice filled with emotion. "Good luck for the rest of the tournament."
Ramsay then allows Brown to leave to comfort his players while Ramsay heads over to his jubilant England players. That all said as he looks over to the losing team, he can't help but feel sorry for his Scottish counterpart to lose in such a heart-breaking way but knows that pressure is still on his players to go all the way and that they have answered most critics of what some think of his team. Brown and Jock Stein on the other hand can only look back at the Scottish supporters in one part of the ground holding their scarfs up and playing a bittersweet rendition of 'Flower of Scotland'. The sad truth is that Scotland are out of the 1970 World Cup and though he or anyone else doesn't it know it then, this is to be his last time as Scotland manager and the question of what happens next will remain to be seen.
Though with one British team out, two more are still in with a fighting chance...
---------
​
...And breath. Yes, this is pretty much OTL's West Germany vs Italy game but given to England and Scotland here to the match of the century here. Once again I hope you enjoyed this update and don't forget about NI here doing their part and as always, here is the last four as they stand:
---------
Northern Ireland vs Brazil

Italy vs England
---------
You know the routine of who will win and why, plus I'm taking requests for this TL for anything football related or even outside of football here E.G trains in the UK, to get a mention here as I like to give something back to the small number of fans who enjoy reading this TL. Until then, catch you all later for the last four!