Unruh

11:21 AM PST, August 26th, 1975
CA State Treasurer's Office, Sacramento, CA.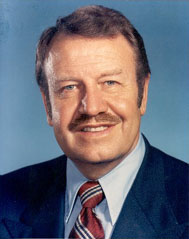 ​
CA State Treasurer Jesse Marvin Unruh (D) was making the CA State Treasurer's Office more efficient & responsive to all Californians & the taxpayers. He also was one of the most influential & powerful politicos across the entire Golden State based on his long political experience. Born on September 30th, 1922 in Newton, KS., he served in the United States Navy during World War II; once World War II ended, Unruh later enrolled to the University of Southern California, where he graduated with a Bachelor of Arts (BA) Degree in Political Science & Journalism in 1948. It was during his military service in the United States Navy, where Unruh married Virginia June Lemon in 1943, where they would have 5 kids.
Unruh began his political career as an unsuccessful candidate for the CA State Assembly in 1950 & 1952. On the third attempt, he was successful in winning a seat on the CA State Assembly in 1954, where he served 16 consecutive years until 1971: winning reelection in 1956, 1958, 1960, 1962, 1964, 1966 & again in 1968. During 1959, he wrote CA's Unruh Civil Rights Act, which outlawed discrimination by businesses that offer services to the public & was a model for later reforms enacted nationally during the 1960s & 1970s. Unruh served as the 54th CA State Assembly Speaker from September 1961 to January 1969 & was a delegate to the DNC Convention from CA in 1960 & again in 1968. Becoming a national official of the Dems, he often feuded with then-CA Governor Pat Brown (D), & was the case study of James Q. Wilson's treatsie on machine politics, The Amateur Dem.
He was the CA campaign manager for United States Senator John F. Kennedy (D-MA)'s successful 1960 Presidential campaign & was a close Kennedy associate throughout his Presidency. He also helped convince the late President's young brother, United States Senator Robert F. Kennedy (D-NY St) to enter the 1968 Presidential contest & managed his CA campaign. Kennedy won the CA Primary on June 5th, 1968, but was assassinated shortly after his victory speech at the Ambassador Hotel in Los Angeles, CA. Sirhan Sirhan was convicted of this heinous crime. After meeting with President Lyndon Baines Johnson on Sunday, February 4th, 1968, Johnson described Unruh as "probably one of the most selfish men he had met in politics." After an unsuccessful effort, managed by Unruh & Chicago, IL Mayor Richard J. Daley (D) to enticing United States Senator Edward M. Kennedy (D-MA), as Chair of CA's delegation committed to the deceased Kennedy, he released CA delegates to vote their conscience & announced he would support United States Senator Eugene McCarthy (D-MN) at the 1968 DNC Convention in Chicago, IL.

In 1970, Unruh was the Dem nominee for CA Governor, running against the popular incumbent Governor Ronald Reagan (R), where Reagan emerged victorious garnering 3,439,174 votes (52.83%) to Unruh's 2,938,607 votes (45.14%); Unruh only carried 12 out of 58 Counties. In 1973, he ran into another roadblock, losing his campaign for Los Angeles, CA Mayor, where then-Los Angeles City Councilman Thomas Bradley (D) won the Mayoralty & would hold the office for 20 consecutive years.

By 1974, Unruh made a political comeback..... running for the insignificant post of CA State Treasurer. Unruh's radio advertisements assured voters, "Make no mistake about it, I really want this job." On November 5th, 1974, he emerged victorious garnering 3,144,124 votes (52.48%) to John T. Kehoe (R)'s 2,565,124 votes (42.82%) & took office on January 6th, 1975. He was reelected in 1978 defeating Donald J. French (R), garnering 3,819,563 votes (58.69%) to French's 2,298,605 votes (35.32%); again in 1982 defeating French in their rematch, garnering 4,436,759 votes (59.28%) to French's 2,649,914 votes (35.41%) & again in 1986 defeating Ray Cullen (LIB), garnering 5,589,633 votes (82.73%) to Cullen's 569,280 votes (8.43%), where Unruh swept all 58 Counties securing his 4th & final term in office.

Once in office, Unruh aggressively politicized the CA State Treasurer's Office. The Wall Street Journal noted he became "the most politically powerful public finance officer outside the US Treasury." CA pension funds were a major source of revenue for Wall Street underwriting companies, & Unruh secured campaign contributions in exchange for doing business with them. The New York Times said he had gained control of "an obscure post whose duties had long emphasized bookkeeping. In characteristic fashion, he soon transformed the job into a source of financial & political power that reached from CA to Wall Street." Because as State Treasurer, he was ex officio member of many CA boards & commissions, Unruh supervised "the raising & expenditure of virtually all the state's money & consolidated his influence over billions of dollars in public investments & pension bonds."
Last edited: